5G anxiety in Europe as Commission calls in the telcos for a pep talk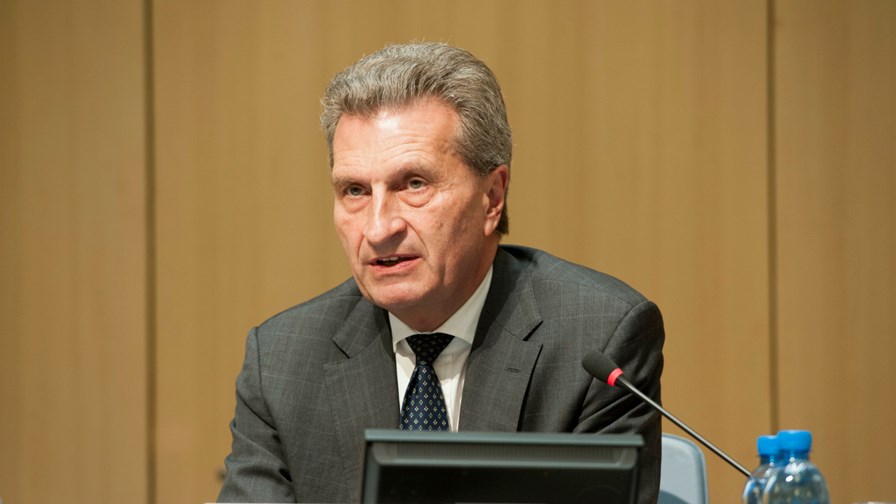 Europe's 5G effort needs to hurry

Oettinger 'summons' telecom chiefs

But 5G clearly a global effort, technology wise
The EU's Digital Commission is apparently getting anxious about European progress on 5G. The Financial Times says it's seen a letter from the commission this week 'summoning' the top telecoms group CEOs (or their representatives, presumably) to a meeting in Brussels to see how 'Europe' can ensure that it gets a sustainable lead in, and headlock on, 5G.
The FT says that 'people familiar with the thinking of the commission' say that it's worried that South Korea, Japan and China are getting ahead.
The letter, from Günther Oettinger, European commissioner for digital economy, talks about "closer EU co-ordination to achieve a timely deployment of 5G" and the development of a "home market" in Europe for 5G products and services. Oettinger also talked about creating a climate for infrastructure investment and hinted that 'fair competition' could be enhanced using regulation in both the broadcasting and telecoms sectors. This has been interpreted as a promise to ensure that so-called OTT players, such as Google, don't benefit from the lighter regulation pertaining in the Internet sphere.
Oettinger sent the letter to the bosses of BT, Deutsche Telekom, Telecom Italia, Orange, Vodafone, Nokia and Ericsson.
We can see in all this the familiar outline of the old European telecoms industrial strategy, first pursued some years back by telecoms commissioner, Neelie Kroes. Essentially it was a deal: the commission would do what it could on the regulatory side to bolster the positions of the big European telecoms groups (both telcos and equipment vendors) who could be seen as Europe's digital champions. That would involve stalling moves to net neutrality and easing the regulations around consolidation.
Thus would be created a defragmented telecoms scene and a climate for telecoms infrastructure investment and reinvigoration not seen since the heady days of 2G GSM when Europe lead the world. The political payback for the commission was to be credited with having created European champions who could 'fight back' against the big US companies (such as Skype, Google, Facebook, Amazon etc) who were competing 'unfairly' with them and taking home all the profits.
There was and is quite a bit wrong with this worldview and its solution, starting with the fact that things have moved on. 5G just won't be a rerun of 2G - so not a monolithic, new network investment at all. More likely an overlapping pick and mix of different radio and core network technologies, highly software-driven and therefore constantly adjusting itself as new applications and technologies are introduced.
So the notion that a '5G' network solution can be wrestled to the floor and patented, thus ensuring that 'Europe' gets ahead and stays there, extracting an intellectual property tribute from the rest of the world, just doesn't make much sense now (if it ever did). The historical success of GSM has a lot to answer for.
And then there's globalisation.
The commission may be intent on pursuing a European technology strategy, but its erstwhile industrial champions on the vendor side - Ericsson and Nokia (now including the Euro/US Alcatel-Lucent) - are pretty obviously pursuing an international one.
The last year in particular has seen the announcement of a tangle of overlapping alliances and joint ventures, as tracked on TelecomTV's Insights database (public version coming soon).
TelecomTV Insights - 5G alliances and partnerships
Ericsson and SK Telecom to collaborate on 5G network slicing
Ericsson and China Mobile launch 5G collaboration
Huawei in Euro Initiative for Multi-domain Infrastructure for 5G Services
DOCOMO Successfully Conducts 5G Trials in Actual-use Environments—Trials carried out with Nokia Networks, Samsung, Ericsson, Fujitsu and Huawei
Ericsson joins forces with KDDI in 5G research and development
NEC joins industry and academia in Europe to develop 5G network and service platform
Leading 5G Visionary Organizations in Europe, USA, Japan, South Korea and China Sign Multi-Lateral Memorandum of Understanding for "Global 5G Events"
The EU and China signed a key partnership on 5G, our tomorrow's communication networks
Ericsson and LG Uplus to partner on 5G and IoT
The above, by the way, are just the most recent announcements going back to September last year.
There is nothing wrong with an industrial strategy at EU level, and no doubt telecoms groups and vendor groups alike welcome the political and monetary support it brings and the spur the spotlight creates for those labouring away on 5G development.
But the parochial mood music and the language used to describe what in reality can only be a global effort involving a multiplicity of technologies (much of it open source), is misplaced. All the key technologies will likely be available in every corner of the globe. The differentiation will be how it's deployed and adopted by user organisations and individuals in each territory.
Email Newsletters
Stay up to date with the latest industry developments: sign up to receive TelecomTV's top news and videos plus exclusive subscriber-only content direct to your inbox – including our daily news briefing and weekly wrap.