5G-ACIA formed to ensure 5G is optimised for industrial use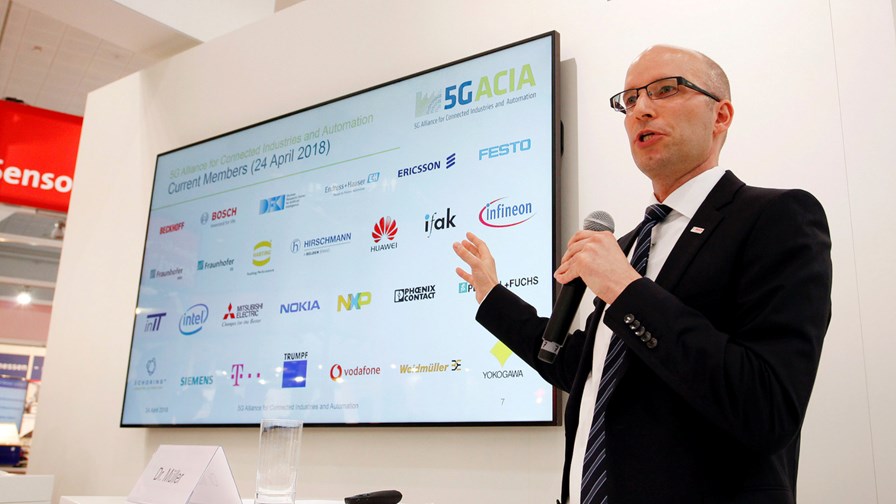 5G-ACIA launched publicly in Germany this week
Global forum between the OT industry and ICT companies
5G considered to be the central nervous system of the factory of the future
26 member companies at launch, including Deutsche Telekom and Vodafone
It's no great secret that the real prize for 5G service providers is the enterprise and key vertical markets. 3G brought us the mobile internet, albeit in a rather limited guise, and 4G extended this market into true smartphones, but both these mobile generations have been targeted at consumers, or more specifically, individuals. What 5G networks promise, thanks in no small part to network slicing, is access to industries.
We've seen a number of associations and alliances form around the automotive and transport industry, now it's the turn of manufacturing. The amount of wireless data transmitted by machines and sensors in factories is increasing rapidly and the very high bandwidth and ultra-low latency of 5G technology can potentially add a lot of value in this scenario. The result is the Smart Factory – providing connectivity to Industrie 4.0 – but it's going to take a lot of education and levels of trust if the potential is to be realised (see Intel's report here, for example).
The 5G Alliance for Connected Industries and Automation (5G-ACIA) is a global forum for collaboration between (in the red corner) automation, engineering and process industries on the one hand, and (in the blue corner) telecom operators, vendors and suppliers. And just to make it even more inclusive, the alliance also includes several scientific institutes.
"5G will become the central nervous system of the Factory of the Future and will have a disruptive impact on industrial production," said Andreas Müller of Bosch, and Chairman of 5G-ACIA. "For the first time, the 5G-ACIA brings together all the major players worldwide. This enables us to work in a concerted and targeted manner to ensure that the interests of the industry are taken into account accordingly."
The 5G-ACIA was actually established on 3rd April under the auspices of ZVEI, the German Electrical and Electronic Manufacturers' Association, but was publicly launched at the Hannover Messe Industrie 4.0 event this past week. The 26 member companies at launch include Deutsche Telekom, Ericsson, Huawei, Infineon, Intel, Nokia, NXP and Vodafone, alongside industrial companies such as Bosch, Festo, Fraunhofer Gesellschaft, Mitsubishi and Siemens.
5G-ACIA says it is actively contributing to the standardisation and regulation of 5G, whilst at the same time it will seek to identify and analyse possible use cases and the associated requirements from the perspective of the industrial domain. Its members believe 5G makes it possible to implement Industrie 4.0 even faster and to take it to the next level. The activities of the 5G-ACIA are currently structured in five different working groups:
potential use cases and requirements
spectrum needs and new operator models
architecture of industrial connectivity infrastructures
external liaison and promotion
interoperability tests, trials and certification
"5G will help evolve many industries and the development of the technology supports the need for multi-purpose solutions driven by the variety of use cases," said Mats Norin, Program Manager 5G for Industries, at Ericsson. "We need to create the ecosystems that are required for early adoption, and new partnerships and alliances, such as 5G-ACIA, are essential to this process."
Earlier this year, Ericsson released a report on the industry impact of 5G that revealed that trials of 5G use cases will start this year, after which activities will ramp up quickly, with over 70 per cent of companies aiming to have use cases in production by 2021. Manufacturing, energy and utilities, public transport, and financial services are the sectors most likely to have use cases in production by 2020.
A white paper is available to download from 5G-ACIA here.
Email Newsletters
Sign up to receive TelecomTV's top news and videos, plus exclusive subscriber-only content direct to your inbox.