Forget Thunderbirds, KT is launching its Skyship search and rescue platform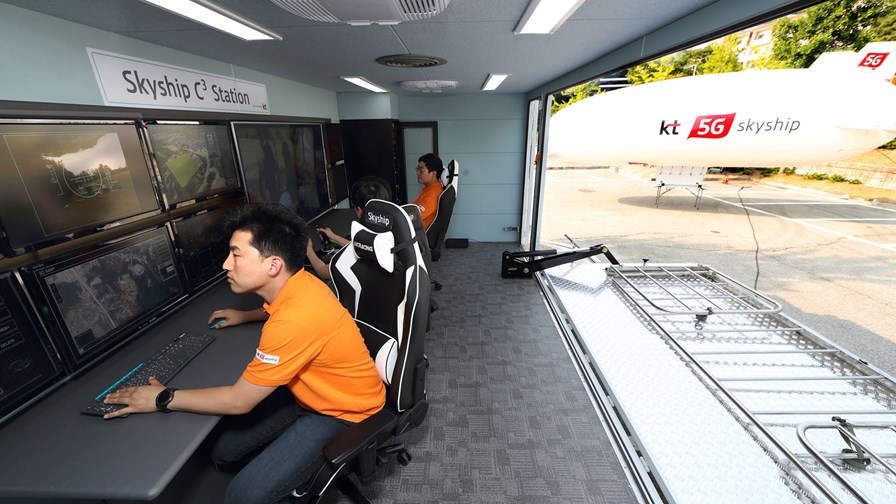 Airborne platform for public safety using Korea's new PS-LTE network
Comprises airship, drones, robots and ground control centre
Part of KT's ongoing diversification programme for 5G and ICT
Next version in 2020 will be 5G enabled
Korean operator KT has come up with an innovative solution to showcase the capabilities of LTE and 5G networks – an airborne platform for disaster management and search and rescue scenarios. Skyship comprises a bespoke airship and a mobile communication centre to remotely control drones and robots that carry out search and rescue operations for disaster survivors. Rescuers on the ground are also assisted with augmented reality glasses that have a direct line of communication to doctors at nearby hospitals for assistance delivering emergency treatment.
Finally, the Thunderbirds TV puppet series of the 1960s may have just edged a little closer to reality. However, Lady Penelope and her pink Rolls Royce are nowhere in sight.
Yet this is more than just a fanciful look at future 5G technology possibilities, Skyship has been designed for use today. The South Korean government is investing in a $1.5 billion nationwide public safety network, based on LTE. Work on the PS-LTE network will begin later this year and should be finished by 2020. Meanwhile, KT says it will launch "the world's first nationwide 5G wireless network" in March 2019.
The Skyship platform consists of four major components:
The Skyship itself, which is part helium-filled airship and part drone
The Skyship C3 command, control and communication mobile ground station;
The Skyship drones and robots.
The airship carries the Skyship Pod, which contains the core hardware items including propellants, cameras, network modules and drones, as well as the Skyscan unit. Skyscan uses a very small LTE device to detect smartphone signals of survivors within a 50-meter radius and then parse them to mobile carriers' customer databases to identify personal information such as names and ages. When survivors are detected, Skyship will deploy drones to pinpoint their exact locations. Robots will then be dispatched on the ground to deliver emergency relief items, relay information to rescuers and take first-aid measures until rescuers arrive.
Last week, KT demonstrated Skyship using a real time disaster simulation, conducting a remote search and rescue in conjunction with Ajou University Hospital's trauma centre in Gyeonggi province, south of Seoul, and a local emergency rescue team. The telco is also investigating whether or not Skyscan can be integrated with national registration and medical databases to expedite first-aid treatment by immediately providing survivors' medical records.
"Over the past years, KT has pioneered technological innovations in the field of disaster and safety management in South Korea," said Oh Seong-Mok, president of KT's network business. "We will continue our efforts to make the country safer and more secure with our advanced technological prowess, resources and know-how."
In much the same way as Thunderbird 2 carried interchangeable pods, depending on the exact nature of the emergency, so too will Skyship. KT says it will standardise the hardware requirements to enable third-party manufacturers to develop various network modules, cameras, drones and other installable products.
Upgrade to 5G
The launch last week actually showcased the second version of KT's Skyship, following an earlier version last year. The new airship can fly up to six hours with a maximum speed of 80km/h and carry a payload of up to 5kg. But the telco is already preparing for a third version. This new version will be 5G-enabled, with communication using 100MHz of 3.5GHz spectrum and 800MHz of the 28GHz band – both of which it acquired during last month's spectrum auction. Planned for launch in 2020, the 5G Skyship will use 4K UHD real-time video and ultra-low latency will enable rescue and medical crews to work more effectively.
This is undoubtedly a great use case for 5G. Whilst it wouldn't be able to help in every situation, it could certainly provide a valuable additional tool for search and rescue operations.
However, you can easily extrapolate this into a more controversial area. It wouldn't take too much adaptation to create a 5G drone-based surveillance network that could identify and respond to threats and misdemeanours. Would that also be a good thing, or yet another step towards state-sanctioned removal of personal privacy? Remember Telefonica's recent call for a new social contract? Technology is running ahead of societal development, and that can't be sustainable.
Email Newsletters
Sign up to receive TelecomTV's top news and videos, plus exclusive subscriber-only content direct to your inbox.