FDD-TDD carrier aggregation gains foothold in Korea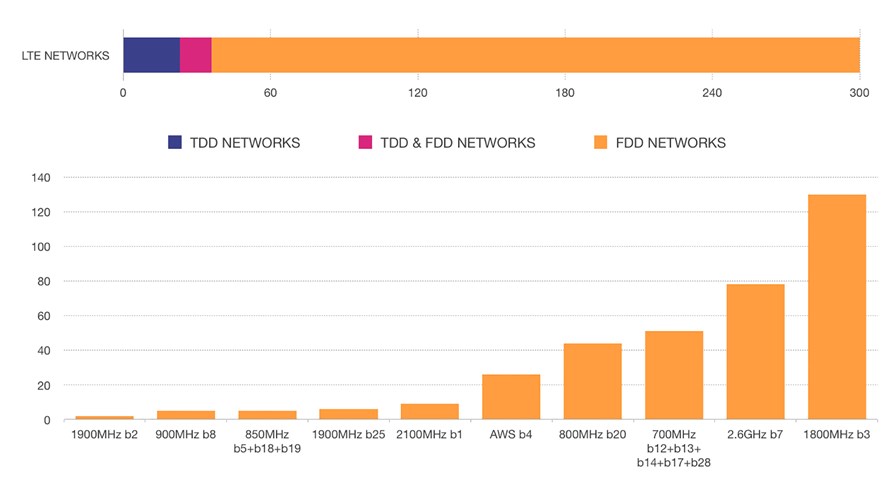 Nokia and Korea's SK Telecom have today claimed a world record with LTE data transmission of almost 4Gbit/s using TDD-FDD carrier aggregation. By aggregating 10 spectrum frequencies allocated for both LTE variants – and thus creating a massive allocation of 200MHz of bandwidth – Nokia and SK Telecom reached a throughput speed of 3.78Gbit/s.
To put this into perspective, at this speed a mobile broadband user would be able to download a full-length 5GB HD movie in just 11 seconds. Provided, of course, your network operator uses both modes and makes available this vast resource for your pleasure. At the moment, the number of dual FDD and TDD commercial networks is just 13, according to new data from the GSA. And a typical usage model is just 10 or 20MHz (even EE in the UK, with its same mode carrier aggregation for its 'superfast' service allocates just 40MHz combined).
Whilst FDD mode LTE dominates the global network business today with 264 commercially launched networks (GSA data), interest in TDD – either as an alternative or as complimentary spectrum – is catching on. In addition to the 13 dual mode networks, there are now a further 23 TDD-only services in commercial operation.
But the real interest is in aggregating spectrum from both modes to offer a better and faster service. Operators can achieve increased capacity for downlink and uplink data-intensive applications such as video streaming – and also the ability to eliminate supplementary downlink (SDL) completely.
"This significant throughput achievement builds on our long-term collaboration with Nokia to make the most of TDD-FDD converged technologies," said Alex Jinsung Choi, EVP and head of ICT R&D Division at SK Telecom. "Once again, SK Telecom and Nokia have set a benchmark for the global telecoms industry."
Nokia's Single RAN solution with software enhancements was used to aggregate carriers on both TDD and FDD LTE spectrum and to implement LTE-Advanced Multiple Input Multiple Output (MIMO) technology. The two companies say that this demonstration has achieved twice the amount of carriers and bandwidth specified by 3GPP, which foresees the aggregation of 5 carriers up to a total bandwidth of 100MHz.
"Operators worldwide can be confident in our capability to tackle the increasing demands for not only faster download but also data upload speeds," said Zhang Qi, vice president of TD-LTE at Nokia.
Benefits from TDD-FDD
Nokia and SK Telecom, together with Korea Telecom, demonstrated the world's first TDD-FDD carrier aggregation in February this year.
"The significance of TDD-FDD carrier aggregation is that it provides the technical basis for faster and more efficient data services, combining TD-LTE technology which is becoming more and more widely adopted with FDD-LTE used in most networks today," said Jin-hyo Park, SVP and head of network technology R&D center at SK Telecom.
With dual mode carrier aggregation, operators can, for example, combine their low-frequency FDD bands such as 850MHz and 900MHz with high-frequency TDD bands such as 2300MHz and 2600MHz in order to provide high-speed mobile broadband in large areas. High-frequency bands are typically uplink limited and have less coverage.
Nokia claims that with TDD-FDD carrier aggregation, operators can improve their high-frequency band TD-LTE coverage by 50 to 100 per cent using TDD for downlink only and using the lower-frequency FDD for uplink as well as downlink.
TDD-FDD carrier aggregation allows load balancing between the separate networks, ensuring seamless coverage and optimal speed for all subscribers of TD-LTE and FDD LTE networks. By optimising the use of both bands, it should also enable an improved return on investment for operators.
According to the GSA's Evolution to LTE report, there are now 300 commercially launched LTE networks throughout the world.
Email Newsletters
Sign up to receive TelecomTV's top news and videos, plus exclusive subscriber-only content direct to your inbox.