As LTE moves to LTE Advanced Pro, device manufacturers pick up the pace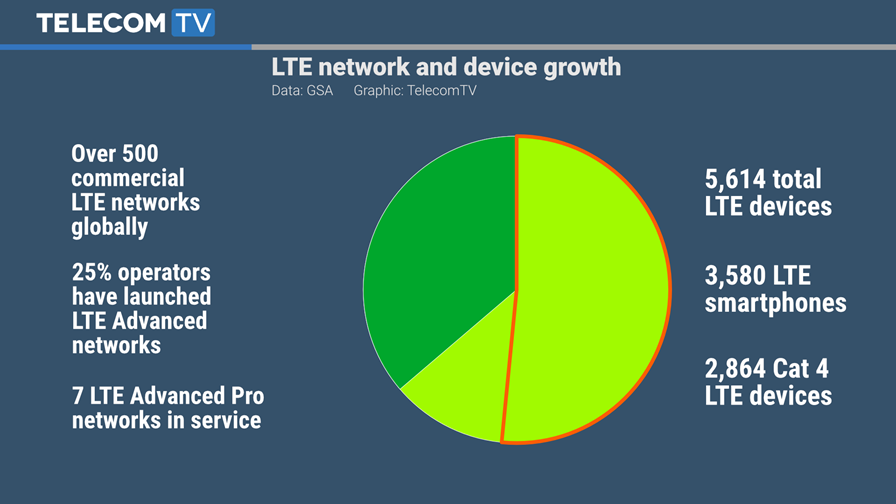 5,614 LTE user devices announced in the last year
40 per cent increase in the number of LTE device vendors
Well over half all devices run over 1800MHz networks
Growth in LTE-Advanced and LTE-Advanced Pro models
The latest analysis of the LTE market from the by GSA (Global mobile Suppliers Association) reveals that there are now 5,614 different LTE user devices available, including frequency and operator variants, from 455 suppliers. There were 2,361 devices added to the GSA's LTE devices database since June 2015, representing 72 per cent annual growth. The number of manufacturers participating in the LTE devices market grew 49 per cent in the same period.
Alan Hadden, VP at GSA, said that there was "growing support" for LTE-Advanced and LTE-Advanced Pro technologies. "25 per cent of operators have launched LTE-Advanced including seven LTE-Advanced Pro networks," he said. "New higher performing smartphones and other devices are expected to be announced in the second half of 2016 in support of the introduction of Gigabit-capable LTE networks."
Perhaps not surprisingly, smartphones are the largest LTE device category (at 63.8 per cent), with 3,580 models released or announced. Almost all (98.5 per cent) of these are multimode, capable of operating on at least one 3G technology in addition to LTE. Furthermore, 57 per cent of LTE smartphones can operate on 42Mbit/s DC-HSPA+ networks.
With its fragmented spectrum support, LTE device manufacturers have to pick and choose which bands are supported, depending on the regional build of the device and the supporting operators. The GSA tracks the 26 most popular FDD bands and 6 TDD bands. Of these, it's Band 3 which has most vendor support, with 3,227 devices running over the 1800MHz spectrum – that's over 57 per cent of all devices. Band 7 follows (the 2.6GHz band) with 2,993 devices and then Band 1 (2.1GHz) with 2,613.
That's a lot of bands and a lot of hassle for vendors, which is why we are promised a more concerted effort to harmonise 5G spectrum into fewer bands.
But the real fun starts when you take a look at user equipment (UE) device categories. Oh yes, it's a complicated business, producing LTE devices. There are currently 12 specified and standardised UE categories in the latest 3GPP RAN Group documentation, each with different levels of uplink and downlink capabilities – in other words, data throughput.
The good news for customers is that there are now 2,864 devices available that support the UE category 4 specification – just over 50 per cent of all LTE devices. These have theoretical peak downlink rates of up to 150Mbit/s with peak uplink up to 50Mbit/s, on compatible LTE networks.
The popularity of category 6 UE devices is also starting to take off. So far, 314 devices support the category 6 speeds of 300Mbit/s downlink and 50Mbit/s uplink. Not only smartphones and tablets, but also routers, MiFis and small cells. Still some way behind, but sparking interest amongst vendors, are category 9 UE devices. These offer theoretical maximum rates of 450Mbit/s downlink although still 50Mbit/s uplink and so far 43 devices have been announced. To get uplink improvements we need to step up to category 12 (up to 600Mbit/s downlink and 100Mbit/s uplink), but so far only 8 devices can support this standard and network compatibility is a little thin on the ground.
Incidentally, there are now over 500 LTE networks in commercial operation in 168 countries, with a further 50 due to come into service by the end of this year. A final note for the device trainspotters amongst us, and that concerns VoLTE. According to the GSA, there are now 430 Voice-over-LTE capable devices announced, including 401 smartphones. If you are a GSA member, then you can explore the data to your heart's content over at their website
Email Newsletters
Stay up to date with the latest industry developments: sign up to receive TelecomTV's top news and videos plus exclusive subscriber-only content direct to your inbox – including our daily news briefing and weekly wrap.