28 per cent of LTE operators have commercially launched LTE-Advanced networks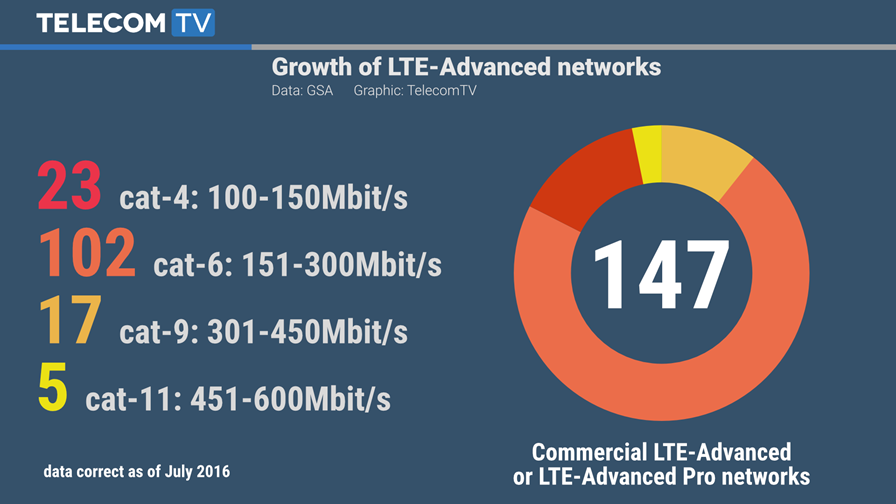 521 operators have commercially launched some form of LTE network
9 commercially launched LTE-Advanced Pro networks
2.6GHz (band 7) most popular LTE deployment, used in 121 networks
146 operators investing in VoLTE deployments, trials or studies in 68 countries
According to the Global Mobile Suppliers Association (GSA), LTE-Advanced is now "mainstream" with 147 operators having already deployed and commercially launched superfast LTE-Advanced or LTE-Advanced Pro services in 69 countries. Add to this, another 45 operators and another 15 countries are in the processing of deploying LTE-Advanced networks, bringing the percentage of LTE operators investing in the evolved technology up to 37 per cent.
In total, the GSA says 521 operators have commercially launched some form of LTE network – whether basic LTE, LTE-Advanced or LTE-Advanced Pro – in 170 countries. New LTE networks have come on line from 74 operators during the past year alone. And there are still more to come – there are an additional 187 firm network deployment commitments (39 of which are expected to go live by the end of 2016), plus 30 pre-commitment trials in a further six countries.
"LTE-Advanced is mainstream; over 100 LTE-Advanced networks today are compatible with Category 6 (151-300Mbit/s downlink) smartphones and other user devices," said Alan Hadden, VP, Research, GSA. "The number of Category 9 capable networks (301-450Mbit/s) is significant and expanding. Category 11 systems (up to 600Mbit/s) are commercially launched, leading the way to Gigabit service being introduced by year end."
The GSA has classified 9 of the commercially launched network advanced networks as being LTE-Advanced Pro. It says the commercialisation and deployment of LTE-Advanced Pro technologies deliver capacity gains, lower latency, improvements to cell edge performance and collectively ensure Gigabit downlink speeds will be a market reality in the coming months. Relevant technologies include the use of advanced carrier aggregation capabilities, higher order (4x4 or more) MIMO systems, advanced modulation schemes (256QAM on the downlink, 64QAM on the uplink) and License Assisted Access (LAA). Not forgetting that LTE-Advanced Pro technology also specifies a new radio interface, the Narrowband Internet of Things (NB-IoT) standard.
Further highlights from the GSA's report:
Most widely used spectrum for LTE continues to be 1800MHz (band 3)
Band 3 used in 246 commercial networks in 110 countries (47 per cent of LTE deployments)
2.6GHz (band 7) used in 121 networks
800MHz (band 20) used by 119 LTE operators
Paired spectrum in FDD mode remains most popular deployment scenario
78 operators have commercially launched LTE in TDD mode in 46 countries
2.3GHz (band 40) most deployed spectrum for TDD (40 per cent of TD-LTE)
23 operators have deployed both FDD and TDD modes in their networks
146 operators are investing in VoLTE deployments, trials or studies in 68 countries
82 operators in 43 countries commercially launched VoLTE-based HD voice service
Over 100 LTE operators offering VoLTE service by end 2016 forecast by GSA
Over 400 smartphones supporting VoLTE have already been announced
25 operators have commercially launched LTE using APT700 spectrum
For the latest facts and figures on the LTE ecosystem, head over to the GSA website.
Email Newsletters
Sign up to receive TelecomTV's top news and videos, plus exclusive subscriber-only content direct to your inbox.