Europe leads the World on WiFi… for now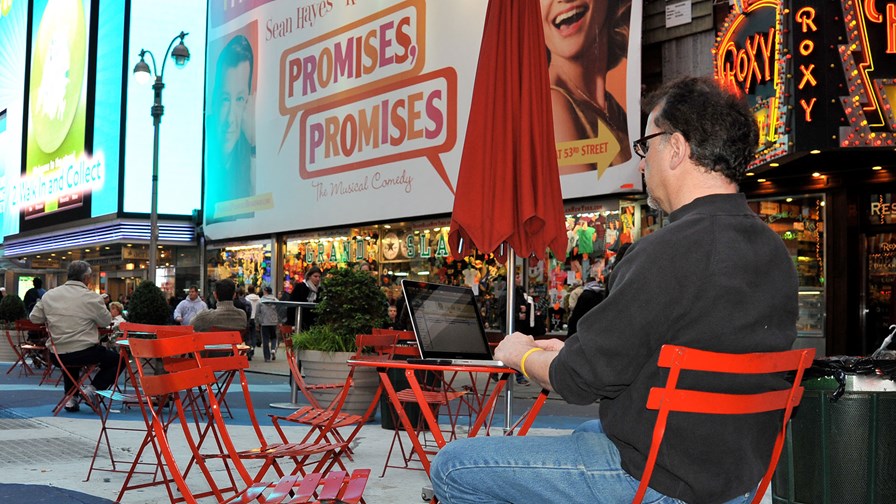 WiFi public hotspots are growing at such a clip that by 2018 there will be one public hotspot for every 20 people on the earth. As today there is 'only' one Wifi hotspot for every 150 people, the message is clear: we are heading fast towards a 'WiFi first' wireless access environment where WiFi is the default setting on most connected devices with cellular data service only whistled up as a last resort.
Both the survey data and the conclusions come from analyst house, Maravedis Rethink, which has completed a joint study with iPass (the world's largest commercial WiFi network). The researchers say it's the broadest and most in-depth research into global public WiFi hotspot deployments so far. The projections indicate that there will be 47.7 million public WiFi hotspots deployed worldwide by the end of this year, but over the next four years global hotspot numbers will grow to over 340 million.
If these sound like unfeasibly large numbers it's because they fold in residential WiFi sharing schemes where the home user allows other users access to the Internet via his/her WiFi router. In return the user can use other WiFi hotspots from the same scheme on an occasional basis too. Users without a home router as part of the scheme can pay to get access should (say) their own broadband service go down temporarily.
So a full 34.5 million of those 47.7 million hotspots are part of these residential schemes (or homespots). Of the remainder, 7.5 million are commercial hotspots (cafes, retail outlets etc) and just 11,000 are transport-related (trains, planes, stations).
At the moment Europe is the continent of WiFi with 50 per cent of the WiFi estate deployed here. Asia will bound into lead continent position in 2018.
The researchers say that France is the WiFi country of the moment with the most hotspots, followed by the US and the UK, but that order is set to change in 2018 as the US takes the lead in sheer numbers, followed by China.
"Over the last few years we've seen the emergence of the 'Wi-Fi first' generation. Wi-Fi has become cool again; in fact it's seen by most as an essential utility, just like water or electricity," the press release attributes Evan Kaplan, President and CEO of iPass as saying . "Most of the devices we use are Wi-Fi only and even on the most advanced 4G handsets, 78 per cent of data goes over Wi-Fi. Simply put, it's the network of choice for consumers and soon they'll be able to roam this alternative network of millions of hotspots."
The research also shows that Wi-Fi is changing the telecom power structure. Fifty per cent of all commercial hotspots are controlled by brands whose core business isn't telecommunications. So once again we may be seeing a shift in power from traditional telcos to other business owners.
For many industry observers, the public WiFi movement shot its bolt when a string of US municipal schemes failed a decade and more ago. Now it looks as though WiFi has been granted a second wind. Despite (or perhaps because) of this the GSMA is still fighting the good fight and says it aims to sweep all before it with LTE and whatever we get for next generation cellular and establish cellular as the dominant set of wireless standards. Good luck with that.
Email Newsletters
Stay up to date with the latest industry developments: sign up to receive TelecomTV's top news and videos plus exclusive subscriber-only content direct to your inbox – including our daily news briefing and weekly wrap.