Carrier WiFi to play a strong role in the 5G era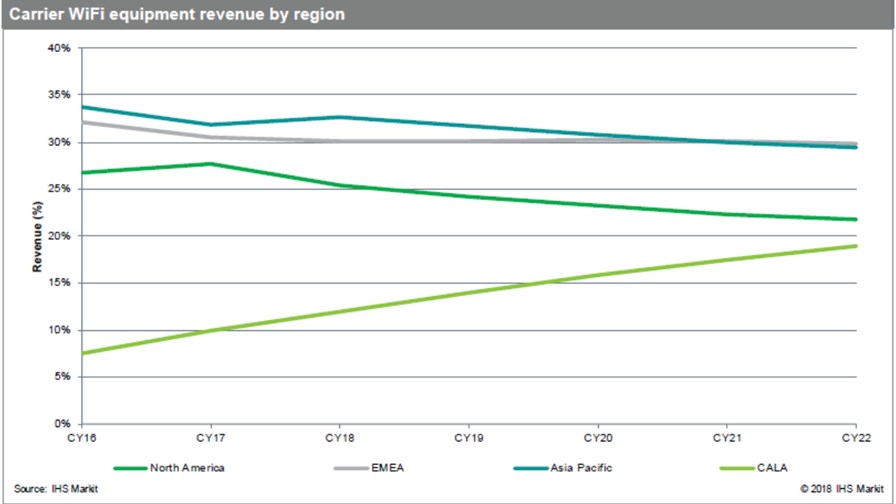 Carrier WiFi will continue to grow through to 2022
SIM-based WiFi access points are booming
WiFi will play a major role in smart cities and IoT
5G will not blow WiFi, or even carrier WiFi, out of the water. Far from it. If anything, Carrier WiFi will grow and prosper through the 5G era, according to IHS Markit which has just released a report (Carrier WiFi Equipment Market Tracker) which observes that the carrier Wi-Fi equipment market grew through 2017, driven by ongoing broadband demand and confidence that it will continue to have a "strong role".
Revenue reached $626 million for the full-year 2017, increasing 1.3 percent from the prior year, says IHS Markit, which forecasts the market will hit $725 million in 2022. It expects a cumulative market size of over $3.5 billion from 2018 to 2022 based on two strong segments: standalone Wi-Fi access points (predominantly deployed by fixed-line operators and wireless ISPs) and dual mode Wi-Fi/cellular access points (deployed by mobile operators).
While dual mode 3G/Wi-Fi equipment was worth just $17 million in 2017 (a decline of 66.4 per cent from the prior year), subscriber identity module (SIM)-based Wi-Fi access points are experienced 22 per cent adoption growth in 2017, driven by the desire to have closer integration between Wi-Fi and the mobile network, IHS Markit has found.
"The arrival of the 5G era will gradually transform network architectures, but the requirements for network density mean that Wi-Fi will continue to play a strong support role for mobile broadband end-users and for newer applications such as the Internet of Things and smart city," said Richard Webb, director of research and analysis for service provider technology at IHS Markit. "We expect an uptick in carrier Wi-Fi investments through 2020, aligned with 5G network development."
All regions are seeing strong demand for carrier Wi-Fi, demonstrating evidence of proliferation in developing countries in addition to developed markets where mobile data growth is well documented. However, the scale of requests for proposals (RFPs) from mobile operators in Asia Pacific - in particular China and Indonesia currently, with India likely to add to the groundswell closer to 2022 - means the region will be the strongest driver of growth, although all regions see continuous growth through this period."
That 'strong role' for IEEE standards (particularly WiFi) in 5G is very much part of the IEEE's strategy. Rather than pushing out a challenger technology (as was done with WiMAX last time around with the development of LTE/4G) the IEEE is going to take a strong supporting role. As we pointed out nearly a year ago now, "The IEEE has made much play of the fact that it wants WiFi-based access technologies to become more important for IoT applications. This is perhaps its main short-term focus." (see - How will the IEEE's WiFi strategy play into 5G?).
Email Newsletters
Sign up to receive TelecomTV's top news and videos, plus exclusive subscriber-only content direct to your inbox.