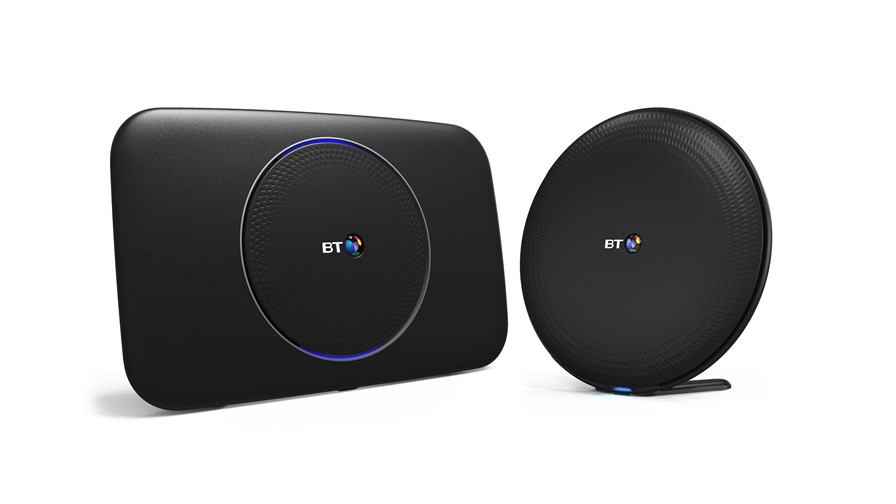 Telco offers £20 refund if it can't guarantee decent signal
Mesh networking becomes affordable at last
Sky the only other UK big four player to offer whole home Wi-Fi
BT has doubled-down on its bid to provide the most reliable in-home Wi-Fi by launching a coverage guarantee alongside its new mesh networking service.
Like other whole home Wi-Fi products, BT's 'Complete Wi-Fi' takes the form of a home hub paired with a satellite – or 'Disc' as BT is calling it – capable of providing a seamless connection.
Unlike other offerings that have gone before though, Complete Wi-Fi customers who don't get a good enough signal throughout their home will be given up to two more satellites free of charge. If it's still not good enough, they get a £20 refund.
The other major difference is price: it's just £5 per month for customers signed up to BT Plus – the telco's bundled fixed-line and mobile service. A cursory browse on Amazon reveals that individual satellites alone can set you back upwards of £80. A complete off-the-shelf mesh networking system with three satellites can cost almost £500. At £5 per month on an 18-month BT Plus contract, it's clear that Complete Wi-Fi represents good value compared to shopping directly.
BT seems to have stolen a march on its rivals in the whole home Wi-Fi space.
While Sky does offer mesh networking to Sky Q customers who also take its broadband service, it makes less noise about the benefits this brings to people living in big houses, or dwellings with thick stone walls. Meanwhile, the UK's other two big residential CSPs, Virgin and TalkTalk, don't have a rival offering.
It will be interesting to see whether this lack of meaningful competition affects subscriber additions.
Full press release below:
BT calls an end to Wi-Fi black spots with 'Complete Wi-Fi' - offering customers the world's first Wi-Fi coverage guarantee
BT Plus now comes with a Complete Wi-Fi guarantee – ensuring customers get strong wi-fi signal in every room of their home
Complete Wi-Fi guarantees customers wall-to-wall coverage, and provides faster wi-fi speeds – boosting average speeds in a four-bedroom house by up to 25% - allowing customers to stream HD content in more places around the home
BT's Complete Wi-Fi is available exclusively today for BT Plus customers for just £5 per month
[London, 27 November 2018] - BT is the first broadband provider in the world to guarantee customers a strong reliable connection in every room of their home with the launch of Complete Wi-Fi. Complete Wi-Fi is part of BT's commitment to keep customers connected and provide them with best connections, in and out of the home.
Unlike current Wi-Fi extenders, Complete Wi-Fi from BT uses unique Wi-Fi Discs which pair with BT's new Smart Hub 2 to create a single seamless, powerful wi-fi network in a customer's home. Not only will customers get wall-to-wall coverage, they'll also get faster Wi-Fi speeds, allowing them to stream HD video content in more places around the home. A four-bedroom home could see an increase in Wi-Fi speeds of up to 25% around the home with just one disc.
Customers can quickly and easily set-up their network from their smartphone with the My BT app. It allows them to make sure they're getting the strongest signal around their home – directing them where to place their Wi-Fi Disc and check the strength of their wi-fi signal in every room.
To coincide with the launch of Complete Wi-Fi, BT has commissioned a first in-depth report* on how UK families are using their homes, highlighting the need for strong, reliable connectivity to make the most out of every single room. The research found 43% of families agree their Wi-Fi connection restricts what they want to do throughout the home with 56% strongly valuing the ability to get online anywhere in the home. Half of families (52%) are put off living, or buying, a home with wi-fi black spots with 12% admitting they argue with others in the house about Wi-Fi.
Marc Allera, CEO of BT's Consumer business said: "Strong, reliable Wi-Fi has never been so important in the home, with families using even more connected devices and wanting to make the most of every room in the home. We're the first broadband provider in the world to launch a Complete Wi-Fi guarantee so customers can get online from every corner of their homes. Whether it's converting the attic into an online gaming room for the kids or making a spare room into a home gym where you can stream music or work out videos, our unique Complete Wi-Fi opens up a world of possibilities for our customers."
BT Complete Wi-Fi guarantee
With Complete Wi-Fi, a BT customer will receive a next generation Smart Hub 2 and one Wi-Fi Disc to extend their wi-fi signal around their home. If this doesn't give customers a strong signal in every room, they will receive up to two more discs free of charge. If they still don't have signal in every room, BT will give them £20 back.
Next generation Smart Hub
BT's next generation Smart Hub 2 is the most advanced router available from a broadband provider and comes with acombination of unique features to deliver fast speeds throughout the home. The Smart Hub 2 provides 7 antennas uniquely positioned to maximise power, the latest Wi-Fi technology, smart channel selection, smart scan and clever app-based services to help them set up and manage their home Wi-Fi.
Pricing
Complete Wi-Fi will be available for existing BT Plus customers for an additional £5 per month. Existing non-BT Plus customers will need to upgrade to a BT Plus package.
BT Plus
BT Plus is the first product to be launched as part of BT's commitment to keep customers connected by bringing together the best of mobile, broadband and Wi-Fi networks through first-of-their-kind converged products, with the best service and the widest choice for customers across the UK.
Plus customers also enjoy benefits like 100% UK & Ireland customer service, and BT's unique Keep Connected Promise offering free, unlimited data on their BT mobiles within an hour and a free 4G Wi-Fi Mini Hub to arrive the next day, with unlimited data to keep customers connected if ever anything goes wrong with their broadband connection.
For more information and to sign up to Complete Wi-Fi, customers should visit www.bt.com/completewifi.
This content extract was originally sourced from an external website (
BT
) and is the copyright of the external website owner. TelecomTV is not responsible for the content of external websites.
Legal Notices
Email Newsletters
Sign up to receive TelecomTV's top news and videos, plus exclusive subscriber-only content direct to your inbox.