Google embeds the Chromecast client into Chrome and Chrome OS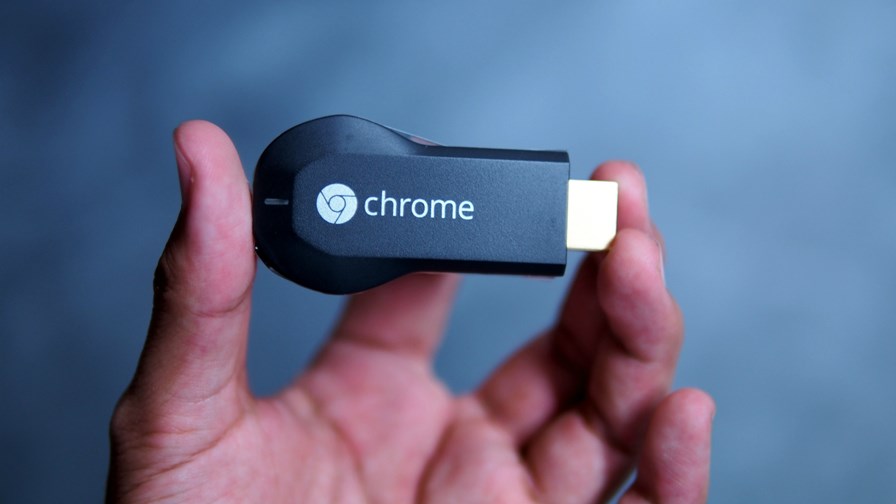 Google has decided to do what many see as the logical next step with its Chromeast TV dongle. Instead of making the device connection software available as an extension for its Chrome browser, it's just adding the code into the basic browser and into Chrome OS - mostly to cries of "dunno why you didn't do it earlier."
Perhaps it just didn't get around to it. Perhaps it wanted the product completely proved out before embedding it. Perhaps Google was (and is) nervous that it could be interpreted as monopolistic behaviour at some point up the track.
Anyway it's made the move and Chromecast becomes more a feature than a bolt-on, especially if manufacturers can be convinced to embed the dongle itself into TV sets.
What is it?
This isn't a gadget review but for those who are trying to recall, Google introduced Chromecast almost exactly three years ago. It cost $35, plugged into the TV HDMI port and meant that from any device/gadget (Android phone, chrome browser and more) a user could cast video/audio content onto the TV from the internet. 'Casting' meant establishing a connection between the WiFi hub and the TV directly.
The user's device became a remote control and once 'cast' the content could stay running until it was replaced by something else, while the original casting device could walk off with its user or could deal with another workload as the video played out. You can cast YouTube, Netflix, Spotify and much more as well as - in the the UK - the BBC iPlayer. The thing worked well, was an Amazon bestseller for two years and has allegedly totted up 25 million sales worldwide.
Not a gadget, a strategy
Strategically Chromecast is a way for google to insert yet another stent into the data delivery infrastructure to keep the video flowing and to stop rivals from putting the squeeze on content or services not their own. Much of Google's development effort goes in this direction when you think about it.
Net neutrality: Google was clearly a big supporter because its overall business model relied on access providers not choking off content or sending the boys to collect cash for data being sent over 'their' pipes.
Google Fiber: more a threat/example than a real challenge to the telcos. The one gigabit service, derided when first announced, has now become an accepted broadband target. The message being, get on and lay fibre or others will.
Android: an open source, open platform in comparison to Apple's highly controlled iPhone platform. Android's dominance means the mobile OS position can't turned into a control point (except of course by Google itself, which would attract an antitrust action faster than you could say "just defragging the ecosystem").
And of course Chromecast: It's another stent providing a sort of 'over the top' route to the television set from the Internet via the WiFi hub, effectively disintermediating those who might like to put or maintain a controlling TV box on or in front of the telly to influence video consumption.
Looking at you Amazon.
It was no surprise then that arch media rival Amazon decided to stop selling Chromecast a year ago. Just a couple of years and 25 million units too late.
Email Newsletters
Stay up to date with the latest industry developments: sign up to receive TelecomTV's top news and videos plus exclusive subscriber-only content direct to your inbox – including our daily news briefing and weekly wrap.