Huawei's lays out its global business principles: openness, cooperation, and win-win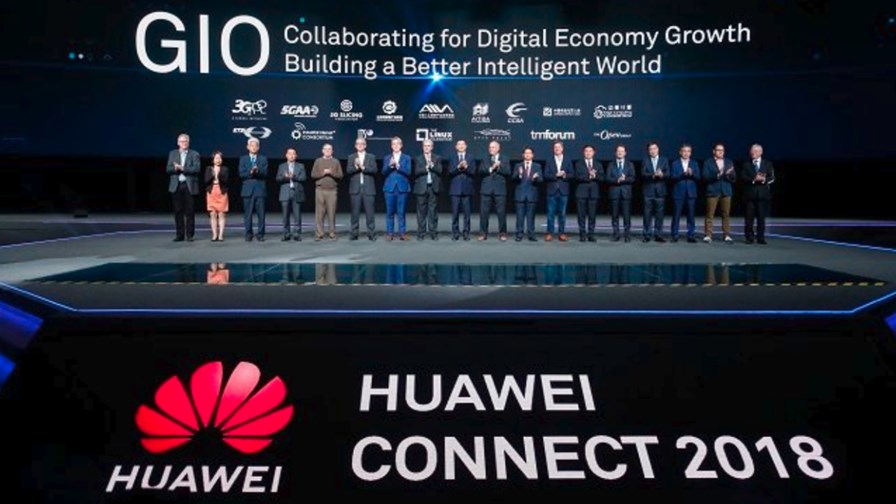 Huawei doubles down on its internationalist rhetoric in the face of US hostility to China
Made a slew of announcements at its HUAWEI CONNECT 2018
Is particularly focused on Cloud and AI
Openness, cooperation, and win-win. Of course it's a slice of business (and political) propaganda and a predictable riposte to Trump's 'America First' stance on international trade and technology ownership. But as a slogan it beats and makes more friends than "Trade wars are easy to win".
The occasion was Huawei's hosting of a Global Industry Organization (GIO) Roundtable, during which it released its three-year global industry cooperation plan, committing itself to invest more in industry application innovation and multilateral cooperation, and to the construction of industry organizations' digital and intelligent platforms.
But it's also not that far removed from the language used by the US and Europe when the foundations of globalization were being laid in the late 1980s and early 1990s. Looks like Huawei, at least, is going to stick with the original internationalist ideals, or at least it's going to keep up the wording (see more on these announcements below).
Huawei has also been busy showing off its technologies as part of HUAWEI CONNECT 2018, the annual shindig that all companies over a certain size now seem obliged to stage once a year and which have now replaced multi-million dollar stands at broad industry events.
But if you drag people along to your own event you'd better have something to talk about and something wow to show them once they get there, as Google discovered with its rather lacklustre event this week.
Huawei, however, has the firepower. It's announcements and commitments to the global networking industry continue thick and fast, as they have been doing for at least two years.
This week we've also had the following Trackers arrive in our system:
Huawei releases faster full-lifecycle AI development platform
Huawei says it's endeavoring to accelerate AI industry development. ModelArts, it claims, is a faster and more inclusive one-stop AI development platform, involving data labeling and preparation, and model training, optimization, and deployment.
Huawei updates the industry-oriented Intent-Driven Network solution
It may well have, but reading this Tracker may not get you any closer to understanding what it's done or even what an Intent network is. So here goes: it's a network which is set up with a control mechanism to meet performance requests. This is clearly very complicated. So an intent is offered to, say, get this data from A to C with x jitter and y latency. The system takes account of the network's current state and then works out a route that will meet the requirements with the right QoS. It can be much more complicated than that.
Huawei releases AI strategy and full-stack, all-scenario AI portfolio
Huawei Rotating Chairman Eric Xu announced Huawei's AI portfolio which includes its new Ascend series of AI chips and new products and cloud services that are built on Ascend chip capabilities.
Huawei helps customers innovate with intelligent cloud data centers
Huawei released its next-generation full-stack private cloud solution FusionCloud 6.5 and introduced the new-generation mission-critical cloud storage FusionStorage.
Huawei holds Global Industry Organization (GIO) Roundtable and announces global industry cooperation plan
[Shanghai, China, October 11, 2018] At HUAWEI CONNECT 2018, Huawei today held the Global Industry Organizations (GIO) Roundtable and committed to connecting global industry organizations, promoting digital transformation of industries, and mutually building an intelligent world for the future. Huawei also released a global industry cooperation plan to promote collaboration across industries and fields of technology, digital transformation, and AI democratization.
As industry continues to integrate with information and communications technology (ICT), an intelligent society is on the horizon. Huawei is committed to bringing digital to every person, home and organization for a fully connected, intelligent world. In recent years, Huawei has continued to promote cooperation among global industries, and worked with various organizations (3GPP, 5GAA, 5GSA, AII, AIIA, AITISIA, CCSA, Chinainfo100, ECC, ETSI, IIC, ITS, Linux Foundation, OPRC, TM Forum, and The Open Group) to accelerate digital and intelligent transformation.
"Industry organizations are the key drivers that enable both industries and industry partners to achieve industry upgrade and steers them to a new cycle of industry growth," said William Xu, Director of the Board and Chief Strategy Marketing Officer of Huawei. "Huawei abides by the principles of 'openness, cooperation, and win-win'. We hope to spark ideas, explore opportunities for multi-party cooperation, and mutually build a fully connected, intelligent world through this high-level exchange platform (GIO) for industry organizations."
Huawei Partners with Global Industry Organizations to Promote Digital Transformation of Industries and Build an Intelligent World for the Future
During the roundtable, Huawei released a three-year global industry cooperation plan, committing to invest more in industry application innovation and multilateral cooperation, and to the construction of industry organizations' digital and intelligent platforms. GIO participants also held in-depth discussions on the trend of business model transformation in the intelligent world, issues and opportunities for industry in the intelligent society, digital economy research, and cooperation regarding innovative solutions, ecosystem, and talent cultivation. Furthermore, to attract the best talent and ensure cooperation in emerging industries such as the Industrial Internet, Connected Vehicles, and Smart City, Huawei advises industry organizations to adopt flexible mechanisms and measures in three aspects: collaboration between ICT infrastructure and industries from different sectors; multi-level collaboration between ICT network technology/operation technology/IT and AI-enabling technology; and collaboration in standards, open source, alliance, and industry policies. Industry collaborations must address cross-standardization alignment, joint certification programs, security, privacy and regulatory policies relevant for different regions or markets.
HUAWEI CONNECT 2018 – "Activate Intelligence" –is held at the Shanghai World Expo Exhibition and Convention Center and Expo Center from October 10 to 12.
This year's HUAWEI CONNECT conference is designed to help all businesses and organizations step over the threshold and stake their claim in the intelligent world. You will be joined by the best minds in the industry – including global ICT leaders, industry experts, and ecosystem partners – to chart the way forward and explore new opportunities.
This content extract was originally sourced from an external website (
Huawei Corporate News
) and is the copyright of the external website owner. TelecomTV is not responsible for the content of external websites.
Legal Notices
Email Newsletters
Sign up to receive TelecomTV's top news and videos, plus exclusive subscriber-only content direct to your inbox.