Merged Sprint and T-Mobile the only carrier capable of delivering nationwide 5G, says Legere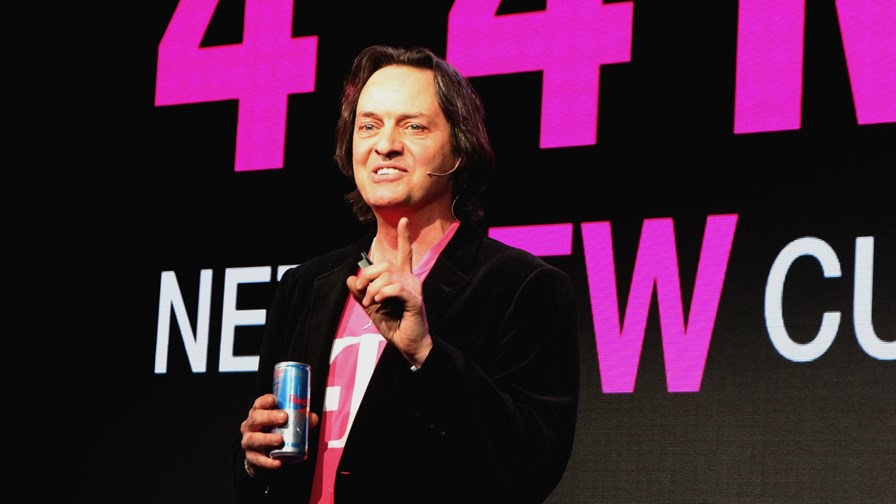 T-Mobile and Sprint have finally signed on the dotted line for a merger
'New' T-Mobile claims that combining with Sprint will enable it to make a spirited dash to 5G
But the deal could still face a major challenge from US regulators and the Trump administration
US mobile operators T-Mobile and Sprint, have at last agreed a merger which values Sprint at around $56 billion. The new joint company, to be called T-Mobile (it's more a German takeover than a merger) is to be led by T-Mobile's 'uncarrier' CEO, John Legere. It will be headquartered at T-Mobile's HQ in Bellevue, Washington.
However, the deal might face resistance from US regulators worried about the concentration of power and the commensurate drop in competition. Pre-empting the objections, the new T-Mobile's industrial rationale for the merger is that by combining both networks and pooling the companies spectrum it will be in a position to roll out 5G 'in depth' (a process which has to start pretty-much immediately). It's casting itself as the US network most likely to get 5G out the door first, pointing to its record on LTE as an indication that it can move fast when it wants to.
According to the announcement, the company will "supercharge T-Mobile's Un-carrier strategy to disrupt the marketplace and lay the foundation for US companies and innovators to lead in the 5G era."
"The New T-Mobile will have the network capacity to rapidly create a nationwide 5G network with the breadth and depth needed to enable U.S. firms and entrepreneurs to continue to lead the world in the coming 5G era, as U.S. companies did in 4G. The new company will be able to light up a broad and deep 5G network faster than either company could separately. T-Mobile deployed nationwide LTE twice as fast as Verizon and three times faster than AT&T, and the combined company is positioned to do the same in 5G with deep spectrum assets and network capacity," it says.
The political message to regulators is clear - if you want to see your world-beating 5G environment materialise, then you'd be wise to green flag this takeover and create a strong network builder.
The merger mechanics
T-Mobile is a publicly listed subsidiary of Germany's Deutsche Telekom AG, and Sprint Corp is a publicly listed subsidiary of Softbank Group Corp. Deutsche Telekom says the parents have agreed a legally binding business combination agreement to merge the two companies in an all-stock transaction at an exchange ratio of one T-Mobile US share for 9.75 shares of Sprint's outstanding common stock without an additional cash component.
If it all works out that will leave Deutsche Telekom holding 42 per cent, Softbank 27 per cent and the public 31 per cent of the combined company's common stock.
It will also see Deutsche Telekom clearly exercising a dominant position, with the right to appoint 9 out of 14 members of the Board of Directors of T-Mobile US, of whom a minimum of two must be independent. Timotheus Höttges, CEO of Deutsche Telekom, will become Chairman of the Board of T-Mobile US, and John Legere, currently a Board Member and Chief Executive Officer of T-Mobile US, will continue as a Board Member and Chief Executive Officer of T-Mobile US. Mike Sievert, current Chief Operating Officer of T-Mobile, will be President and Chief Operating Officer of the combined company. Masayoshi Son, current SoftBank Group Chairman and CEO, and Marcelo Claure, current Chief Executive Officer of Sprint, will serve on the board of the new company.
The spin
The usual economies of scale/stronger balance sheet arguments are being made, together with the mandatory jobs bonanza a commitment to provide U.S. consumers and businesses with lower prices, better quality, unmatched value, and greater competition. The New T-Mobile, it claims, will employ more people than both companies separately and create thousands of new American jobs.
As regards competition worries, T-Mobile argues that the deal will create more competition not less. "Existing T-Mobile and Sprint customers will benefit from increased speeds, coverage, and performance as the two companies' networks combine, it asserts.
It points out that wireless, broadband, and video markets in the US are rapidly converging so it's nowhere near possible to think of it primarily as a 'telecoms' market dominated by two or three large telcos. AT&T is now the largest TV provider in the country, it points out, while Comcast added more wireless phone customers last year than AT&T and Verizon combined. Meanwhile Charter is launching wireless this year. And, more than 1 in 10 Americans (12%) use wireless as their only Internet or broadband connection, freeing themselves from the grip of the traditional, uncompetitive in-home broadband providers.
"This isn't a case of going from 4 to 3 wireless companies," Legere rams home the point. "There are now at least 7 or 8 big competitors in this converging market. And in 5G, we'll go from 0 to 1. Only the New T-Mobile will have the capacity to deliver real, nationwide 5G. We're confident that, once regulators see the compelling benefits, they'll agree this is the right move at the right time for consumers and the country."
Email Newsletters
Sign up to receive TelecomTV's top news and videos, plus exclusive subscriber-only content direct to your inbox.