Bye Mark: WhatsApp's Jan Koum heads off to find new friends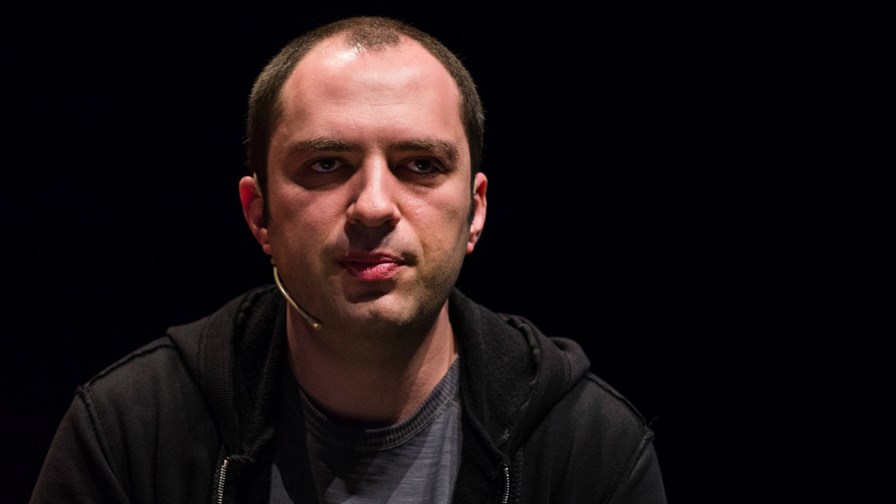 WhatsApp founder Jan Koum leaves the building
He's probably now going to fund something new
But mystery surrounds exactly why he left when he did
Readers might remember Jan Koum, the man who won his 15 minutes of fame by founding WhatsApp, steering it laden with hundreds of millions of global users into Facebook and walking away with a share of $19 billion, hardly to be heard of again. Except he didn't walk away. He stayed on under Mark Zuckerberg, keeping his head down and (according to him) fending off attempts to plunder user data and put it to work to the greater (Facebook) good.
Until now. Now Koum appears to have finally had enough and he's off. He's leaving Facebook and WhatsApp and moving on to other things, apparently because Zuckerberg keeps trying to chip away at WhatsApp's privacy imperative. Except Koum had already ceded that ground two years ago when it started sharing telephone and other user data.
When Facebook bought WhatsApp Koum came onto the scene with a nicely-honed narrative. Born in the Soviet Union he apparently felt the cold chill of Soviet surveillance in the air and harboured a desire to get the world talking across boundaries without the threat of anyone listening in. So WhatsApp, which he formed with Brian Acton, a colleague at Yahoo where they both worked previously, was developed with privacy and, just as important, free use to the fore. It made a major impact and was widely adopted, especially in emerging economies.
It even inadvertently alerted European users to the threat to net neutrality when KPN, claiming bitterly about the loss of SMS revenue, introduced a surcharge on WhatsApp users. That set off a furore in Holland and alarm in the rest of Europe and resulted in the Dutch introducing the first net neutrality law, much to the chagrin of the European Union which was trying to slip through a telecoms bill minus adequate (or any) net neutrality protections. The rest, as they say, is history.
Serious money required
Back at WhatsApp HQ it was apparent that the company still had no way to make any serious money. Was there a cunning plan?
Perhaps, perhaps not, but Koum must have realised that a revenue stream would have to involve either some sort of data sharing or some sort of light touch charging. Certainly he didn't allow his company any wriggle-room on the privacy front. "Respect for your privacy is coded into our DNA… we built WhatsApp around the goal of knowing as little about you as possible," he blogged at the time.
So it was slightly perplexing when news came in of Facebook's purchase of WhatsApp in early 2014. By that time WhatsApp had just completed a $1.5 billion financing round, but Zuckerberg zoomed in and snapped it up for $19 billion, a stunning sum for a company that didn't make any money and seemed to rule itself out from ever doing so. Clearly there must have been some expectation that a pay day would come some way up the track for investors to even lay out the paltry $1.5 billion.
Perhaps Zuckerberg was thinking along the same lines. So why did he buy WhatsApp? Probably just to stop it extending the platform into Facebook's social territory. That means that WhatsApp's value to Zuck, in the short term, was in what it refrained from doing rather than what it did. If it stuck to just connecting people securely Zuckerberg could bask in the goodness of it all without having to worry about its competitive threat.
After all, it didn't cost much to run - the headcount might have swelled since he bought it, but essentially it's still the bare-bones operation (at least compared to Facebook itself) it was in 2014 when it boasted a handful of software engineers to run the entire global network. Zuckerberg could wait until users were completely dependent on the platform, as he did with Facebook itself, before slipping in some money-making features.
Then two years ago it was announced that WhatsApp would completely go back on Koum's word and start sharing data with Facebook, including phone numbers. That got Facebook and WhatsApp into trouble for telling the European Union that data wouldn't, indeed couldn't, be shared between the platform and a stiff fine followed. According to Koum at the time, the change meant Facebook could offer better friend suggestions. Brilliant.
What it really meant was that WhatsApp had spotted the potential for commercial messaging - a market which is expected to grow so fast that some experts think it's a candidate for dominating ecommerce (in an evolved form, of course).
WhatsApp has subsequently busied itself building free tools to help businesses use WhatsApp to reach their customers, a process that will eventually result (it's hoped) in a substantial revenue stream from businesses rather than from users.
What caused Koum's apparently sudden departure is hard to work out. Insiders say disagreement between Koum and Facebook festered around WhatsApp's use of total encryption which, it was thought, would make it difficult for businesses to use the tools effectively. WhatsApp execs thought Facebook might force a weakening of the cast iron encryption. In any case he's gone, but money had already won out against privacy some time ago, apparently with Koum's active support.
Email Newsletters
Sign up to receive TelecomTV's top news and videos, plus exclusive subscriber-only content direct to your inbox.