Denmark hands over free spectrum for better mobile coverage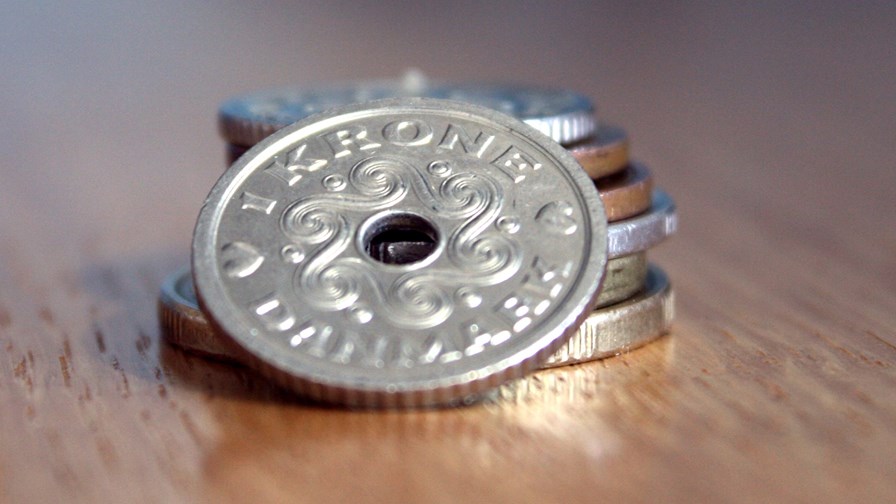 Multiband spectrum auction raises US$300 million-plus
Operators get free airwaves in return for boosting coverage to 19K homes and businesses
Nonetheless, TDC racks up hefty spectrum bill
Denmark's telecoms regulator this week announced the results of its latest spectrum auction, which netted 2.2 billion kroner (around US$333 million) for government coffers despite the fact that certain frequencies were given away for free in return for better mobile coverage in underserved areas of the country.
The state set a reserve price of zero for certain lots of spectrum in the 700 MHz and 900 MHz bands, essentially enabling operators to acquire frequencies for no or low cost, provided they adhere to specific coverage requirements. There are 212 territories, split into three non-overlapping blocks, in which licence winners must cover 90% of the area with download speeds of 30 Mbps and uplink of 3 Mbps by April 2022.
The 212 areas cover around 19,000 homes and businesses, which means the government has effectively missed out on a reasonable potential chunk of revenue in order to boost mobile coverage for a relatively small number of people.
That's potentially good news for the operators, although they will of course carry the cost of rolling out the required infrastructure for this small number of people. And realistically, perhaps they had little choice in the matter, given that they are already offering services in some of the spectrum that was auctioned.
The Danish Energy Agency revealed that all three operators took up the coverage obligation, but did not provide further details.
However, there was a bit more colour from Telia Company, bidding via its TT Network JV with Telenor, which confirmed that it had secured 10 MHz of paired 900 MHz spectrum for "no upfront cost." Telia is currently offering services in the 900 MHz band, its licence due to expire at the end of the year. Its entire DKK107.6 million auction spend went on 2x5 MHz of 700 MHz frequencies.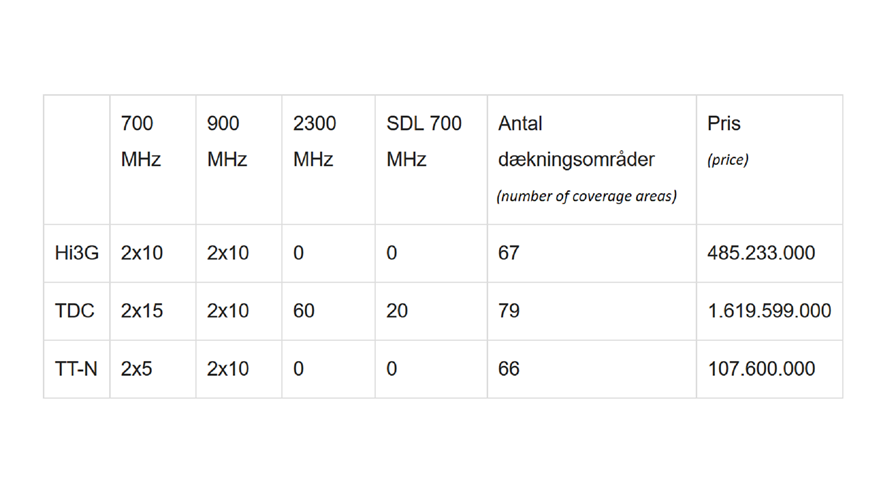 Incumbent TDC, which emerged as the biggest spender in the sale, was less forthcoming about the cost of its specific spectrum lots.
The telco racked up a bill of DKK1.62 billion, acquiring paired frequencies at 700 MHz and 900 MHz, as well as 20 MHz of 700 MHz supplemental downlink spectrum and 60 MHz of an available 100 MHz of unpaired 2.3 GHz spectrum; the remainder of the 2.3 GHz frequencies went unsold.
"TDC has won 14 of the [20 available] blocks, which makes it possible to roll out 5G networks in all parts of Denmark and strengthen the capacity of the existing 4G network," it said, in a statement.
The 900 MHz spectrum comes into force next April and extends TDC's existing licence in that band. The operator will be able to deploy the 700 MHz frequencies from the same date and indicated that it will use the spectrum for 5G. The 2.3 GHz airwaves are available immediately and will initially be used to generate more 4G capacity as well as adding 5G capacity in the longer term.
Whatever the breakdown of TDC's auction spend and however much it "saved" by taking up a coverage obligation lot, the fact remains that it has just spent close to a quarter of a billion dollars on spectrum, and that's without taking into account future requirements for higher band frequencies for 5G.
Not cheap, this industry.
Email Newsletters
Sign up to receive TelecomTV's top news and videos, plus exclusive subscriber-only content direct to your inbox.