Toyota gives NTT DoCoMo a shot at smart city glory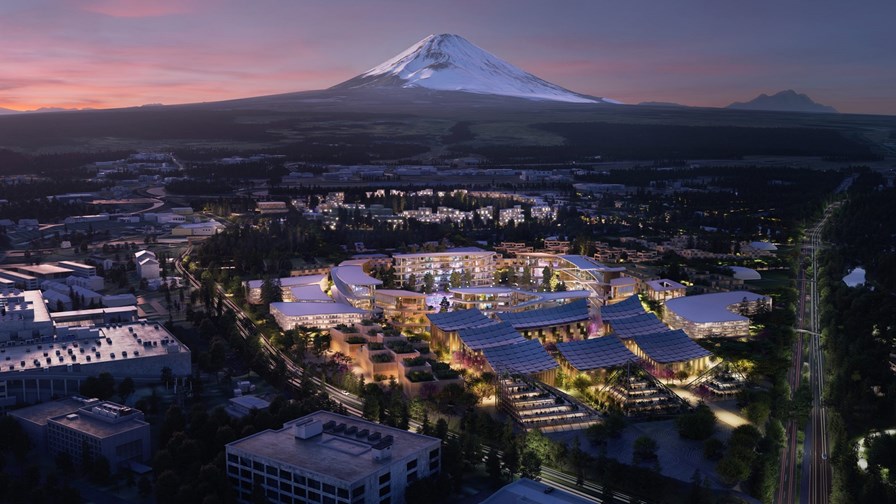 $1.8 billion deal covers development of a smart city platform of platforms
Stakes are high as telcos are by no means assured of their place in the value chain
Smart city tech investments expected to reach $61 billion by 2026
Toyota and NTT DoCoMo have struck a $1.8 billion deal to develop a smart city platform, giving the Japanese operator a chance to prove telcos belong at the centre of these complex ecosystems.
Two locations will serve as testbeds: Shinagawa Station in Tokyo, and Woven City, the upcoming prototype smart city announced by Toyota at CES in January.
Once built, Woven City will be home to 2,000 people and a living lab for trying out new smart city services. Residents, devices, vehicles, buildings and infrastructure will all be connected and monitored by an AI-enhanced, citywide operating system. Toyota didn't mention at the time how it planned to actually connect all this stuff; that is presumably where its telco partner comes in.
The two companies have been working together already for years on connected car solutions. Now they are taking their relationship to the next level. Indeed, to cement their partnership, Toyota and DoCoMo will each acquire ¥200 billion ($1.8 billion) worth of shares in one another.
Toyota and DoCoMo said in a statement that their smart city platform "will offer value to all domains, from people, cars and houses, to everyday life, business, infrastructure and public services related to residents, businesses, local government etc." The aim of the partnership is to enable cities to create a digital twin, and offer a platform of platforms that can be linked to other smart city platforms.
It is a bold undertaking given the well-documented challenges of stitching together all the various elements – transport, environment, households, energy and utilities, administration, security and law enforcement, public safety, and so-on and so forth – that that make a city what it is. Woven City being built from the ground up as a smart city will provide a useful blueprint, but its degree of relevance to other cities is debatable.
************************************
We want to hear from you!
Take part in our 5G and Security survey and receive a free copy of the downloadable report ahead of general release.
Role-playing games
The announcement comes as ABI Research predicts that smart city tech investments are on track to reach $61 billion in 2026. Furthermore, it expects the number of urban digital twin and city modelling deployments to exceed 500 by 2025.
It's just as well then that Toyota and DoCoMo in particular are taking this so seriously because it looks like the next few years will really see the market take shape. Therefore the window of opportunity for telcos to capture as much of the value as possible may soon close.
Indeed, they are by no means the only candidates for the role of smart city partner of choice.
As ABI Research notes, the likes of Microsoft, Siemens and Dassault Systems have all been busy winning smart city deals, delivering technology and urban modelling solutions all over the world. These are just three albeit massive companies. The number of other players getting in on this sector is too large to list. Smart cities are not a zero-sum game, of course; there is room for big IT players, engineering firms, systems integrators and telcos, plus smaller specialists, but it is about who emerges as the natural choice for local administrations.
Telcos have fixed and mobile network expertise, and experience working with enterprises, the public sector and planning authorities. But then again, there are other IoT technologies that are relatively cheap and easy to deploy, and offer a potential alternative to traditional telco networks. Furthermore, there is growing interest – including in Japan, for example – in reserving mobile spectrum for enterprises, demonstrating that in some scenarios the end users of those frequencies want to be in the driving seat.
Telcos know by now that they can't rely on networks alone to secure their place in the value chain. Toyota has given DoCoMo a valuable opportunity to prove itself and earn that coveted title of trusted partner.
Email Newsletters
Sign up to receive TelecomTV's top news and videos, plus exclusive subscriber-only content direct to your inbox.