Network complexity is driving managed SASE demand – report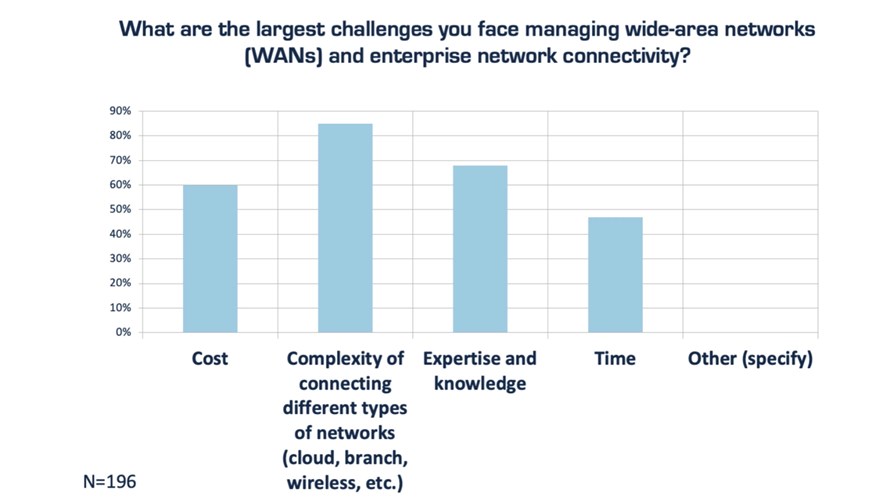 Enterprise users are facing enormous network complexity challenges
Those challenges are exacerbated by hybrid work and security requirements
This is resulting in high demand for managed SD-WAN and SASE services, according to a new report
Enterprise networking and security experts are turning to managed SD-WAN (software-defined wide area networking) and SASE (secure access service edge) services to deal with the increasing challenges caused by network complexity, according to a new report from research house Futuriom.
The Futuriom team conducted a survey of 196 enterprise networking and security users based in the US, Germany and India and found that SD-WAN and SASE technology is helping them combat network and security challenges, which are increasingly being caused by hybrid work patterns and distributed applications, multi-cloud connectivity and the need for zero-trust network access (ZTNA), which was cited by 92% of survey respondents as a crucial component of SD-WAN and SASE offerings.
SD-WAN and SASE have been evolving and maturing for a number of years already, but the market is far from fully mature: It is still growing and is highly fragmented, both in terms of the companies involved in providing services and technology to enterprise users and in how SD-WAN and SASE capabilities are deployed and consumed by enterprises.
But the shift from traditional enterprise connectivity, especially MPLS, towards software-enabled alternatives, and the increasing need for enterprise networking security is unrelenting and, as a result, the demand for SD-WAN and SASE capabilities continues to grow.
"What's needed more than ever are software-based platforms for integrating the management of network and security functions at the same time," notes Futuriom's founder and principal analyst, Scott Raynovich, in the 2023 SD-WAN/SASE Managed Services Survey Report.
"This approach was first initiated by SD-WAN, which separated the software control from the hardware for branch-office networking. SD-WAN evolved and grew by adapting security functionality (SASE), which could be integrated into the network platform. This unique approach of melding software-based control of SD-WAN and SASE has driven broad adoption across both enterprises and service providers, with service providers adopting the technology to deliver enterprise managed services," he adds.
An example of how service providers are delivering value to their enterprise customers in this way came this week when Orange Business announced it has won a deal to supply, in partnership with Netskope, a managed SASE service to Stolt-Nielsen, a global expert in bulk liquid logistics and sustainable land-based aquaculture that has 2,500 users spread around the world – see Stolt-Nielsen deploys fully integrated Orange SASE solution to optimise global connectivity and security for hybrid workforce.
And it is the complexity of connecting different types of networks, which the Futuriom survey clearly identified as the main challenge facing enterprises as they try to manage their wide area networks and user connectivity (see chart above), that is driving enterprise users to adopt SD-WAN and SASE services.
In addition, the advent of hybrid and remote work models in recent years has increased demand for security technology, such as SASE and ZTNA, with 99% of the Futuriom survey respondents noting this to be the case.
But the choices for enterprises wanting to take advantage of SD-WAN and SASE are not simple – there are multiple deployment options and many suppliers and service providers.
According to the results of the Futuriom survey, the three most common deployment models are cloud-hosted architecture, though this can be problematic in large deployments as all traffic is diverted to the cloud rather than being processed locally; local appliance architecture, though this is mostly associated with legacy enterprise security perimeter approaches involving firewalls; and hybrid architecture, a flexible combination of cloud and local appliance capabilities.
Futuriom's Raynovich points out that the vast majority of survey respondents – 98% – said they wanted a hybrid solution, but this "may be the case of the solution sounding easier to find than it is, as hybrid solutions tend to be more difficult to build."
Enterprise users also need to decide whether to deploy a single vendor solution, a best-of-breed solution comprising technology from multiple suppliers, an integrated managed service from a service provider, or a hybrid approach often integrated by the enterprise itself.
Raynovich notes in the report that there is a "large diversity among organisations in how they seek deployment of SD-WAN/SASE. This makes sense, as the demands, architectures, and configurations of organisations vary widely."
Best-of-breed is the most popular option currently but favoured by just 34% of the survey's respondents, followed by single-vendor solutions (23%).
Raynovich adds that there are "dozens of SD-WAN and SASE providers, but only a few have the scale and platforms designed specifically for use by the major service providers to roll out managed services" and for his report he focuses on "vendors that have specific platforms targeted at SD-WAN/SASE managed services," namely Cisco Systems, Fortinet, HPE (Aruba EdgeConnect), Juniper Networks, VMware (VeloCloud) and Versa Networks.
On the service provider front, he calls out AT&T, BT, Deutsche Telekom, Tata Communications, Telefónica, Telstra, Verizon and Vodafone as some examples of "leading service providers for SASE/SD-WAN managed services" (Orange Business does not get a namecheck).
But those traditional communications service provider names don't have the managed services market to themselves: The Futuriom report notes there is competition from a "handful of independent cloud-based providers with SD-WAN and SASE offerings. These include Aryaka Networks, Cato Networks, and Cloudflare, all of which have built their own networks to compete with incumbent service providers."
Futuriom doesn't provide a value for the SD-WAN/SASE market, but the Dell'Oro Group said in March that the "worldwide SASE market was worth more than $6bn in 2022, up by 34% year on year.
- Ray Le Maistre, Editorial Director, TelecomTV