SDN-think: technology understood, people and business models next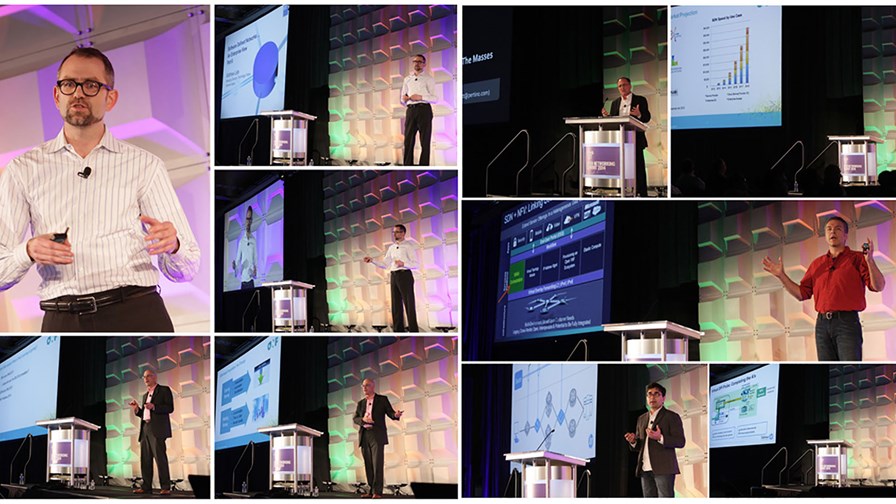 It's now about 18 months since SDN and NFV really burst onto the telecoms scene, so how has the SDN picture changed over that time? We asked attendees at last month's ONS (Open Networking Summit) in Santa Clara for some insights into how the thinking is developing and why.
The business implications are sinking in say our TelecomTV interviewees. As you'd expect aspiring providers are starting to differentiate themselves by tackling specific sub-sectors or SDN roles. Some, like Brocade, are in just the right place to make a contribution.
According to Brocade's Andrew Coward, customers now buy compute, storage and network as a package to shift expenditure from "up-front" capital expenditure and that's a huge change for everyone in the chain.
And the sheer economic advantage of virtualisation should have people reeling if they aren't already. Andrew says the fact that you can now, today, run Intel servers to support 10 gigabit throughput, all on commodity hardware really does change the calculations.
One customer used to have a store room where it kept network appliances (firewalls, small servers etc) into which it would delve when a customer asked for a specific function. Not any more because it isn't buying any hardware like this, doesn't matter if the vendors give them away. Why? Because even at free it is always cheaper to do the virtualised setup because of the ongoing drain on opex from setting up physical devices.
The way companies now work together is also ticked as a big change.
Rajeev Nagar from Microsoft, is an enthusiastic advocate for industry collaboration and the culture of experimentation that tends to go with it. He explains why forums like the ONS are already driving industry development.
For Inder Gopal, a VP at IBM, it's the 'way' this change is being tackled that makes it profound and different from all the networking inititatives that have gone before. Control and data plane separation is not new - the idea was proposed at least once, a decade or so ago, he says - but SDN is different in the sense that it's being done, not just as an open standard, but as open source. "It's hard to have a hidden agenda when you have that kind of exposure. "
That's a sentiment shared by HP's Sarwar Raza who says it's refreshing to see bleeding edge users giving direction to vendors. Open source and open standards levels the playing field and democratises the industry from the influence of one or two vendors, he claims.
Culture shock, experienced both ways between the different sides of the SP 'house' (network and IT), is certainly an important hurdle in front of the coming transformation. We all know it, but sometimes it takes the (relatively) newly arrived to make it stark.
Martin Casado, now the CTO of Networking at VMware and credited as being one of the fathers of SDN, tells us how strange he thought the network environment was. He was used to DIY coding in computing to get a system to where he wanted it to be. With the network, though, you had to use what you were given, he says. Naturally he thought there was clearly a better way.
Business models and the way people and companies have traditionally tried to build value into their offerings is also under scrutiny. In a world of open source and collaboration the idea of working towards a lock-in or "ring-fencing" scenario, is less acceptable in SDN and allied activities. But it's quite a wrench to forget about the old ways and embrace open source, says Sunil Khandekar of Nuage Networks.
Mitch Auster from Ciena goes along with that. The industry, he says, has seen the value of open source in compute and storage in the data centre while networking has been held back. It simply needs to enbrace openess to get that value back and win a richer ecosystem.
Of course, SDN in the telco domain can't just be a re-run of SDN in the data centre, points out Spark Integration Technologies' Jay Friedman. Spark's big idea is provide a simplified model of SDN, carefully abstracted and simplifed for the WAN.
The goal as always - better time to market and lower cost of ownership. Craig Elliot, co-founder of Pertino is taking the almost exact opposite tack to Spark. Where the Spark distributes SDN out into the wide area network beyond the data centre, Pertino builds customer networks right inside the cloud. "This abstracts the complexity so that SMEs can get the sort of network and control only previously available to large companies," he says.
Email Newsletters
Sign up to receive TelecomTV's top news and videos, plus exclusive subscriber-only content direct to your inbox.