Vestager: four to three mobile operator consolidation not a 'done deal'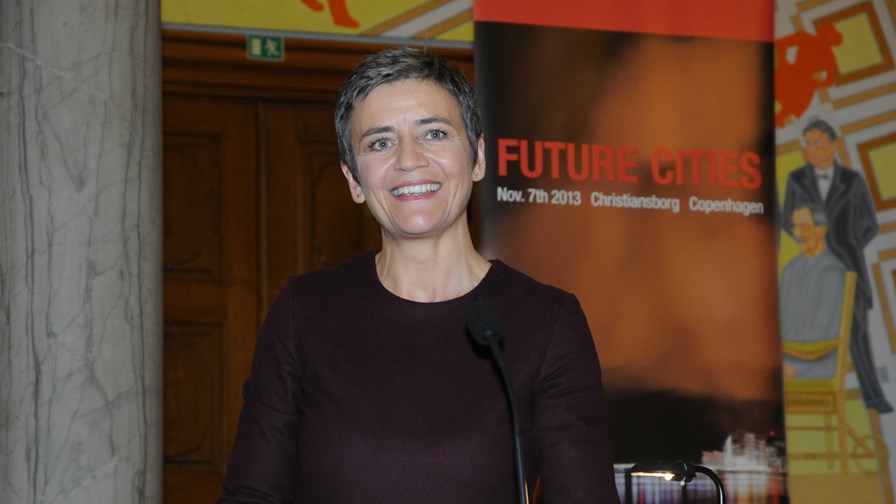 Margrethe Vestager, the newish EU competition commissioner, has popped up to fire not so much a warning shot as a full-scale barrage across the bows of Europe's big telecoms operators and their spear-carriers who seem to think they have won the telecoms consolidation argument and that there's overwhelming industrial logic behind the idea that operator numbers need to drop to three max as a necessary condition for more mobile network investment.
According to the pro-consolidation narrative, the idea of four or more competing mobile operators per national territory is laughably old-hat… get over it, move on.
Vestager is not going to be moved on. In a recent speech made in Paris she made clear that not only was she still a believer in competition, but that there was ample evidence to support that belief in the way the market is currently operating in Europe.
"Incumbent operators argue that if they cannot merge with their rivals in the same country they will be unable to increase their investment. I've heard this claim quite often, but I have not seen evidence that this is the case," she said.
On the contrary, she went on, the evidence she saw was that excessive consolidation lead not only to less competition and higher prices, but it also lead to less innovation. And as for investment - stiff competition stimulates that as well.
She doesn't have to go far to find the evidence. The most compelling case for more competition not less (apart from good old common sense) is to be found with the transformation of the formerly lazy and cosy French mobile market. A few years back it ticked along nicely then came Iliad subsidiary, Free Mobile, dropped into its centre like a stink bomb, complete with a new business and technical model and a compelling proposition. Almost overnight the French mobile establishment had a nervous breakdown and called for political intervention, spinning up fears of corporate failure and vast job losses unless "something were done".
There was some shuffling of assets, but in the end France remained a four player market, just a much more competitive one. Crucially, following Free's entry, Vestager pointed out, "the overall level of telecoms investment in France grew, and remains at higher levels than at the moment of Free's entry," she claimed.
"We have also seen established players abuse their dominant positions to try and prevent competition from alternative operators. And we shouldn't forget that these alternative operators are also behind major network investments in the EU," she said.
Email Newsletters
Sign up to receive TelecomTV's top news and videos, plus exclusive subscriber-only content direct to your inbox.