Robosex: the application that usually dares not speak its name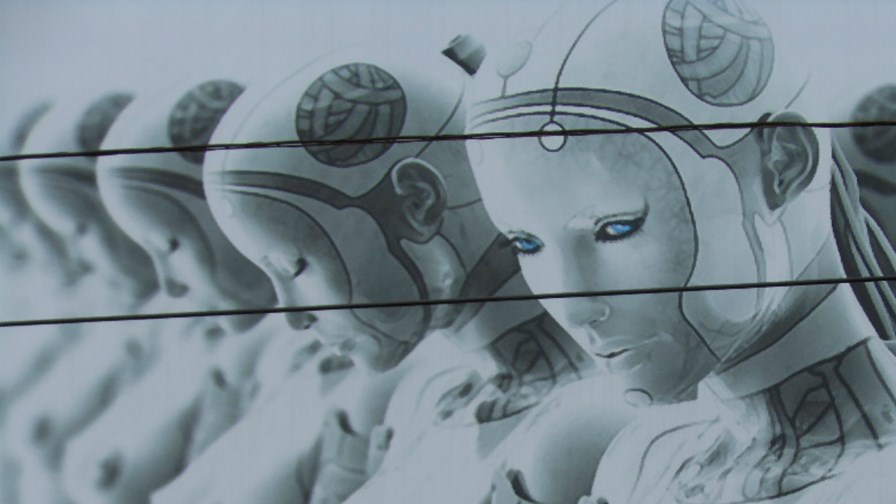 Answering questions about robots and sex in Salford this week
Is it just an inevitable destination for our networked and increasingly intelligent technology?
Or should we be working out ways to ban it?
Sex and new entertainment technologies have always been enthusiastic bedfellows. From 'What the Butler Saw' slot machines to cine film, right up to VHS videos and today's Interwebulator: wherever there's a moving human image it seems that there's always someone trying to copulate with it.
So it might be deemed strange that our industry - so obsessed with what's coming next - seems to have drawn a veil of silence over what artificially intelligent robots might get up to and how we humans might lead them astray (and they us).
Yes Robots!
And soon too. We're not talking about your classic metallic weirdos from Star Wars - all beeps, clanks and flashing lights - but eventually cybernetic facsimiles of real people programmed to move and talk and interact in ostensibly meaningful ways.
The issues around the subject of 'Robots and sexuality' are being addressed this week at what its organisers claim is a world first academic conference programme on the topic at Salford, Greater Manchester.
The possibilities here go well beyond the obvious virtual reality porn and towards virtual emotional empathy and attachment. That, say some psychologists, moralists, health professionals, academics and anyone who pauses to give the matter more than a passing thought, is where things might start to get really messy.. or not.
In fact academic opinion, at least, appears to be sharply divided.
On one side at this event is Dr David Kreps of Salford University, author of a 2013 paper entitled, "Performing the Discourse of Sexuality Online". Kreps is a robosex optimist who's quoted as saying, "You have to ask the question – how genuinely human can any robot ever be?" he said. "Love takes two people – it's about human beings. A very large part of the physical and chemical connection between humans relies on eye contact and you're never going to experience that with a machine, no matter how much AI there is."
So for Kreps robot sex is simply at one end of a trend already well under way. "Increasingly, we can wear technology to monitor our health or enhance access to information, we engage with social media in a highly personal nature and can even implant technology devices in our bodies to track movement or communicate," he claims. "Sex robots are simply another way in which technology is being developed to enhance pleasure."
Another enthusiast is Ghislane Boddington, Co-Founder and Creative Director at body>data>space, who will deliver a keynote on what she calls "The Internet of Bodies". She sees this interlinking of bodies, information on our movements and senses to technology and the robots or avatars we choose to create, as being the future of love and intimacy."
As you'd expect there is an alternative view. Robotics ethicist, Kathleen Richardson, for instance, is campaigning to ban sex robots because she believes they will prove harmful and will contribute to inequalities in society.
But both sides can probably agree that there are specific dangers. By chance (presumably) it's today been announced that over 200 people in the UK have been charged with the relatively new offense of posting 'revenge porn'.
The conference will be told that, as with all intimate applications of technology, humans (and not just the robots) have to understand the implications of their involvement and the risk that data (or soon, presumably, full three dimensional imaging) might be being collected by someone somewhere.
The 12th IFIP TC9 Human Choice and Computers (HCC12) Conference is starting tomorow at MediaCityUK in Salford, Greater Manchester and will run from from 7-9 September 2016.
Email Newsletters
Stay up to date with the latest industry developments: sign up to receive TelecomTV's top news and videos plus exclusive subscriber-only content direct to your inbox – including our daily news briefing and weekly wrap.