Feelings running high - anything to get competitive telecom services in Mexico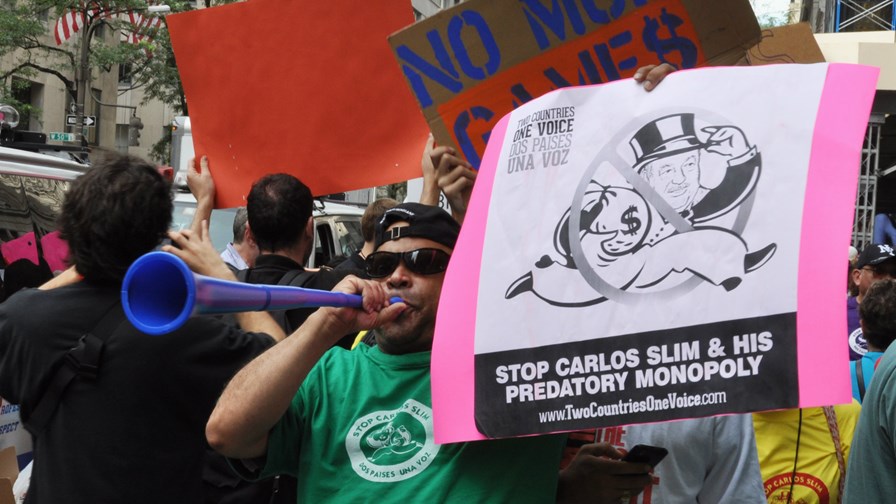 The Mexican government has been pulling out all the stops to chip away at Carlos Slim's America Movil which dominates the Mexican telecoms market to the tune of over 60 per cent.
All sorts of schemes at every level in Mexican communications are being mulled, including new rules to get new companies into the market, and a tie-up between broadcaster Grupo Televisa and a telco. Anything and everything seems to be being tried.
The most interesting option to date is a process - already under way - to invite bids for a consortium to build a US$10 billion LTE network which would be government-owned and would provide wholesale capacity for retail operators or MVNOs. The spectrum would effectively be gifted to the winning consortium
Reuters says big name telecoms equipment providers, Alcatel-Lucent and Ericsson have been working with one consortium which has already submitted a proposal to the government.
The rest of the world will watch with interest as the usual arguments are deployed for or against the concept of a government-controlled network. Pros point out that, in many countries, only by pooling resources and building a single, expensive LTE network is there any hope of building high-speed mobile data services there. Antis worry about the effect any such move would have on future inward telecoms investment, or on the proven ability for a government to build and run such a complex beast.
The government wouldn't be running it, of course, it would be run by a consortium of highly skilled mobile companies and their technical specialists, but that fact tends to cut little ice. This tends to be an ideological argument.
From the UK perspective the concept doesn't seem so outlandish. Cellular started life here with just such an arrangement - two essentially wholesale providers offering capacity for retail minute resellers and terminal equipment providers, all highly regulated. It seemed to work very well.
On the fixed side, BT's Open Reach separation model, on balance, worked very well in the early days, giving the UK some of the most cost-effective broadband services in the world. It's surprising what a dose of real competition at the right level will do.
Email Newsletters
Sign up to receive TelecomTV's top news and videos, plus exclusive subscriber-only content direct to your inbox.