Back to the future: Oettinger sounds like Neelie Phase One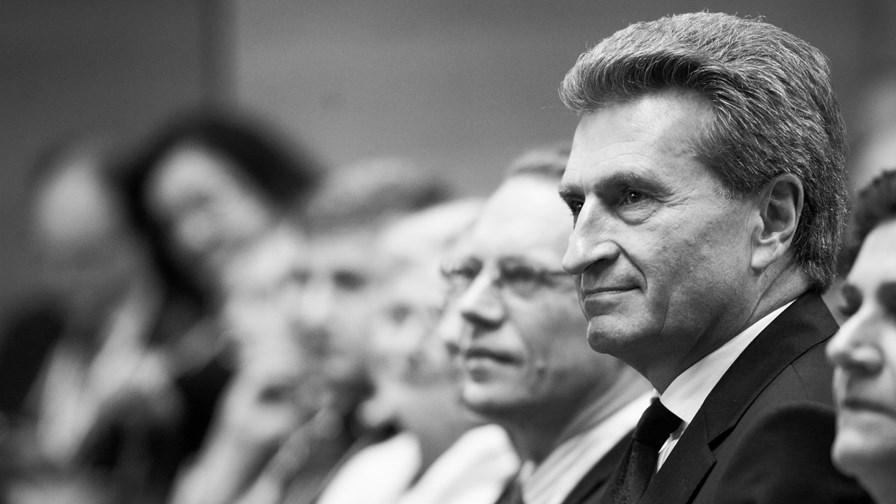 Europe's telcos have had a battering and now need to make fair profits. So says incoming EU digital chief, Guenther Oettinger, in remarks made to German business publication Handelsblatt. "So far, we have ensured that consumers benefit from the liberalisation of telecoms markets. From now on our actions must be more geared more toward allowing companies to make fair profits," Handelsblatt reports Oettinger as saying.
Consolidation is a high priority for Oettinger too, despite the fact that competition authorities have only reluctantly flagged through the last couple of European consolidations after being promised that new 'virtual' competitors be established as MVNOs, thus blunting the consolidation effort. Oettinger indicated he thought the consolidation of smaller regional IT and telecommunications companies in Europe might create global competitors.

In the opening phases of Neelie Kroes' tenure as EU commissioner for the digital agenda she assembled what she no doubt thought was a workable deal for European telcos. On the reform side she would continue with the commission's mission to sort out the European market by applying some judicious reforms: Mobile roaming charges (taming and eventually abolishing them) was high on the list and so was an impressive sounding roster of Internet rights and protections which Neelie was going to wheel out.

It all sounded very good, but where was the epic compromise? Oh yes, she would pave the way for mobile operators to consolidate. What they lost on the roaming charges they'd make up for on the costs they'd cut and the higher charges they could make once the continent was rid of challenger networks. Europe was fragmented telecoms-wise and had 'fallen behind' the US. She would create a connected continent. Anything else?

She would also introduce strong network neutrality protections. Oh... one more thing, hardly worth mentioning. She would allow telcos to define 'specialised services' which they could offer across their broadband networks to their customers.

These were just the escape hatches the telcos wanted so they could avoid abiding by annoying network neutrality regulations. Instead they could set or maintain low caps on their Internet data services and then offer video service separately. The legislation was amended to ensure the services really were specialised and not just carrier versions of Internet services, but in fact the legislation is still, today, being negotiated behind the scenes. It looks more than likely now that the specialised services will be back.

But at the end of her tenure Neelie really sounded as though she'd seen the light. Instead of muttering about changing regulations because infrastructure had to be paid for (something we'd heard early on) she was taking the opposite tack and talking about telcos protecting outmoded business models and being very annoying about it (see - Neelie plays Mrs McGonagall in Hogwarts final assembly re-make)

The irony now is that we appear to be back at Neelie Phase One. It's a new commissioner but he's voicing the same old ETNO argument-set that seemed, at the beginning, to have convinced Neelie Kroes. In a nod towards the idea that she had a change of view, she has since confirmed that she wished she'd been harder on the telcos when she had the chance.

It looks like Oettinger, the former Energy Commissioner, has had enough time to read at least one executive summary about things digital before facing questions: "We are in the "middle of a revolution - our daily lives, our industry, our infrastructure. The digital world is changing everything," he enthused.

It's certainly changed Oettinger's career trajectory. He was apparently hoping for something else and said he was "not happy but satisfied" in a statement just after his appointment was announced .But he said he is "motivated and curious" about the new position.

'Curious!' As in: "I wonder what the hell it's all about?"
Email Newsletters
Sign up to receive TelecomTV's top news and videos, plus exclusive subscriber-only content direct to your inbox.