The Global Mobile Industry is Embracing Open RAN to Drive Innovation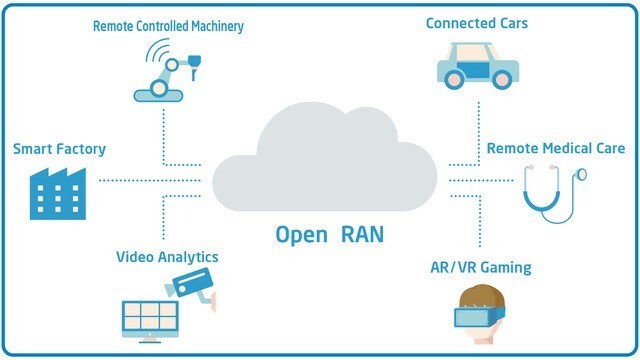 NEC Showcases its New 5G Network Portfolio & Open Ecosystem Capabilities
5G Network Deployments are Accelerating Despite the COVID-19 Pandemic
5G network deployments are well underway around the world. According to the GSA there are now 92 live networks in 38 countries as of August 20201. The deployment of 5G services will continue to accelerate in 2020 despite the impact from COVID-19. Some of the most advanced Communication Services Providers (CSPs) in the world are already starting to deploy 5G in Standalone mode in order to reap the full benefits of 5G technology in terms of network features, such as improved speeds and lower latency, as well as new services, such as network slicing.
5G Networks are Creating Unique Challenges for Communications Service Providers
CSPs are now facing a unique set of challenges as they roll out 5G networks and services, which will require new approaches to network deployment and management. One aspect which is already clear is that there will be a huge increase in data traffic. By 2025, 5G smartphone users are expected to consume 100GB per month, and the Average Revenue Per User has only increased slightly2. This means that CSPs will rapidly seek out new services to deploy in the 5G era, particularly in the enterprise space.
The enterprise space is progressively seen as a segment where CSPs deploy 5G as a powerful tool to facilitate Digital Transformation. A survey from the TM Forum found that many enterprises are keen to adopt 5G and 71% of manufacturers are willing to pay more for 5G connectivity3. Another survey from the TM Forum found that CSPs believed that enhanced mobile broadband, fixed wireless access and XR will be the most transformative B2C consumer 5G services4. As CSPs are expected to invest over US$858bn on their 5G networks from now until 2025 according to the GSMA5, monetizing these investments will be a key priority going forward. CSPs need to consider how they can provide more benefits to end users by delivering a better user experience, while also creating new business models and revenue streams.
The Importance of an Open 5G Ecosystem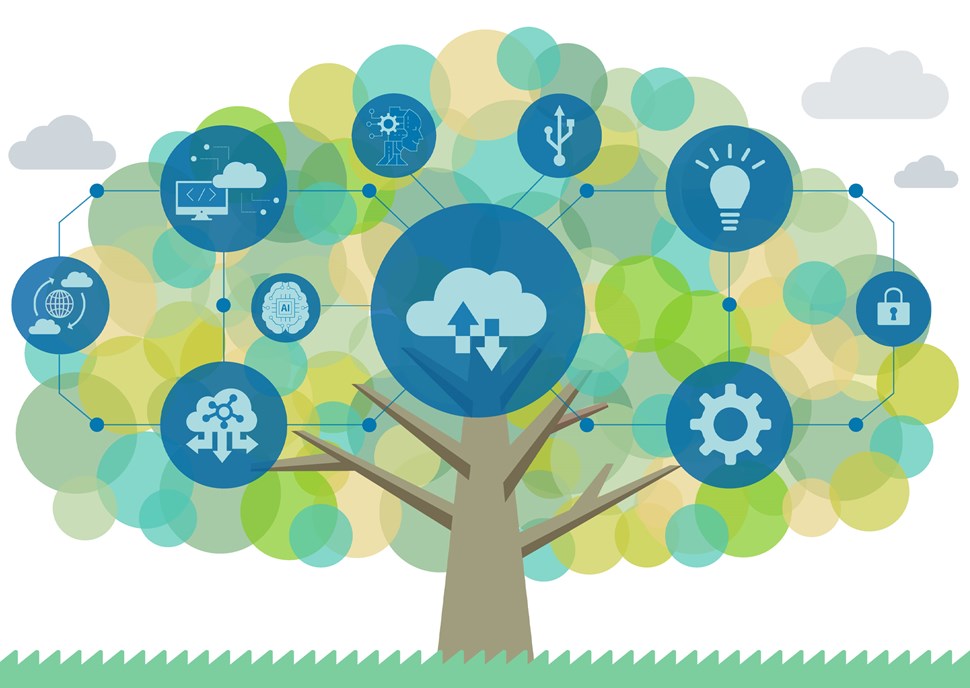 Another important and new feature of 5G networks is that there is an increasing movement in the industry to cloudify mobile network infrastructure, resulting in open and virtualized Radio Access Networks (RAN). Industry associations such as the O-RAN Alliance and the Telecom Infra Project are coordinating industry standards to create open and virtualized mobile networks, and many leading CSPs and vendors have joined to help create an open 5G network ecosystem. Adopting an open, cloud-based mobile infrastructure can deliver many benefits to CSPs, including having a diversified supply chain, shorter deployment times, no vendor lock-in, and flexibility in network deployment, operations, and design.
Due to these potential massive benefits, the concept of an open and virtualized RAN is gaining traction in the industry, and a recent survey by Heavy Reading found that 62% of CSPs believe that Open RAN will be critical or important over the next two years6. CSPs are gradually testing Open RAN and there are currently more than 20 commercial trials in place around the world. Due to the potential cost savings that open and virtualized networks can deliver, many different types of CSPs are implementing Open RAN, including carriers in emerging markets and developed countries as well as both legacy network operators and greenfield deployments. Potential cost savings from Open RAN may become especially critical for rural 5G deployments and 5G networks in emerging markets where the business case is more difficult to justify using a legacy network. Open and virtualized networks may also incite significant business model innovation, as reductions in CSP CAPEX and OPEX can potentially be passed on to the consumer or enterprise. For example, in Japan Open RAN has already created a new business model where mobile service is being offered for free for one year by an e-commerce company, who intends to recuperate this investment from its ecosystem of digital services.
Why Choose NEC for Your 5G Network Deployment?
NEC offers a full suite of open and virtualized 5G network solutions to CSPs, and via its global partnerships with industry-leading and cutting-edge vendors offers an end-to-end ecosystem to the industry. (To find out more about NEC's 5G portfolio, including its O-RAN compliant radio unit, click on this link.) By adopting an open ecosystem approach to deploying 5G networks, NEC enables its customers to select best-of-breed solutions which allows CSPs to design, deploy and manage 5G networks with an unprecedented level of flexibility and cost control. NEC's years of experience not only as a System Integrator for CSPs but also as a supplier of Radio Units has well-prepared the company for open and virtualized networks as the company has expertise across the entire telco value chain from submarine cables to satellite communications. NEC has long-standing working relationships with some of the most advanced CSPs in the world including Japanese leading mobile operator NTT DOCOMO and mobile network virtualization pioneer Rakuten Mobile.
In addition, NEC's solutions enable CSPs to deliver a better user experience which will be critical in the 5G era as enterprises and consumers will demand high-quality connectivity at a reasonable cost. NEC's 5G portfolio also enables new services and hence revenue streams to be quickly introduced, enabling CSPs to launch new and relevant 5G services with speed, which has become particularly important since the start of the COVID-19 pandemic.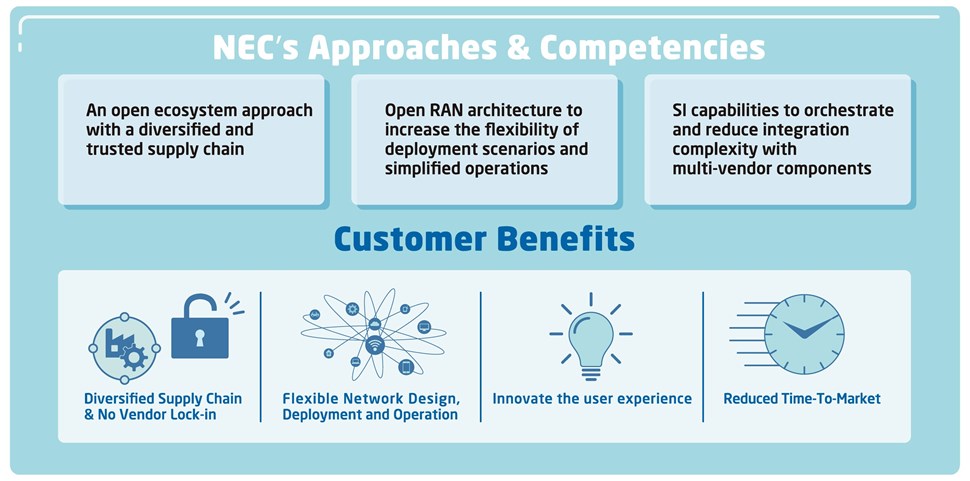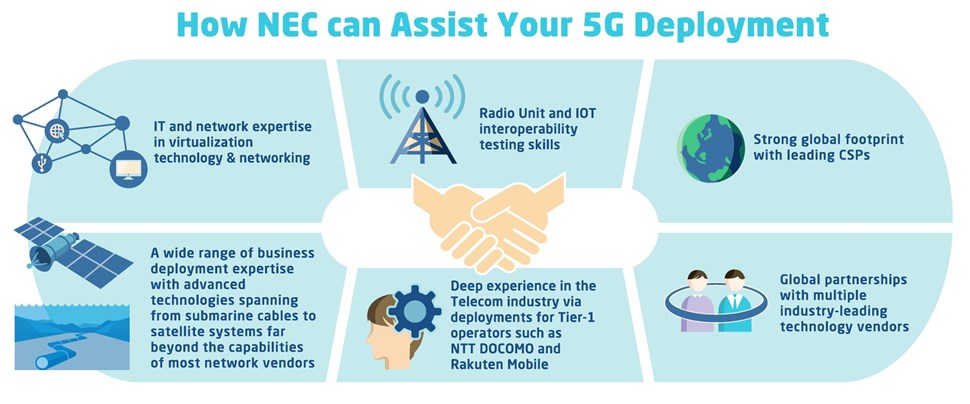 Learn more about NEC's 5G Network Solutions at www.nec.com/5g/
Selected Sources:
Email Newsletters
Stay up to date with the latest industry developments: sign up to receive TelecomTV's top news and videos plus exclusive subscriber-only content direct to your inbox – including our daily news briefing and weekly wrap.