Telefónica claims open telco networking milestone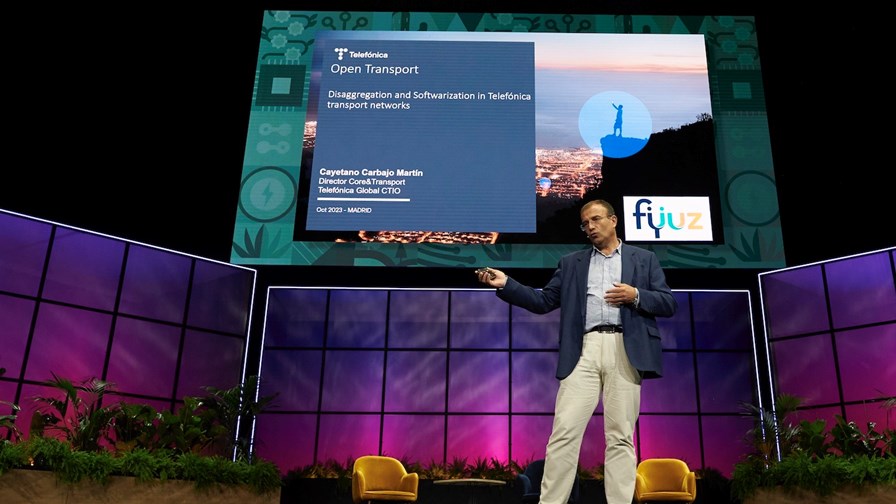 Telefónica has long been a strong supporter of open, disaggregated networking
It is making progress in multiple network domains
The operator is claiming a likely world first with a software replacement process in Germany
The move shows a "clear advantage of disaggregation," according to a Telefónica executive
Cayetano Carbajo, director for core, transport and service platforms at the operator's group CTIO office, outlined the process during his recent presentation in Madrid at the Fyuz event organised by the Telecom Infra Project (TIP). During his presentation he outlined a number of network domains in which Telefónica is making progress with the use of open, disaggregated networking systems, "from the CPE [customer premises equipment] to transport".
But he was particularly excited about what is "to my knowledge the first time in the world" that the software from one vendor was being switched out and replaced by another on a network edge routing platform through a remote process that requires no site visit and which requires no hardware swaps.
The move involves hundreds of disaggregated cell site gateway (DCSG) units that have been deployed in the commercial network of Telefónica Deutschland, the Spanish telco's large German division that is also known as O2 Telefónica. The multivendor DCSG units were installed several years ago based on hardware from white box platform specialist Edgecore Networks and running software from Infinera, but now the operator wants to use software from ADVA (now part of the Adtran empire) while continuing to use the Edgecore Networks hardware, Carbajo confirmed to TelecomTV.
One of the promises of disaggregated networking has always been that operators should be able to deploy best-of-breed elements in multivendor systems and that the piece parts should be able to be swapped in and out when required (with the need for a full hardware and software replacement) to meet operational and service delivery needs.
And that is just what Telefónica is doing. The operator is retaining its existing white box hardware from Edgecore Networks at more than 1,000 locations but "switching in software from a new vendor over the air without visiting the site… I believe this is the first time that router software has been replaced" in this way, noted Carbajo during his presentation in Madrid.
"This is a clear advantage of disaggregation," he added. "This is how it should be – changing the vendor without visiting the site."
It is currently in the process of swapping the software at 100 cell site gateway installations and once that process is completed to the operator's satisfaction, it will be expanded to more than 1,000 DCSG sites across Germany, noted Carbajo.
To find out more about Telefónica's open telco networking plans and progress, and to find out about other developments in the open, disaggregated telco networking sector, download our latest DSP Leaders Report, Open Telco Infra: A Progress Report, for free!
And find out what industry experts from the likes of MTN, Telenor, Telefónica, Verizon and more are saying about disaggregated networking developments in the many sessions and executive interviews available as part of TelecomTV's latest Open Telco Infra Summit.
- Ray Le Maistre, Editorial Director, TelecomTV
Email Newsletters
Sign up to receive TelecomTV's top news and videos, plus exclusive subscriber-only content direct to your inbox.