Rakuten launches UK Open RAN test lab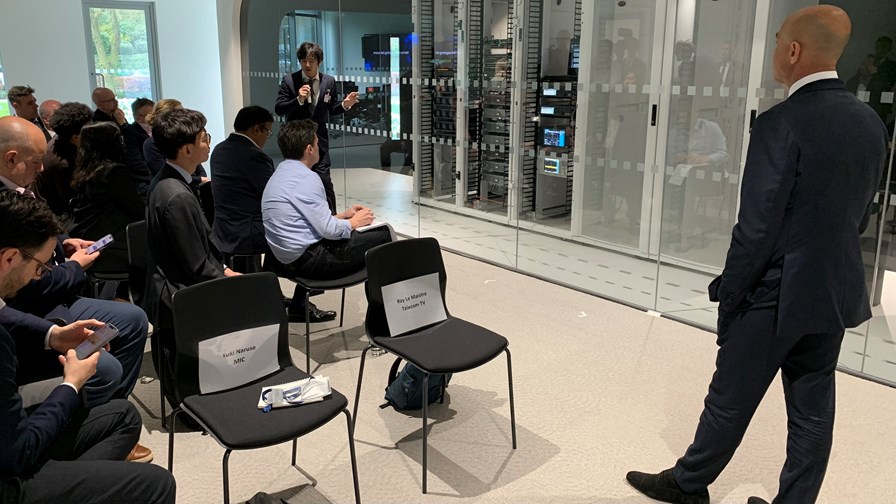 Rakuten Symphony has launched its Open RAN Customer Experience Centre in the UK
It already has a cloud-based radio access network in place with tech from Symphony, NEC and Nokia
Symphony hopes to attract operators, integrators and vendors to use the facility, which is funded by the Japanese government
Another Rakuten facility will open later this year in Bangalore, India
WEYBRIDGE, UK – Rakuten Symphony, in partnership with its parent Rakuten Mobile, has officially launched its Open RAN Customer Experience Centre in Weybridge, just south-west of London, with a number of vendor partners already installed in its on-site, cloud-based radio access network installation.
The site, first announced last November and developed with US$2.3m in funding from Japan's Ministry of Internal Affairs and Communications (MIC), was officially opened by Rakuten Symphony UK managing director Nastasi Karaiskos, who runs a team of about 30 staff across the UK, and Rabih Dabboussi, chief business officer at Rakuten Symphony, who flew in from Japan for the launch.
The facility acts as a showcase for Rakuten Symphony's portfolio systems and applications and as a test centre for third-party technology focused on the radio access network (there are no plans to extend it to cover the 5G core domain).
Both executives stressed that while the facility, which will test technology from multiple Open RAN vendors for interoperability and conformance to O-RAN Alliance specifications, is currently running Rakuten Symphony software – open distributed unit (DU), centralised unit (CU) and its Symworld operating system – connected to NEC massive MIMO 5G radios and a Nokia 4G LTE radio that has open fronthaul interfaces, it is open to having any company's technology deployed and tested. (You can see part of the facilities technology set-up in the picture above, which shows Rakuten's Mitsuhiro Kuchitsu outlining the technology's functionality).
"This is a neutral zone… anyone can join in," noted Dabboussi, though he admitted that while the Symphony team could deploy Open RAN software from alternative suppliers of DU and CU software if customers requested it, "at this point we will not be integrating Open RAN software from other vendors." So the capability is there, but it would need to be a very specific request from an operator customer.
It's early days for the facility, which has some empty rack space that is set to be used for testing RAN intelligent controller (RIC) software and associated xApps and rApps in the future, but Nastasi says his Symphony UK team is already engaged with all four UK mobile operators and stressed that the centre, which is connected to Rakuten's test facilities in Japan, will be used to engage with customers, systems integrators and academic institutions from all across the EMEA (Europe, Middle East and Africa) region.
An additional and much larger customer experience centre will be opened by Rakuten later this year in Bangalore, India, where Symphony, which now employs more than 3,500 staff around the world, has a very large R&D centre.
The development and launch of the Weybridge centre is seen as a positive step forward for the ongoing relationship between the UK and Japan, which has long been collaborating on Open RAN development and promotion: Dabboussi and Karaiskos thanked not only Japan's Ministry of Internal Affairs and Communications (MIC) but also the UK government's Department of Science, Innovation and Technology (DSIT) for its support in developing the centre and for their work in promoting telecom supplier diversity.
During a panel session held as part of the launch, both Yuki Naruse, director for international policy coordination at the international economic affairs division of the global strategy bureau, at the MIC, and Scott Bailey, head of telecoms diversification at DSIT, noted that RAN vendor diversity is important in ensuring that the communications infrastructure of neither country is hindered by any issues (such as supply chain challenges) that might result in service degradation or outages, and that promoting and supporting the Open RAN ecosystem is a way of preventing such situations.
The other speakers on the panel were Rakuten Symphony's Dabboussi and Allesandro Gropelli, deputy director-general of the European Telecommunications Network Operators' Association (ETNO), which represents the interests of 32 European network operators. Gropelli noted that Open RAN was of interest to all of ETNO's members from a number of perspectives (including energy efficiency), even if many are waiting at this point to see how the market develops.
- Ray Le Maistre, Editorial Director, TelecomTV
Email Newsletters
Sign up to receive TelecomTV's top news and videos, plus exclusive subscriber-only content direct to your inbox.