NFV deployments are still growing but there's not much depth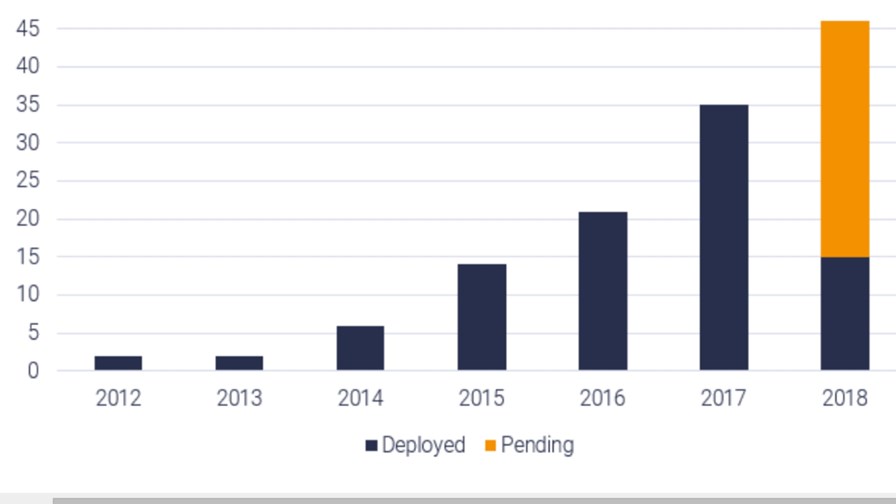 Deployments are focused so that they average just over 2 functions each

It's likely that plans to virtualize are being pushed back

Operators are waiting for real cloud native solutions
A funny thing has happened on the way to the NFV nirvana? What was supposed to have been be an inevitable journey towards the virtualization of the entire telco industry - "there can be no turning back now" etc - appears to have slowed and changed shape well in advance of the first big 'greenfield' use case for the technology - 5G.
According to consultancy STL Partners which runs an NFV Tracker and has just completed a report on the progress of NFV, it's not that the actual number of deployments has decreased. As the above NFV tracking chart shows, NFV's deployment growth has been steady over the past 6 or so years. But stats can be made to obscure the real picture as well as illuminate it.
What seems to have changed is what STL calls the 'depth' of the average deployment. In the early days it was strongly suggested that to get the full NFV benefit telcos had to virtualise the whole network end-to-end (though not all at once).
But while there are large telcos like AT&T and Telefonica forging ahead with ambitious NFV deployments, an increasing number are quite limited in scope, involving just 2 or 3 virtualized applications or functions. The most numerous shallow deployments so far involve virtual EPC (evolved packet core) and virtual IMS (IP multimedia subsystem).
So what's changed? Why this growing division between extensive NFV and much more numerous shallow deployments?
David Martin, Associate Senior Analyst at STL Partners, and the author of STL's NFV Tracker, thinks part of the answer might be a degree of nagging uncertainty about the whole project.
"Many people share the impression that there were many promises and great anticipation for new business models and agility with NFV," he told me. "It's probably fair to say that those expectation haven't yet been met."
David points out that NFV and SDN deployments are growing at a linear rate, rather than exponentially.
"The fact is that NFV hasn't yet really developed along the cloud-native, distributed architecture, multi-vendor, interoperable vision that had been promised. As a result the leading players have slowed their deployments and phase one of NFV has run out of steam. Operators need to see the vendors come up with the cloud native microservices-based distributed architectures that are going to deliver the kind of horizontal and vertical scalability they need," he maintains. "Also, there are differences between the various open source groups, which isn't helping progress,"
So that steam pressure will return. Just not quite yet.
Ongoing activity
There is still a lot of ongoing activity. David's tracker has gathered data on 126 live, commercial deployments of SDN and NFV in Europe between 2012 and September 2018. These were completed by 30 telco groups in 30 countries in the continent, together with Pan-European or global deployments carried out by some of the same European operators. The data on the deployments includes information on 260 known Virtual Network Functions (VNFs), functional sub-components and supporting infrastructure elements that have formed part of these deployments.
The bad news is that there is currently an average of just over two components per deployment in Europe.
One easy conclusion to make is that many (maybe most) of Europe's mobile telcos have pushed back the date at which they expect to be deploying sophisticated fifth generation features - most obviously network slicing - which would require NFV to be in support. That doesn't mean NFV has failed, it just means many telcos don't need to deploy it any time soon. In the meantime they are content to get familiar with the techniques required.
Another use for shallow deployment may be as a sort of tooth-baring exercise towards equipment vendors. Right from the beginning of the NFV period there have been anecdotal reports that many telcos were using its possible adoption to beat down supplier pricing for 'legacy' equipment (ie equipment) trials. 'Shallow' deployments give carriers some costs to go on for this exercise.
Email Newsletters
Sign up to receive TelecomTV's top news and videos, plus exclusive subscriber-only content direct to your inbox.