Huawei goes its own way with SDN and NFV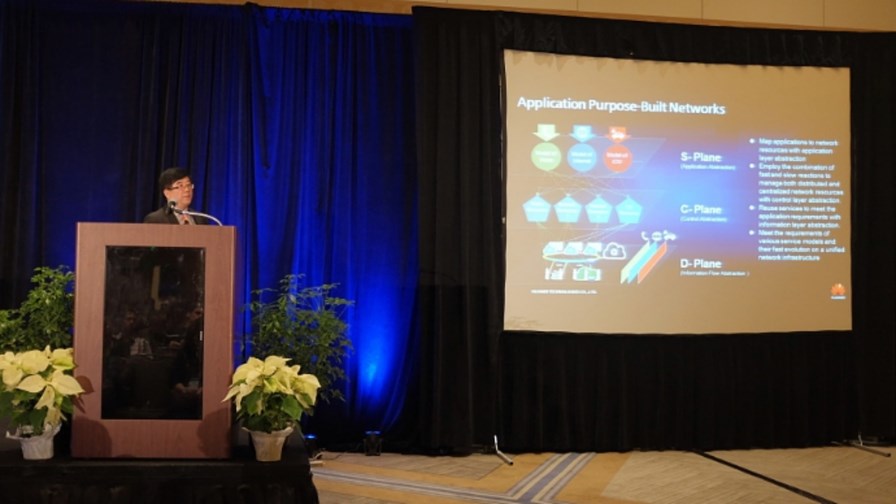 New Application-Driven Network (ADN) architecture
Focus on network resource utilisation and optimising network operations
Will integrate NFV and SDN technologies
Support for 5G network slicing
Huawei made a surprising announcement yesterday at the Globecom event in San Diego. It unveiled its new vision and concept for carrier network architecture, which it is calling the Application-driven Network (ADN). According to Huawei, ADN, which was developed in the company's Future Network Theory Lab, will prioritise network applications and service demands in network design and evolution, unlike traditional approaches that it says focus on network resource utilisation and optimising network operations.
The Chinese vendor says that it is the first to propose that networks should put applications first, and believes this concept will radically change how networks – both fixed and wireless – will be designed and constructed in the future. Using flexible architecture for hierarchal management, Huawei says ADNs will dynamically adapt to network changes that follow the power law effect (a mathematical relationship where a relative change in one quantity results in a proportional relative change in the other quantity, independent of the initial size of those quantities – in other words, one quantity varies as a power of another).
Huawei claims that a theoretically study shows that an ADN architecture can create more stable networks, accommodate future application-led change demands, and cope better with the impact of other uncertainties in terms of services. It adds that ADN will transform network operation models, enabling a shift in focus from network-led KPIs to service experience-led KPIs, allowing carriers to improve and create new network revenue streams.
"Our innovative ADN architecture vision puts applications at the network's core to deliver significant application-efficiency gains for networks," said Dr Wen Tong, Huawei Fellow and Wireless CTO. "Unlike traditional network architectures, ADNs will support application abstraction, network re-programmability, global and local coordination of network resources, and application decoupling by service layering. With these advantages, ADN is poised to meet a variety of future application demands, for example, in 5G networks."
Huawei says ADN will support 5G network slicing and will bolster both near and long-term network evolution. What's more, being a top-layer network architecture design, it does not simply map several applications to a physical network, and instead will enable networks that are customisable from end-to-end depending on application demands.
But haven't we heard this all before? Isn't this what NFV and SDN are trying to accomplish, and what the MEF is pushing with its Third Network vision – agile, flexible, on-demand, end-to-end services?
Huawei says ADNs will differ from existing NFV and SDN concepts, but "will integrate NFV and SDN technologies that yet to deliver economic benefits into a comprehensive network architecture that focuses on user experience". It adds that while ADN concerns network architecture, "NFV and SDN are component technologies to realise the application driven end-to-end architecture".
Unfortunately, that's all the details we have at present. Huawei has provided no information about commercial availability, and we are still waiting on reaction from the other players in this sector. Until then, the new network vision is looking increasingly blurry.
Email Newsletters
Stay up to date with the latest industry developments: sign up to receive TelecomTV's top news and videos plus exclusive subscriber-only content direct to your inbox – including our daily news briefing and weekly wrap.