Software options for Anritsu's Signal Analyzer MS269xA series support 5G NR analysis
Latest software release cuts testing costs and reduces development and production time of 5G wireless communication devices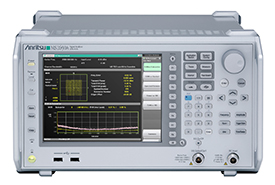 Luton, United Kingdom – August 8th, 2018 – Anritsu Corporation, a global provider of innovative test and measurement solutions for advanced and converged networks, has announced the release of software options for the Signal Analyzer MS269xA series that provide support for measuring the RF Tx characteristics of fifth-generation (5G) mobile communications base stations and terminals.
The latest software options support signal analyses and measurement of RF characteristics by supporting 3GPP-compliant sub-6 GHz uplink and downlink signals and specifying 1 Component Carrier (1CC) up to a bandwidth of 100 MHz. Customers who have already invested in the Signal Analyzer MS269xA can immediately and effectively begin developing sub-6 GHz wireless equipment using the same familiar operations, helping bring commercial 5G products to market sooner.
The new software options include:
5G Measurement Software (Basic License) - MX269051A
NR TDD sub-6 GHz Downlink - MX269051A-011
NR TDD sub-6 GHz Uplink - MX269051A-061
Installing the 5G Measurement Software and NR TDD sub-6 GHz options to the Signal Analyzer MS2690A/MS2691A/MS2692A series supports easy and consistent 5G signal analysis, including Tx power, frequency error and EVM of 5G NR TDD sub-6 GHz signals expected to be adopted by the new 5G standard.
With this software release, Anritsu has strengthened the functions of its M269xA series by adding support for 5G measurements to the other communications methods, including LTE/LTE-Advanced. With its excellent level accuracy and dynamic range, the MS269xA series is the ideal solution for accurate signal analysis; adding various options such as the built-in vector signal generator not only helps improve the quality of wireless equipment but also cuts the cost of sub-6 GHz measurements.
This content extract was originally sourced from an external website (
Anritsu News
) and is the copyright of the external website owner. TelecomTV is not responsible for the content of external websites.
Legal Notices
Email Newsletters
Sign up to receive TelecomTV's top news and videos, plus exclusive subscriber-only content direct to your inbox.