What's up with… EE, Telecom Italia, GTT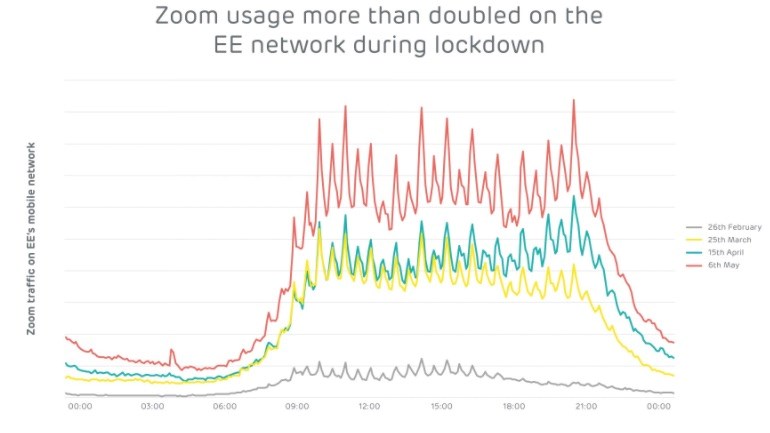 BT's mobile unit, EE, reveals lockdown traffic trends
Telecom Italia buys local SI and plans new unit focused on cloud, edge
Troubled GTT needs a new CEO
Pandemic lockdown traffic trends and the growing ties between CSPs and their Internet services giant frenemies lead the way in this collection of news snippets.
BT's mobile operation, EE, says an analysis of its traffic from late February to early May this year has revealed a 45% rise in traffic generated by communications apps such as WhatsApp, Houseparty, Skype and Teams during the Covid-19 lockdown. For more details and multiple charts like the ones above and below (which shows the British population still doesn't want to fully embrace home cooking), see this press release.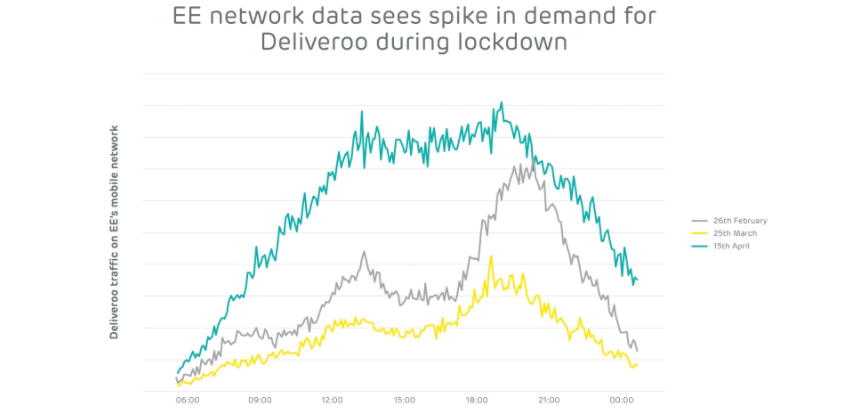 The relationship between telcos and the webscale giants gets stronger every week. The latest example of this trend is the acquisition by TIM (Telecom Italia) of Noovle, "an Italian ICT consultancy and system integration company specialised in the supply of cloud projects and solutions and one of Google Cloud's main partners in the Italian market." TIM says the deal will help it to strengthen its relationship with Google and be the catalyst for the creation of a new unit "dedicated to cloud and edge computing services." Financial details of the deal were not disclosed. The move comes only days after TIM struck a deal with Google Cloud and Italian bank Intesa Sanpaolo that will result in the formation of two new Google Cloud Regions in Turin and Milan that will be housed in TIM data centres.
Something's up at GTT Communications: The international network operator has announced that CEO Richard Calder is on his way out and will leave the company on June 1. Earlier this month the operator, which is seeking a buyer for its Infrastructure Division (European fiber, transatlantic cable, data centres) via an auction process, announced disappointing results for the first quarter.
As part of its ongoing restructuring efforts, Telenor has created a 'Nordic Hub' to manage its regional operations and updated its Group Executive Management team structure to "reflect a focused and streamlined organisation." Telenor recently went through a similar restructuring process in Asia.
Two Swedish operators have launched commercial 5G services: Tele2 is offering services in Stockholm, Gothenburg and Malmö; while Telia has an initial service running in Stockholm, using technology from Ericsson, and says its 5G network is "powered by 100% renewable energy." Tre (3 Sweden) will launch its 5G service in early June, while Telenor Sweden has yet to provide precise launch dates.
The UK's National Cyber Security Centre (NCSC) is to conduct a new review into whether it is safe to deploy Huawei technology in British 5G networks. Earlier this year the UK government announced restrictions on the use of Huawei gear but resisted pressure for an outright ban. Now, it seems, new restrictions imposed by the US authorities that prevent any company from using US technology to manufacture components for Huawei could make it untenable for Huawei's products to be used by BT (EE), O2, Three UK or Vodafone in their respective next generation networks. How did we get to this point, folks?
Burkina Faso and Morocco have been added to the list of countries that have Orange Money remittance corridors, which allow people from those countries who live in France to use their Orange Money account to securely send money to their family and friends. Ivory Coast, Guinea, Madagascar and Mali are already in the 'corridor.'
Openet has struck a global strategic partnership with systems integration and R&D giant Tech Mahindra that combines the Irish vendor's BSS systems (charging, digital business platform, policy control, data management) with the Indian giant's "transformation services," which are used by the majority of the world's largest mobile operators.
UK private wireless network specialist Quortus has attracted an unspecified investment from US-based IoT intelligent edge firm Communications Systems Inc. and UK specialist telecoms solutions company cellXion. The money will be used to fund expansion in North America, Europe and Japan and help bring a new suite of private network-specific products to market. For more details, see this press release.
The staff, TelecomTV
Email Newsletters
Sign up to receive TelecomTV's top news and videos, plus exclusive subscriber-only content direct to your inbox.