Redrawing the lines in India as new mobile leader stumbles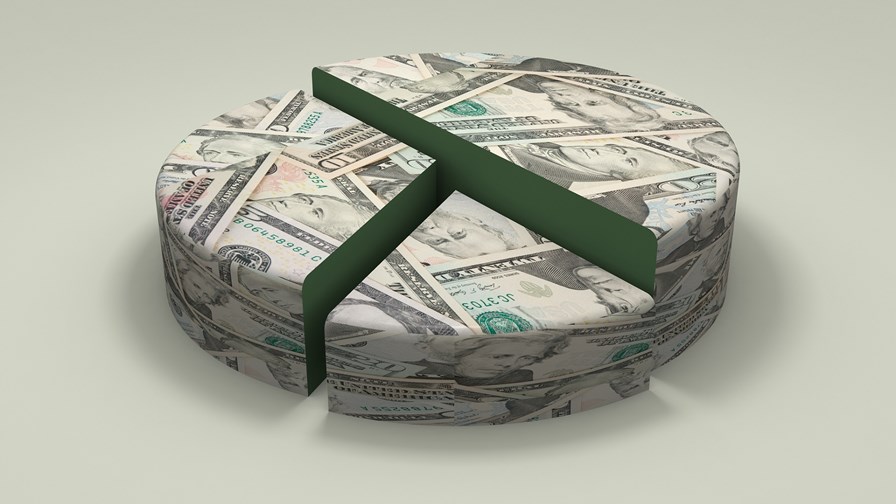 Vodafone Idea posts hefty net loss
ARPUs on the slide across the market
M&A means four players remain
After a period of extreme flux, the Indian mobile market has returned to where it was 10 years ago. Where once there were myriad players fighting it out for a share of one of the world's second largest mobile market, now the country is effectively reduced to four, led by the newly-merged Vodafone Idea, which posted its first set of results as a single entity this week.
Being the biggest of just a handful of operators in a 1.2-billion subscriber market at first glance seems like a desirable position to be in, but Vodafone Idea's Q2 numbers show that it has its work cut out to compete and help to demonstrate why the market became unsustainable for the many players that have made their exits in the past few years.
Vodafone Idea posted a net loss of 49.5 billion rupees, or around €600 million, in the quarter to the end of September, hit by competition as well as merger expenses. That loss came on turnover of INR76.64 billion (€942 million), not a massive revenue figure for 422 million customers – the telco lost customers during the quarter – but with monthly ARPUs of INR88 per month, or just over €1, down from INR92 in Q1, its easy to see why. By comparison, parent company Vodafone generated €5.3 billion in mobile service revenue in Europe over the same period from a customer base of 112 million.
You could argue that operating costs are much lower in India, and indeed they are, but there are still significant financial pressures on telcos there. The most obvious is spectrum acquisition, although operators are also struggling with high licence fees and spectrum usage charges. India's last frequency auction two years ago saw Vodafone spend the equivalent of well over €2 billion, while Bharti Airtel and Reliance Jio each paid out more than €1.5 billion; just 18 months earlier the same telcos accounted for a significant portion of the €16 billion raised by the state in a different multi-band auction. And let's not forget that there is a 5G sale in the offing, that could also leave successful participants with multi-billion-euro bills.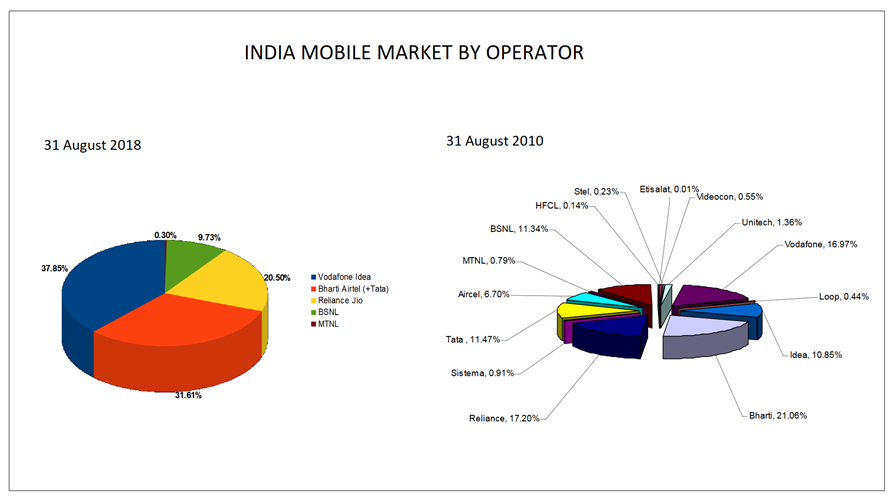 Déjà vu
It is a decade since the government –controversially – awarded a raft of licences to allow new players into the market, a process that attracted a number of foreign players keen to capitalise on a market that was at the time home to around 1.2 billion people, less than a third of whom had a mobile phone.
At that time, before the new players were fully established, the Indian mobile market looked remarkably similar to how it appears today. At the end of 2008 the big four players – Bharti, Reliance Communications, Vodafone Essar and BSNL – together served three quarters of the country's 347 million mobile customers, with a handful of smaller players operating in particular circles.
Fast-forward a couple of years and drawing a market shares diagram became an exercise in Excel wizardry, with 15 operators battling it out to sign up customers. Analysts and operators began to call for sanity, noting that consolidation had to come to enable a smaller number of players to operate profitably. However, regulatory hurdles meant it was not until 2014, when Bharti acquired minnow Loop Mobile. that operators started to merge.
The biggest catalyst for change came with the oft-referenced launch of Reliance Jio Infocomm in 2016, its new and cheap pricing plans shaking up the market and putting pressure on rivals. At that point there were still 11 operators in India, including well-established names like Aircel, Reliance Communications and Tata. Add in a good dose of government greed when it came to spectrum auctions and various fees and charges, and there was no way back for some.
Bharti snapped up Telenor and is still in the process of gaining the required approvals for its purchase of Tata's customers, although some have already transitioned; Aircel's assets are up for sale following a bankruptcy filing; RCom has sold the bulk of its assets to Jio; and Vodafone Idea completed their merger at the end of August.
The remaining four (a merger between state-owned BSNL and sister company MTNL has been mooted many times, but either way the latter remains a niche player) have a significant opportunity in front of them with 5G on the horizon, despite the fact that it could take some time before the next generation of mobile technology is available and affordable in low-ARPU markets, but pricing pressure remains a concern.
Reliance Jio is still signing up customers at a rate of knots – it added more than 12 million in August alone, according to the TRAI – and, interestingly its average revenue figures are slipping, but remain higher than its rivals at INR132 per month. By comparison, erstwhile market leader Bharti Airtel generated INR100 per customer, per month in Q2, down from INR145 a year earlier.
The reduction in the number of players has brought some sanity to the market, but with an ambitious newcomer in the mix it could be a while before it translates to the balance sheet.
Email Newsletters
Sign up to receive TelecomTV's top news and videos, plus exclusive subscriber-only content direct to your inbox.