Over one million new Mobile Internet users will be added each day to 2022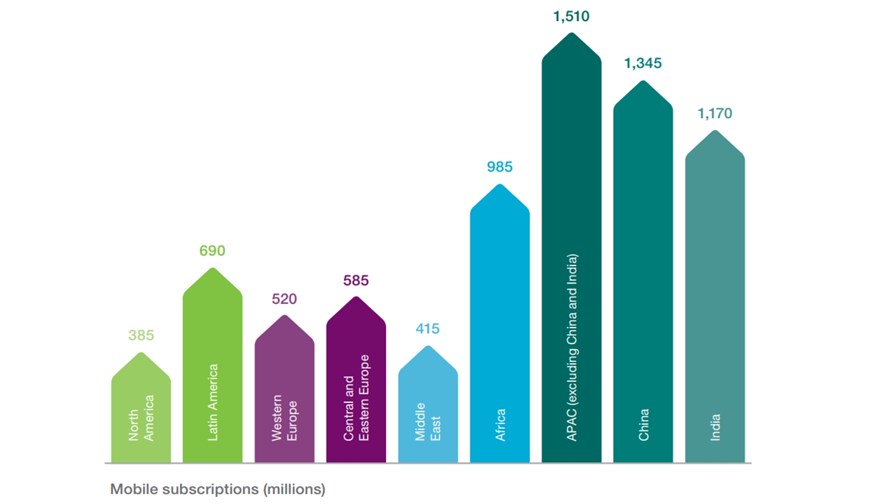 Ericsson Mobility report illustrates LTE rise and rise
Will stay the dominant technology well into the 2020s
Huge subscriber totals in India China and Pac Rim
Ericsson's Mobility Report (released today) shows the extent to which the centre of gravity for the mobile industry has shifted over the past few years and how far it's expected to move in the near future. Download it here
Simply put, North America and Europe, which a decade or two ago were the mobile power-houses, now muster a puny few hundred million mobile subscribers. Meanwhile, the Pacific Rim, India, China and South America have billions between them and are all gearing up to hitch billions more new users to their cellular networks in the run-up to 2022 (see graph above).
On a global basis there are now 3.9 billion mobile (mostly smartphone) subscriptions. By 2022 there will be getting on for double that number at 6.8 billion subscriptions
The cellular weapon of choice, even in 2022, will not be 5G technology, but LTE. Ericsson has calculated that 2.6 billion new subscribers will be added - at a rate of 1 million each day - through to 2022, making LTE the fastest growing mobile technology in history.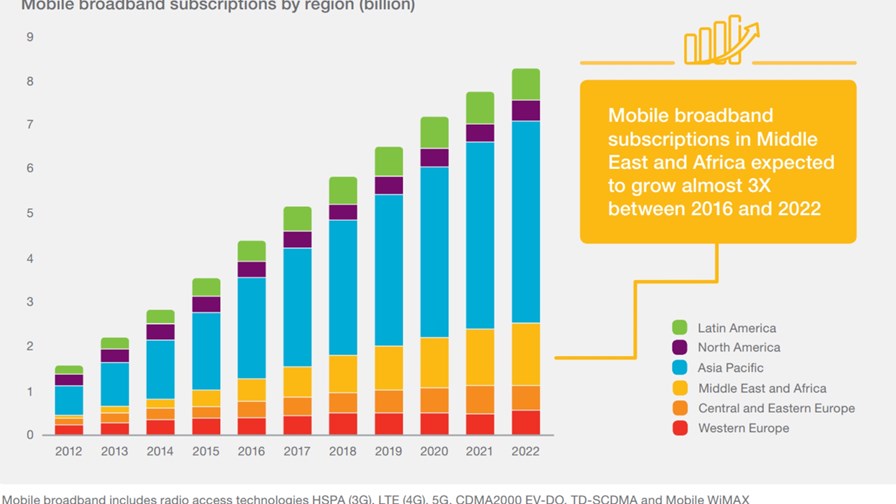 5G will obviously be making itself known by 2022, but only in a relatively minor way, accounting for 20 per cent of connections in North America, 10 per cent in Asia Pacific and about 5 per cent in Western Europe, with the rest of the world letting in a few per cent. Still, it expects to see half a billion 5G subscriptions activated by 2022, not including IoT connections. At that point 5G will cover around 15 percent of the world's population.
But all in all, it's going to be an LTE world for the next five and more years with some 5G New Radio thrown in and a significant number of IoT connections as well.
And the smartphone will continue to rule. Ericsson reckons that by the end of 2022, total smartphone mobile data traffic will have increased 9 times, reaching 66 ExaBytes per month.
But let's not forget that 3G and even 2G GSM will still be out there serving needs. LTE is not projected to overtake GSM as the most 'subscribed to' access technology until next next year!
Ericsson reflects on how quickly LTE has taken hold. "It has taken only five years for LTE to cover 2.5 billion people, compared to eight years for WCDMA/HSPA, or 3G. In the first quarter of this year alone, 250 million new LTE subscriptions were added.
"While LTE uptake is driven by demand for improved user experience and faster networks, 5G deployment will also be driven by the need for enhanced mobile broadband capabilities as well as industry solutions for efficiency and automation. 5G will be the one network to support a diversity of use cases."
Email Newsletters
Sign up to receive TelecomTV's top news and videos, plus exclusive subscriber-only content direct to your inbox.