EE unveils the world's first three-tiered sofa inspired by Wembley Stadium to launch new BT Sport offer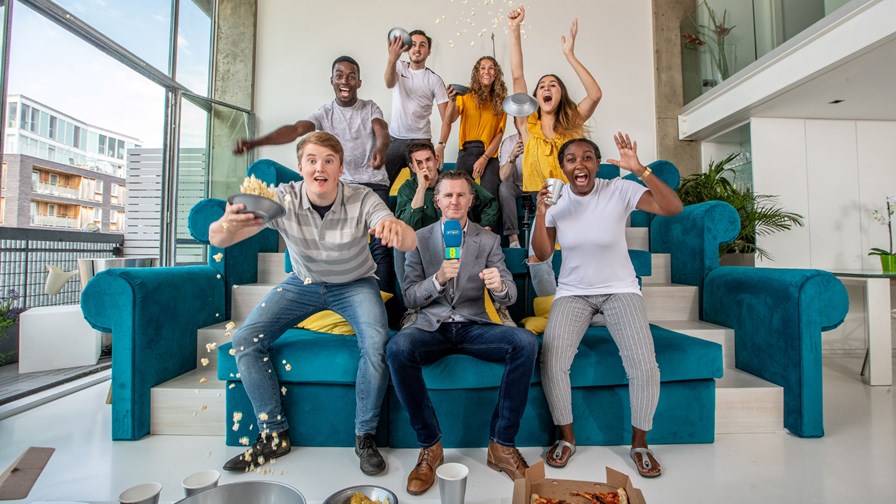 **Wednesday 25th July 2018: ** Set to transform sports fans' viewing experiences, the new BT Sport offer launched today by EE, offers customers the ability to cast BT Sport matches from their phone to their TV - wherever and whenever they choose, without a contract and with inclusive data.
EE pay monthly customers taking up the offer could see their popularity suddenly rise, with an influx of guests joining them for the big games, as new research from EE reveals that over three quarters of Brits believe it is important to watch sport on a big screen (76%) and over half (51%) would rather watch sport at home with friends than in a pub. In fact, 15% would say they would be more likely to continue a friendship with someone just because they had a good sport TV package.
The main reasons cited for preferring to watch at home were being able to watch the game in comfort (52%), the ability to invite the ideal crowd (44%) and not missing important moments (39%). Perhaps with England football team celebration scenes still fresh in mind, one in three (31%) Brits said they watched at home to avoid being covered in beer during goal celebrations.
Seating was also especially important for UK football fans, with almost two thirds (60%) claiming the perfect host should have seats for all their guests and one in three (33%) saying they prefer watching at home because there isn't competition for space. In response to these new findings, EE has produced the world's first three-tiered living room sofa for the ultimate sport viewing experience – inspired by Wembley Stadium.
Research of 2,000 Brits carried out by EE informed each stage of the design and build. The study revealed that wide seats (45%), large cushions (30%) and surfaces that were easy to clean (26%) were key requirements for hosting sport events – all factors that are reflected in the sofa. The pioneering nine-seater, tiered design is also drink and pie resistant and features a built-in smartphone holder, allowing fans to dock and charge their handset whist they use it to cast to the big screen.
Trailing the new three-tiered sofa prototype by EE, was BT Sport analyst and co-commentator and former England, Liverpool and Real Madrid midfielder, Steve McManaman. Casting BT Sport for the first time along with fellow football fans, he said: 'There's nothing better than watching sport with a group of mates and it's brilliant that with EE you can now cast the best action from your phone onto your TV. You'll never miss any of the action. When I'm not in the BT Sport studio and have people around to watch a game - I make sure the sport is on the big TV, the snacks are out, and this multi-tiered sofa would be an amazing addition to mine or any sports fans' sitting room!'
**Max Taylor, Managing Director of Marketing at EE comments: ** "Watching the sport you love has just become a whole lot easier for our customers who can now cast the best live action from BT Sport straight from their phone to their TV. With the first three months access to the app for free, and the data on us, sports fans no longer need to crowd around a small screen or go on expensive pub trips to watch the game if they don't want to. Now that our customers can watch the games on the big screen, we wanted to see what the ultimate at home casting experience looked like, so we developed this Wembley Stadium inspired sofa design – the perfect living room accessory to share our new BT Sport offer with your mates."
The enhanced BT Sport offer continues to bring fans the best live action from the BT Sport app and now allows EE customers to cast from their phone to their TV in glorious HD using Apple TV or Google Chromecast which are also available from EE on Add to Plan. The first three months access to the app and casting ability is free for all EE Pay Monthly customers, after which customers will pay just £5 a month for access to the app and £10 a month to be able to cast it to the TV. There is no commitment with a 30-day rolling plan that allows customers the flexibility to join or cancel at any time. For more information on the new offer from EE, please visit www.ee.co.uk/btsport
This content extract was originally sourced from an external website (
EE
) and is the copyright of the external website owner. TelecomTV is not responsible for the content of external websites.
Legal Notices
Email Newsletters
Sign up to receive TelecomTV's top news and videos, plus exclusive subscriber-only content direct to your inbox.