Counting connections: Ericsson's running commentary on mobile numbers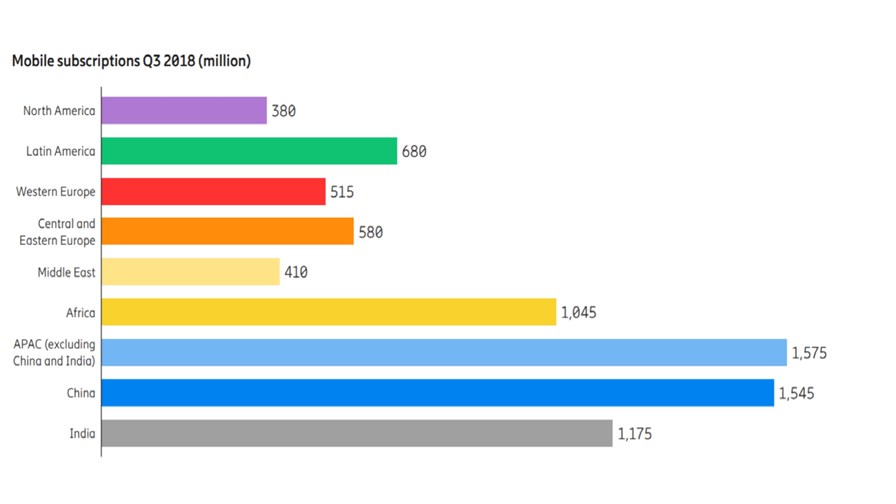 The Ericsson Mobility Report is out today - as usual it's not really about mobility as such
It's about how many 'subscriptions' there are today, how many are to be expected tomorrow and for what
It's very focused on the raw numbers
First, where are we today? We have a huge installed global base of mobile users. The total number of mobile subscriptions was around 7.9 billion in Q3 2018, with 120 million new subscriptions added during that quarter. Earlier (2G, 3G) subscriptions have been dropping, but LTE (4G) subscriptions were still increasing by 200 million during the quarter to reach a total of 3.3 billion.
But the stand-out trend visible here (see chart above) is just how profoundly the US global position in mobile has been affected by the huge uptake by the rest of the world. It is now the bloc with the fewest mobile users at just 380 million. So even if the US does get to 5G first (or second) such a narrowly defined lead position will only be temporary as the other blocks with their billions of users catch up.
Ericsson reckons 5G will take off in 2019 as devices arrive and early adopter users start buying. But 2020 will be the year in which 5G enters the mass market and goes zoom.
To pave the way, third-generation chipsets will already have been introduced and a large number of devices will be available.
Looking forward, 5G is forecast to cover more than 40 per cent of the world's population by the end of 2024 (be accessible to them if they want it), and 1.5 billion subscriptions will have been sought for enhanced (much faster) mobile broadband by the end of 2024. This, it's claimed, will make 5G the most rapidly adopted generation of cellular technology to be rolled out on a global scale.
North America and North East Asia are expected to lead the 5G uptake. In North America, 5G subscriptions are forecast to account for 55 percent of mobile subscriptions by the end of 2024. In North East Asia, the corresponding forecast figure is more than 43 percent.
In Western Europe, always the bad boy, 5G is forecast to account for some 30 percent of mobile subscriptions in the region by end of 2024.
Traffic
Mobile data traffic in Q3 2018 grew close to 79 per cent year-on-year, which is the highest rate since 2013. Increased data-traffic-per-smartphone in North East Asia - mainly in China - has pushed the global figure notably higher. With a traffic growth per smartphone of around 140 percent between end 2017 and end 2018, the region has the second highest data traffic per smartphone at 7.3 gigabytes per month. This is comparable to streaming HD video for around 10 hours per month.
North America still has the highest data traffic per smartphone, set to reach 8.6 gigabytes per month by the end of this year – which can be compared to streaming HD video for over 12 hours monthly.
Between 2018-2024, total mobile data traffic is expected to increase by a factor of five, with 5G networks projected to carry 25 percent of mobile traffic by the end of the period.
We've just scraped the surface of the report. Many more numbers are buried inside the 32 page document. Download it here
Email Newsletters
Sign up to receive TelecomTV's top news and videos, plus exclusive subscriber-only content direct to your inbox.