Deutsche Telekom launches OTT TV service in readiness for Voda-Liberty onslaught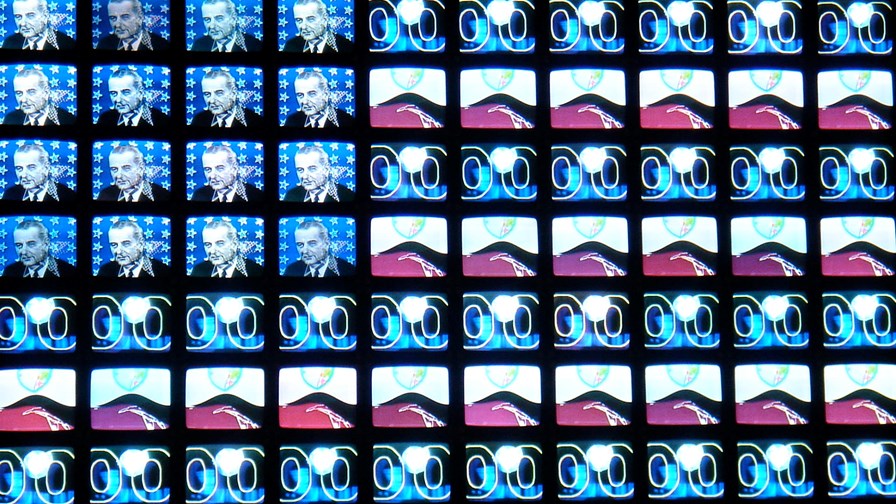 German incumbent rolls out iOS, Android, Chromecast apps
Rebrands entire TV offering to MagentaTV
Telefonica Germany wants Voda-Liberty tie-up blocked
Deutsche Telekom's revamped TV service is not just about Netflix and Amazon, there is the looming threat of a merged Vodafone-Liberty Global to contend with as well.
The German incumbent was no doubt pink with glee this week when it announced the rebranding of its EntertainTV service to MagentaTV. It's not just a new name, of course, there is also a new interface, access to Netflix, new exclusive content, and – crucially – a new, slimmed-down OTT option for customers who are signed up with other providers or who don't want a set-top-box.
Customers can access the OTT version of MagentaTV using iOS, Android or Chromecast apps, or via Web client. It is available on a rolling monthly contract for €8. Deutsche Telekom has ticked a lot of important OTT service boxes here, namely apps, low-price, and a flexible tariff.
The company joins a growing list of global telcos that have taken the "if you can't beat them, join them" approach to countering the OTT TV threat.
The threat is real. According to Digital TV Research, OTT TV revenues are expected to increase by $15.4 billion this year, while traditional pay TV revenues are forecast to fall by $4.4 billion.
Stats from Ampere Analysis this week show that in the third quarter, the percentage of households in Germany that subscribe exclusively to an SVoD service overtook the percentage of households that only subscribe to traditional pay TV.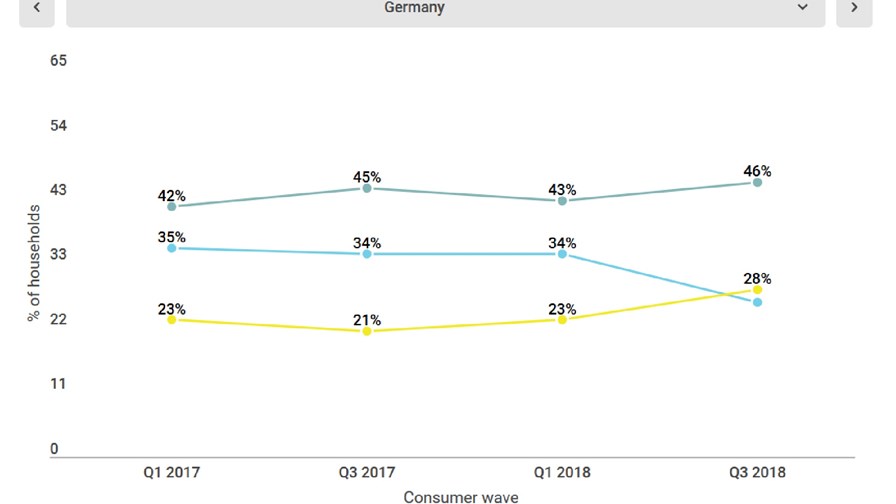 Crucially though, Ampere points out that a clear majority of households in Germany subscribe to both a pay TV service and an SVoD service, which is why MagentaTV is not just about Netflix et al, but also rival telcos, one of which could be about to get even bigger.
Last week, Vodafone requested the European Commission's blessing for its proposed acquisition of Liberty Global's German cable operation, Unitymedia. This prompted a swift response from Telefonica Germany CEO Markus Haas, who, according to Reuters, called for the EU to block the transaction.
He said in the report that the combination of Unitymedia and Vodafone, which also took over cable provider Kabel Deutschland in 2013, "would mean the end of competition in the cable market and in the fixed broadband network."
While the wording is typically melodramatic, the sentiment underscores the importance for telcos to find more than one route into customers' homes, whether that is by providing the pipe, or going over the top.
AT&T is a prime example of this with its DirecTV Now streaming service, which sits alongside its pay TV offering. In the UK, Sky has its Now TV streaming brand for customers that don't want to fork out for its satellite TV service. In both cases, the operators' OTT offerings come with flexible contracts and lower prices than traditional pay TV.
Back to Germany, and the EU has set a provisional deadline of 27 November for its review of the Voda-Liberty deal. MagentaTV's streaming option will give Deutsche Telekom a fighting chance regardless of the outcome.
"With our exclusive content and partnerships, we are creating a unique offer that has not yet existed in the German media landscape, "said Wolfgang Elsäßer, SVP Business Unit TV, at Deutsche Telekom. "And this offer is now available to all households."
Email Newsletters
Sign up to receive TelecomTV's top news and videos, plus exclusive subscriber-only content direct to your inbox.