Cord cutters and cable keepers: Pay TV slowly changes technologies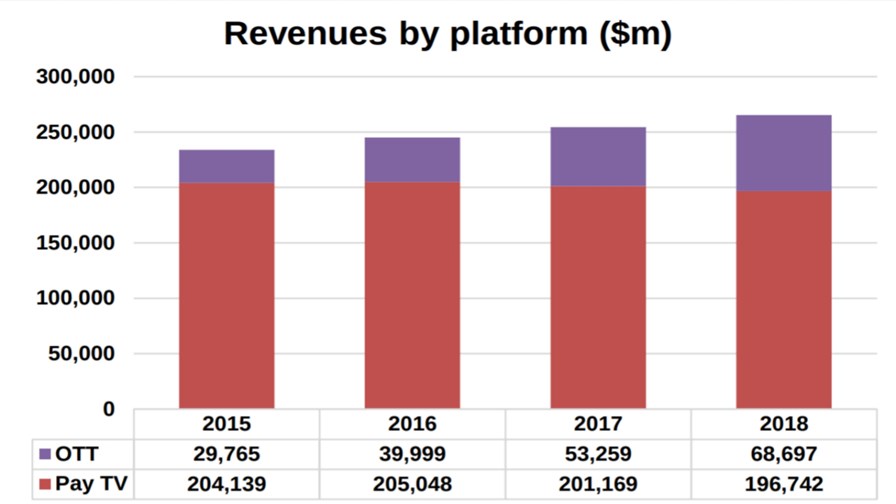 Pay TV is growing overall but OTT TV is growing faster
Streamers are doing deals with Pay TV
But leaving the security of the settop for users is hard
The shift to OTT streaming services and away from traditional 'Pay TV' appears to be ongoing.
According to Digital TV Research total OTT and trad Pay TV episode and movie revenue will climb in value to US$ 265 billion from $254 billion in 2017 and $234 billion in 2015. All good! But the OTT TV players will put on $15.4 billion this year while Pay TV revenues will fall by $4.4 billion - that doubles OTT's share to 26% from 13% in 2015 and that looks like a fairly lethal trend for Pay TV as we know it. If the OTT share doubles again over the next three years, OTT will be pushed over the 50 per cent line.
In the meantime, however, we may find that the supposed 'battle' between the players becomes delineated by business models rather than delivery technology as the big operators like Sky also offer streaming options in addition to satellite and cable distribution. At the same time the streamers are mopping up some extra growth by partnering with the trad players - as Netflix has recently done with Sky.
What's taking so long?
The case for Internet delivered video seemed compelling in the late noughties and many expected a rapid take-over. That didn't happen and it's still going reasonably slowly now. Of course the players with all the valuable content have a huge advantage no matter what the delivery technology - a network of wet string would probably thrive if it could get exclusive European football rights. But there may be another strong inhibitor that stops people cord cutting to stick to what they know.
Another study in the US casts some light on what that could be. The researchers who produced 'Inside the Minds of Cord-Cutters and Cable-Keepers' discovered to their surprise that nearly 80% of US cable subscribers polled were also using streaming video platforms. The study, conducted by video advertising SaaS platform Telaria, and Adobe Advertising Cloud found that the 'cable-keepers' spent nearly a quarter of their time on their streaming platforms with 42 per cent continuing to rely on traditional TV as a means of viewing live programming, like sports, news, and event-based programm"Much of the reason why consumers stick with their cable boxes is their reliance on that same kind of programming. 21% of cable subscribers said they wouldn't know where to turn to for TV content if they were forced to cut the cord completely," says the report.
So cable-keepers struggle from their lack of knowledge of the myriad of options available to them with streaming and find them all confusing. Finding a way to present the depth of content available while doing it within the confines of a well designed programme guide is clearly the challenge for the - increasingly streaming - Pay TV providers.
Email Newsletters
Sign up to receive TelecomTV's top news and videos, plus exclusive subscriber-only content direct to your inbox.