Vendor raises revenue outlook for networks unit
On track for 12 percent group operating margin by 2022
Addressable market set for modest growth over next four years
Nearly two years into his term, it's time to take stock.
We're talking of course about Ericsson chief executive Börje Ekholm, who today will host his second Capital Markets Day, giving him an opportunity to review his company's turnaround progress, and place it within a broader industry context.
As a brief aside, ignoring the obvious differences between the ongoing tenure of a CEO and a fixed four-year presidential term, there are a couple of interesting, coincidental parallels between Ekholm and the current occupant of 1600 Pennsylvania Avenue: Ekholm was selected for the top job at Ericsson in late 2016, not long before the US election, but he didn't actually take the helm until 16 January 2017, a few days before Trump's inauguration. Well I think they're interesting...
...Anyway, back to Ericsson's Capital Markets day and there are clear signs from the statement that it issued last night that the company is still treading carefully when it comes to predicting profitability. This provides a salutary reminder that despite the endless rhetoric around 5G, the market isn't about to go on a crazy spending-spree any time soon. It might also suggest that Ericsson's efficiency drive is not over just yet.
When Ekholm took over, his ambition was to achieve a 12 percent operating margin by the end of 2018. On his first Capital Markets Day in November 2017, the target was revised to 10-12 percent by 2020, with the understanding it would probably come in at the low end of the range. A year later, Ericsson insists it will achieve an operating margin greater than 12 percent by 2022 at the latest, but doesn't confirm that 12 percent will be achieved before then.
Its operating margin in the nine months to 30 September came in at 2.1 percent, compared to -18.9 percent for full-year 2017, so Ericsson is certainly moving in the right direction. Nevertheless, a lot can still happen over the next four years so I'll believe 12 percent when I see it.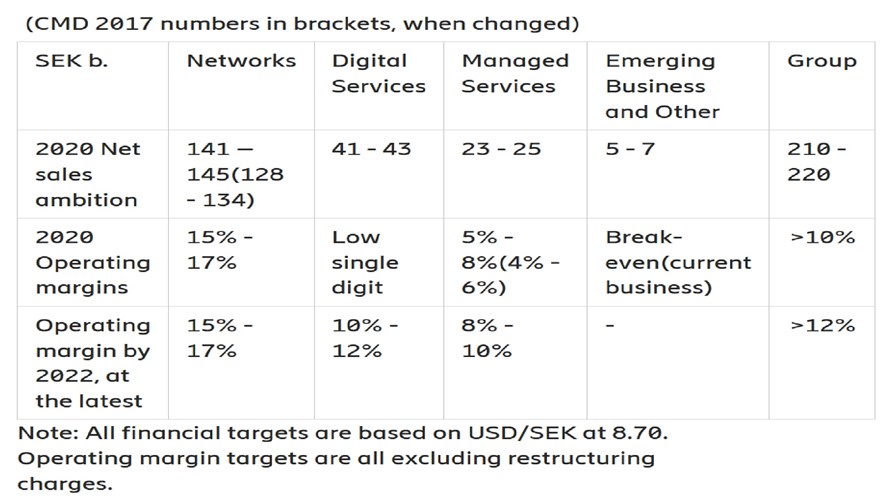 What makes Capital Markets Day 2018 different than last year, is that Ericsson has raised its revenue forecast and has a slightly more optimistic outlook for its addressable market.
The kit maker now expects its networks business to generate 141-145 billion kronor in 2020, up from its previous guidance of SEK128-134 billion. Group revenue is expected to come in at SEK210-220 billion, compared to last year's target of SEK190-SEK200 billion.
"Growth is expected to come from a stronger market, selective market shares gains, and expansion of the product portfolio into close adjacent markets," Ericsson said.
However, it is perhaps quite telling that raising the high end of its revenue forecast for its main area of business by 8.2 percent will have no meaningful impact on its operating margin outlook. It might be the case that Ericsson is being modest to manage expectations, but it might also support the argument that either Ericsson is still working hard on efficiencies, and/or it is sacrificing profitability in the pursuit of sales growth.
As for its overall view of the industry, Ericsson expects its total addressable market to grow by 2-3 percent in 2018-2022. The addressable market for its networks business is expected to grow by 1-3 percent over the same period.
"As the industry moves to 5G and IoT we are now preparing to take the next step to generate profitable growth in a selective and disciplined way," Ekholm said.
Ericsson's 2017 Capital Markets Day led to concerns that while the company was moving in the right direction, it needed to pick up the pace.
Given what Ericsson has shared on the eve of this year's event, anyone expecting fireworks might be left feeling a little underwhelmed.
Email Newsletters
Sign up to receive TelecomTV's top news and videos, plus exclusive subscriber-only content direct to your inbox.