Busting the edge myths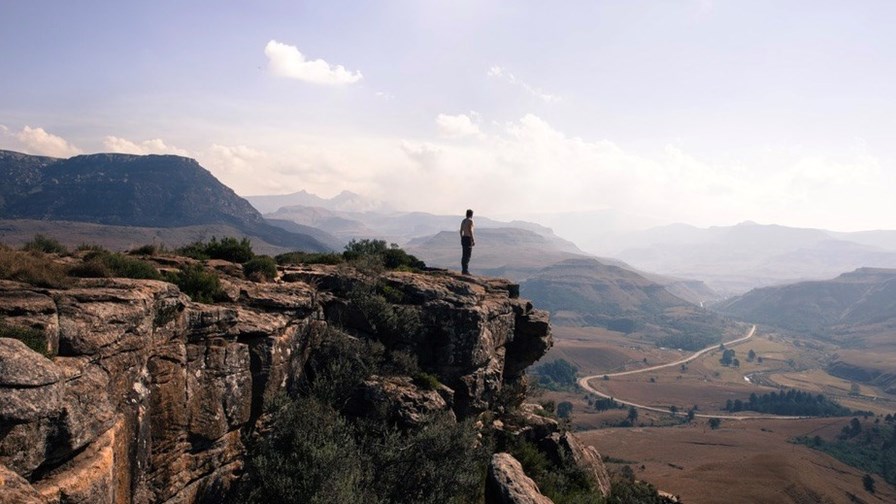 Analysts stick their neck out on edge and telecom
Demand is not huge and is not growing especially fast
Reports of latency's death at the edge is exaggerated
Telcos need to be wary and seek win-win partnerships
A cursory glance at coverage of the telecoms sector these days might have anyone thinking the industry has become completely decentralized – that everything has shifted to 'the edge'. That is very clearly not the case, but perceptions are being clouded by persistent claims from certain parts of the market that have resulted in a number of myths about the edge – myths that Bela Virag is keen to dispel.
Virag is Managing Partner, Austria, at Arthur D Little's Telecommunications, Information technology, Media & Electronics (TIME) division. He and his colleagues recently published a paper that asks some tough questions about 'the edge' and its oft-proclaimed role as a spearhead for a resurgent telecoms industry.
Provocatively entitled Edge Computing: Hype or ripe? How telecom operators will create – or destroy – substantial value via edge computing, Virag argues that maybe – just maybe – some telecom operators have picked up the wrong end of the stick with regards to the edge 'opportunity'.
He told me via a Teams call (no appreciable latency experienced) that it's time for a few home truths.
Arthur D Little has identified five important myths that it says must be slayed to clear the way for some proper thought-out telco edge strategy.
Myth 1: That the edge market is huge
Not really. At TelecomTV we noticed that despite claims of an expected surge in edge compute capacity as part of a seismic cloud computing shift from core to periphery, projected future numbers for cloud remained high and growing. Something didn't quite compute [geddit?].
Indeed, ADL says that analysts estimate edge infrastructure growth at 25% CAGR and the market will hit $15 billion by 2025; another estimate puts the market value at $60 billion in 2028. As the total cloud market has been forecast to reach more than $500 billion by 2025, and over $800 billion by 2028, it looks like the edge is currently taking less than 10% of total cloud, say the analysts.
Myth 2: That the edge market is growing fast
Again, no. The growth of 'digital' stimulated by the pandemic (home working and homeschooling in particular) did not grow much edge computing demand as most common corporate workloads currently do not require edge computing. In the event of new use cases (AR/VR) or the creation of new devices, such demand could surface and wider edge deployments could take place, but there's no sign of this at the moment.
Myth 3: CDN is a killer app
Akamai is by far the biggest content delivery network (CDN) with 300,000 servers. The Arthur D Little team points out that most of its infrastructure spend for CDN goes on storage, rather than processing, so in terms of edge compute CDN has a much smaller share of total edge computing than its number of servers and the size of its footprint might suggest.
Myth 4: Edge computing always reduces latency
The Arthur D Little team claims that if the services in an edge node function autonomously and locally and don't require any "calls home" for authentication or encryption keys, for instance, then an edge service may significantly reduce latency. But the moment the application needs to communicate with a centralized data centre, that latency advantage begins to disappear. Overall, though, ADL believes latency reduction is not the major reason users are showing interest in edge services. In fact, Virag claims ADL has not yet been able to identify use cases or business cases that are sizable and demand very low latency in the near term. He says that in many geographically smaller countries, latency requirements for most if not all applications are easily met from one of the few data center locations if connected via fibre infrastructure. Latency reduction is always important, but the edge is not its silver bullet.
Myth 5: Edge computing costs the same as data center computing
ADL maintains that deploying and operating edge computing infrastructure is more costly on a per-unit-cost basis than deploying and operating computing infrastructures in data centres. These disadvantages in per-unit-costs can be incurred for service and maintenance, the casing/ruggedizing/physical protection per device, and so on.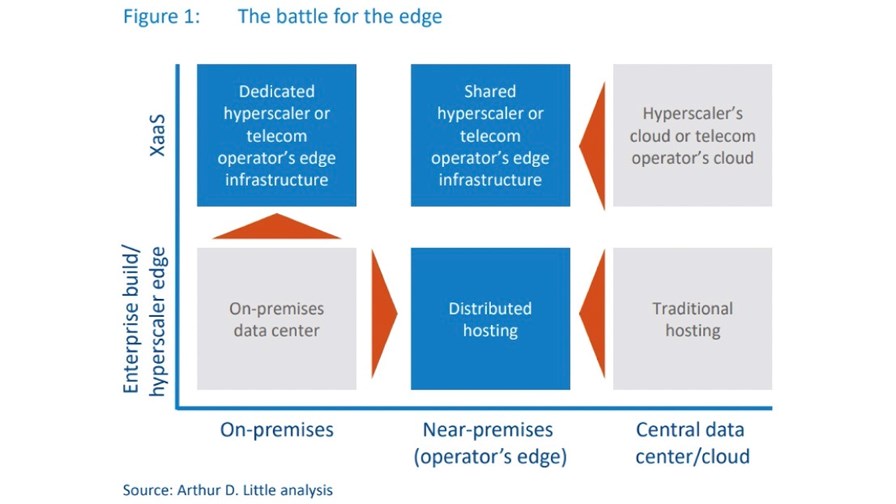 It's all about the compute infrastructure - and who owns it
Given that Edge doesn't represent a huge market just waiting to be tapped, what are the reasons for telcos to pursue it? Virag says there are still many good reasons for telcos to play a role but – predictably perhaps – success will be built from partnerships, especially with the hyperscalers. He has little time for the idea that edge investment will give telcos the ability to 'regain control,' as we heard when the edge was young, perhaps less so now. He agrees that the attraction for telcos is not about planting flags at the edge of their networks in order to capture value by controlling/assisting the flow of data between cloud and user premises.
"I don't know about you, but (for me) this has been disentangled a long time ago," he told me. "The application is the application, the server is the server and the network is the network. And just because you dominate one doesn't mean that you dominate the other."
So, he says, if the move to the edge is to be understood as a race to dominance of some sort, then it's a race to see whose compute infrastructure is going to be best distributed around the country (any country) so as to be comfortably closer to the corporates that are planning to make use of it in a cloud or hosted context.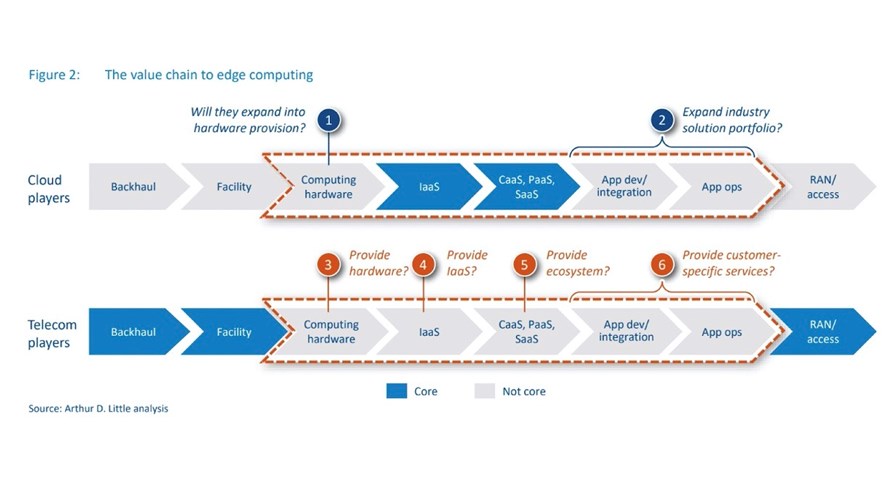 Telcos can play a foundational role
That doesn't rule out prominent telco participation at any number of levels, but it does mean telcos that elect to play a big role in the cloud edge must tread carefully and "try to negotiate win-win agreements with hyperscalers and other players whose interests are to plant their own infrastructure," says Virag. He points out that some influential large telcos - Verizon, Vodafone, and Telefonica - are clearly serious about wanting to be edge players. That evident enthusiasm, he says "has the rest of the industry wondering: Are they right? Wrong? Too early? Too slow?"
But for these front-runners to be right, he writes, a few things need to be believed:
First, that operators can actually add and capture value from the new computing infrastructure - that's not necessarily a 'given'.
That there is a need to have compute infrastructure outside the central data centre or cloud but not in on-premises, self-built environments, but somewhere in between.
And that they understand that any edge activity they undertake today should be about 'securing options', not rushing to build rollout investments, he says.
Cultural barriers
So what approach should the telecom industry adopt to capture value from the edge services?
On the face of it the industry's own push towards virtualisation and cloud-native functions for 5G might be seen as providing a head start for 5G telcos on edge services, if only because owning, or operating and maintaining a whole batch of high-performance network functions might seem like a sensible way into a broader edge role as the market matures.
On the other hand, the recent big telco experience of the huge cultural, technical and competitive difficulties involved in straying into other sectors has surely blunted telcos' (or at least their shareholders') appetite for risk. Another catastrophe such as this year's exit by both Verizon and AT&T from the US content business hardly bears thinking about.
So it's the usual telco conundrum: how to tap new roles and new markets while still encumbered by legacy infrastructure and business models.
Given the constraints, ADL maintains that telecom operators can definitely capture value from the foundational services, such as backhaul and rentals, access network, and potentially from provisioning of the IT infrastructure. Their own cloud computing services, on the other hand, have often not achieved the aspired successes in their respective markets - and for all the reasons just mentioned above.
Email Newsletters
Stay up to date with the latest industry developments: sign up to receive TelecomTV's top news and videos plus exclusive subscriber-only content direct to your inbox – including our daily news briefing and weekly wrap.