When will GenAI help telcos reduce their opex?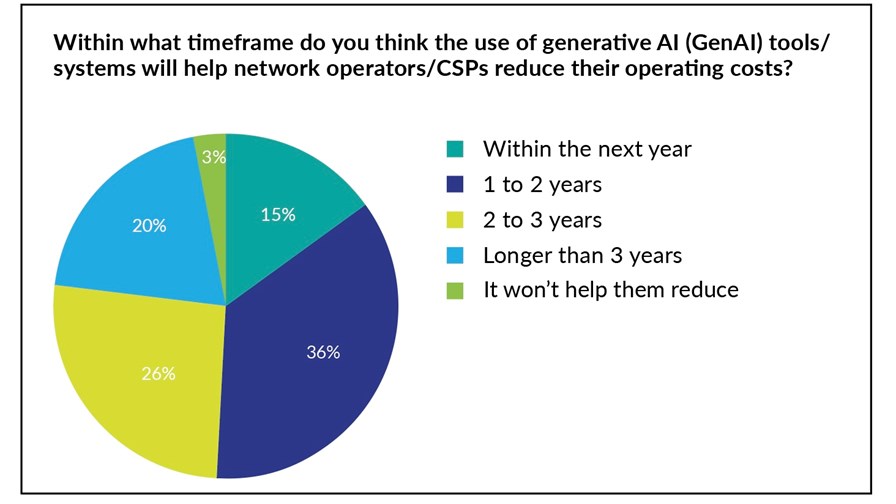 Network operators are hoping generative AI (GenAI) applications will help them to become more efficient
But when might the use of GenAI tools start to have an impact on telco operating costs?
We asked the industry for our latest DSP Leaders report, 'Telecom's Take on AI'
The introduction of generative AI (GenAI) tools into the broad public domain over the past year has given rise to legions of potential use cases across all industrial verticals, including the telecom sector, but when might the use of GenAI help the telco community to become more efficient and drive down their operating expenditure (opex)?
This is one of the questions we put to the industry in a recent survey, the results of which can be found in our DSP Leaders report, Telecom's Take on AI, which is available to download (for free!) now. Almost 120 executives from the telecom sector completed our survey during late September and early October, answering a range of questions on existing AI strategies and the potential impact that artificial intelligence might have on the communications networking and services sector.
For one of our questions, we asked: Within what timeframe do you think the use of generative AI (GenAI) tools/systems will help network operators/CSPs reduce their operating costs?
As you can see from the chart above, our respondents are quite bullish about the potential for GenAI systems to have a positive impact on telco opex within a relatively short timeframe.
Despite the time it takes to plan and implement internal process change at network operators, 15% believe CSPs could reduce their opex by using GenAI tools within the next year, while a further 36% envisage this happening within one to two years.
The two-to-three-years timeframe attracted votes from 26% of our respondents, while 20% thought it would take longer than three years for the use of GenAI to help telcos reduce their opex levels.
Only 3% of our respondents believe network operator opex cannot be improved through the use of GenAI tools.
We also asked our respondents about their views on the revenue-generating potential of GenAI tools, the need to regulate the use of AI technology, the need to hire more staff with AI skills and much more.
To download a copy of the Telecom's Take on AI report, simply click here.
This is our second DSP Leaders report: Our first, the Cloud-Native Telco Market Perception report, is also available to download for free – see Red Hat takes cloud-native telco crown.
And for a broader view of the telecom sector, check out the more substantive Big Picture report, which is based on a survey conducted with a select group of chief technology officers (CTOs) and other high-level technology decision-makers from major network operators.
And to stay up to date with all the latest developments on the impact that AI is having on the telecom sector, check out our dedicated AI/ML content section.
- Ray Le Maistre, Editorial Director, TelecomTV
Email Newsletters
Sign up to receive TelecomTV's top news and videos, plus exclusive subscriber-only content direct to your inbox.