The next big thing for Orange? Our next-gen network, says CEO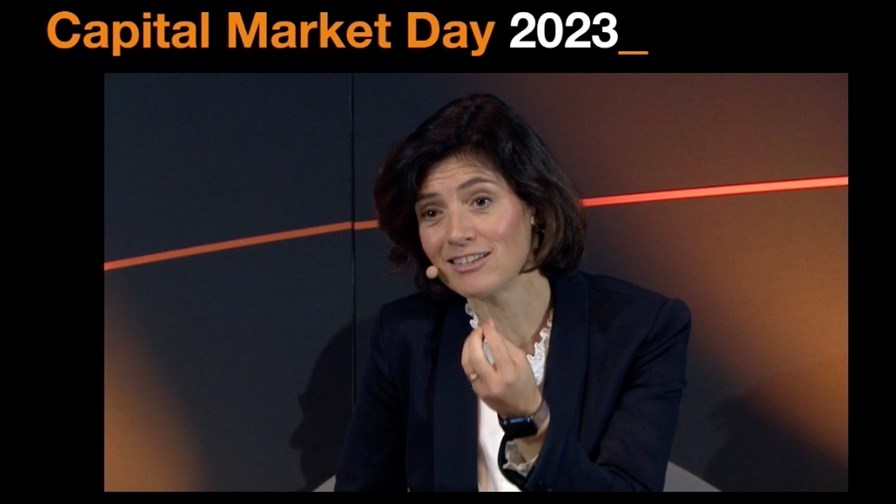 Orange CEO Christel Heydemann has been discussing the telco's new strategy
The big question for Orange, and other telcos, is about the viability of their businesses
The telco sector has been in an existential crisis for years but, at the same time, it is of critical importance to the economy
Heydemann says the real prospects for Orange lie not in the launch of new headline-grabbing applications or services
Instead, it is operational simplification and infrastructure regeneration with a "younger" next-generation network
The telco sector has been in something of an existential crisis for at least a decade, brought on by the emergence of cloud platforms, the attrition of voice service revenues and the inability to compete with the big tech companies in digital services (attempts have been made, but have been unsuccessful). So what should telcos do to survive and remain relevant? Christel Heydemann, who has been the CEO of telco giant Orange for 10 months and who presented the operator's new strategy at its Capital Markets Day on Thursday morning, believes the answer doesn't lie in the launch of any shiny new services or applications in an effort to wow the world: Instead, the "most exciting journey ahead of us" comes from the regeneration of the underlying infrastructure, a process that involves discarding legacy systems and relying completely on a software-defined, next-generation architecture that will enable "an open network that has a lot of data and critical assets".
Heydemann's new strategy covers the period from 2023 to 2025, but the real value for Orange comes over a longer term, to the end of the decade, by which time Orange's enabling infrastructure will have completely changed: 2G and 3G mobile networks will have been decommissioned and copper fixed lines will have been replaced by fibre (a process that Orange started years ago and has made great progress with in many European markets). That transformation, from old to new, from ageing to "youthful" underlying technology platforms, is critical to the ability of telcos such as Orange to meet the needs of individuals, businesses, governments and regions.
But there's a problem. In Europe, telcos are hampered by regulatory constraints that come not just from the centralised force that is the European Commission but by national regulators too – a double whammy – that makes investment and financial viability hard. So when Heydemann, who has history in the telecom market (at vendor Alcatel-Lucent, now part of Nokia) but who has only been back in it for less than a year, was asked during the Q&A session of her strategy presentation on Thursday morning about her vision for the future economic health of Orange and the impact of the regulatory environment, she made it clear that she is set on rebuilding a company based on its core existing strengths and not trying to find new sectors in which to diversify. She also made it clear how important it is for Europe to own its digital infrastructure. Here's what she had to say:
"When I joined the company, my first reaction was that we cannot leave this business [the telecom industry], which is so essential for the future, for resilience, for strategic independence. How come we have an entire industry that has tried to diversify to find growth? There's something wrong in the model. That's why we have to make sure that we create value from… [the] next-generation infrastructure. Regulation is indeed important…. People are realising what's happening, which is that some traditional operators cannot invest in infrastructure anymore [because of the economic burden of existing operations and the poor returns on capital invested in the industry]. So many infrastructure firms are coming to invest, to acquire the infrastructure. And obviously, [big] tech players are capturing some value. But what's going to happen in five to 10 years if we actually don't know who owns the infrastructure that is so critical for the security and resilience of Europe? This is a political debate. This is not for us as companies to decide, but this is where we all have a strong voice – as European leaders we need to change something. And I think the consultation that the European Commission is now launching, or is about to launch [on cross-border M&A and the potential for big tech to contribute to telco capex] will at least try to get some facts and data on this. And, again, the objective is to make sure we can, for the long term, continue to invest in our infrastructure and understand who owns the infrastructure…
"Very often people ask me, what's the next big thing in our industry? And I think the most exciting journey ahead of us is not the next big thing we're going to launch… the next big thing is that our industry, that is carrying four mobile networks and two fixed networks currently in France, will become younger, more agile, more next generation as we decommission 2G and 3G, as we decommission copper, as we get software infrastructure, as we become an open network that actually has a lot of data and critical assets. And when you talk to big tech companies… there will be a balance… cloud infrastructure is nothing without the network to connect to the people. So there will be a lot more discussion between the tech world that sits on top of networks… the value, one way or another, will evolve in the next 10 years. But the potential that sits under us by becoming younger, by just simplifying our networks, is just enormous. And that's the journey to 2030… that has enormous potential [in terms of efficiency] as we add software on top of it and get more agile ways of operating our networks and providing even more personalised services to our customers."
Heydemann had a lot more to say about all parts of the Orange empire and the focus areas for the next few years, and we'll be reporting in more detail on that soon. But this vision for Orange from someone with an understanding of the sector but has come back to it with fresh eyes, is an interesting one to highlight as it is a high-level perspective that is often lost in the minutiae of day-to-day developments. For Orange, the company's future rests on the unique capabilities that come from "younger" technology, a trusted brand and a connection to end users (from a communications services and customer experience perspective) that others cannot match.
- Ray Le Maistre, Editorial Director, TelecomTV
Email Newsletters
Stay up to date with the latest industry developments: sign up to receive TelecomTV's top news and videos plus exclusive subscriber-only content direct to your inbox – including our daily news briefing and weekly wrap.