Rakuten Mobile is still stuck in first gear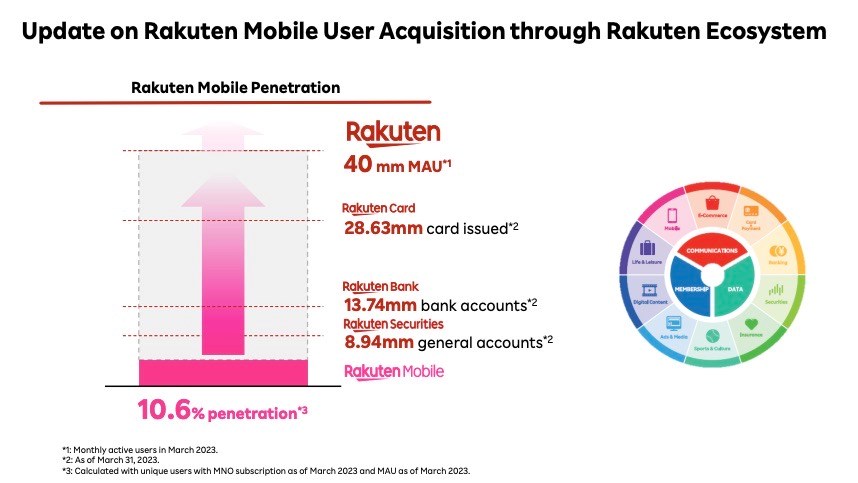 Rakuten Mobile continues to lose more money than it generates
But the metrics are slowly improving
Rakuten Group is still committed to its mobile operations
The latest push is based on a new roaming deal and service offering
But it still has fewer than 5 million customers and a market share of less than 3%
The Rakuten Group board, investors and staff are going to need nerves of steel if they are to see out the company's dream of building and running a successful mobile network operation in Japan, because while some metrics are moving in the right direction, the Japanese public don't appear to be so interested, with Rakuten Mobile's paying customer base stubbornly refusing to breach the 5 million mark.
According to the company's first-quarter 2023 report, Rakuten Mobile currently (as of 10 May) has 4.65 million customers, with that number having increased slightly since the start of the year when it had 4.49 million users connected directly to its network. The average revenue per user (ARPU) per month during the first quarter of this year was 1,959 yen ($14.51), more than double the amount from a year earlier. As a result, Rakuten Mobile's revenues increased by 25.7% to ¥96.3bn (US$711m), though it should be noted that this does include Rakuten Symphony, the Open RAN vendor offshoot, which contributed $76m in revenues.
But that number is still dwarfed by its operating losses, which in the first quarter of this year came to ¥102.7bn (US$763m). That's enormous, of course, as the company continues to invest in its national network, but it's actually lower than the ¥135bn operating loss reported in the first quarter of 2022. Since then the quarterly operating losses have been shrinking and are expected to do so as additional customers sign up (it hopes), ARPU levels rise and costs (particularly those associated with its roaming deal with rival KDDI, which enables Rakuten Mobile customers to have a connection even beyond the reach of the Rakuten network) go down. As Rakuten has built out its network coverage, its customers spend more time connected to the company's own network and less time connected to KDDI's infrastructure, thus reducing the charges.
So metrics are moving in the right direction, for sure, but it's still a tough position to be in. Rakuten Mobile's operating losses are still weighing down the Rakuten Group's overall financial performance and, despite the company's bluster about the aim to be Japan's leading mobile services player, it is a minnow compared with the rivals from which it is trying to win customers: NTT Docomo has 87.5 million mobile customers, of which 20.6 million are 5G customers; KDDI has more than 63 million mobile customers; and SoftBank has more than 39 million mobile customers. That means Rakuten Mobile currently has a mobile market share of less than 3%.
But the determination is clearly still there within the Rakuten ranks, despite ongoing financial losses because, as previously outlined and explained on a number of occasions, the investment in, and development of, its own mobile network infrastructure isn't simply about trying to build just another mobile services competitor, but more about providing an owned wireless communications infrastructure than can be part of a broader portfolio of digital services and capabilities (see this article for that overview). The company is also, of course, convinced that its Open RAN-based approach to building its greenfield network will provide it with operational advantages.
That's all well and good, but it needs to build that mobile subscriber base at a much quicker pace than it is doing so right now. The operator has a captive audience to market its mobile services to, as the Rakuten Group now has 40 million active monthly users across its portfolio of services with, it stated in its earnings report, "the percentage of all users using two or more services over the past 12 months steadily increasing to 76.1%. "That's encouraging but clearly the vast majority of those engaged Rakuten ecosystem users, almost 90%, have not signed up for the mobile services, as the chart above shows.
So Rakuten Mobile's latest effort to boost its customer base, and further reduce its operating costs, revolves around a new roaming deal with KDDI that includes "areas not covered by the previous roaming agreement, including select high-traffic shopping districts in Tokyo's 23 wards and the cities of Osaka and Nagoya" starting in June. This coupled with the launch, also next month, of a new but still price-competitive mobile services plan, dubbed Rakuten SAIKYO Plan (translation: Rakuten Strongest Plan), which "does away with the previous limit on high-speed data capacity in the domestic roaming partner [KDDI] network area, offering unlimited high-speed data usage in network areas nationwide with a 99.9% 4G population coverage ratio, including both the Rakuten network area and the domestic roaming partner network area."
Currently, Rakuten Mobile customers on its Un-Limit VII plan are limited to 5 gigabytes of data per month when connected to KDDI's network, so "the new plan does away with the high-speed data capacity limit in domestic roaming partner network areas to offer unlimited data in network areas nationwide."
In addition, Rakuten is excited about the introduction in Japan later this month of one-stop mobile number portability (MNP), as opposed to the current, clunky two-step process. This shift will make it easier for mobile users to switch to another service provider and eradicate a barrier that "had kept subscribers from switching carriers," according to Rakuten (though of course it will also make it easier for customers to leave as well as join…).
Will that be enough? Watch this space…
- Ray Le Maistre, Editorial Director, TelecomTV