Proximus heats up CPaaS sector with major acquisition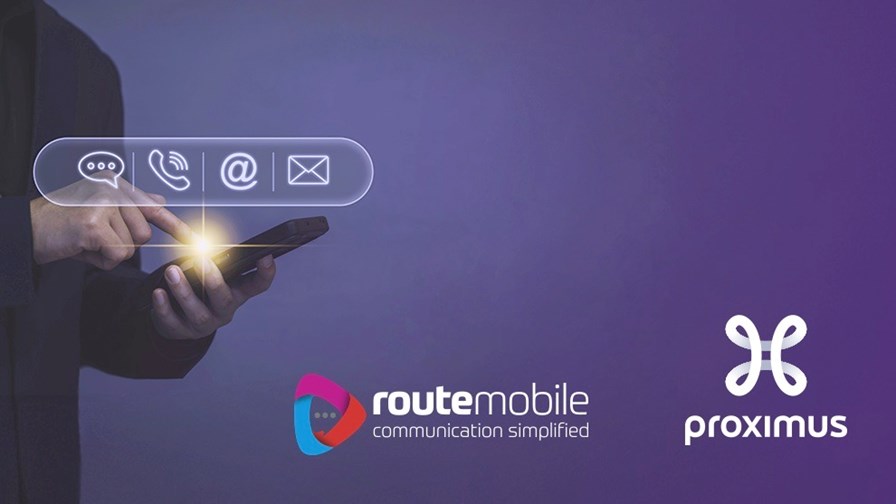 Belgium's national operator is expanding its digital services portfolio
It is acquiring a majority stake in CPaaS specialist Route Mobile for €643m
It will combine Route Mobile with its existing Telesign unit
The move ties in with its bold2025 strategy
As part of its strategy to grow its international digital services capabilities, Belgium's national telco, Proximus, has struck a deal to acquire a majority stake in Mumbai, India-based communications platform-as-a-service (CPaaS) specialist Route Mobile for an initial outlay of €643m.
The deal is quite complex, as the initial acquisition of a 58% stake in Route Mobile will be made by the telco's Proximus Opal entity that owns Telesign, the Belgian operator's digital identity and CPaaS unit. Route Mobile and Telesign will be merged to form a single operation and some of Route Mobile's founding shareholders will then acquire a stake in Proximus Opal – the full details of the transaction, which is expected to be completed within the next six to nine months, are in this announcement.
The ultimate outcome, though, is that Proximus Opal will become the world's third-largest CPaaS company (based on the volume of messages managed by the combined operations) with annual revenues of about €900m. The CPaaS operations will be led by Rajdip Gupta, the current CEO of Route Mobile, while the digital identity activities will be led by Joe Burton, the current CEO of Telesign.
The move ties in with some of the key aims of the bold2025 strategy that the Proximus management team unveiled in January, which highlighted the potential for international growth building upon the existing Telesign and BICS (international communications services) units.
According to Proximus, Route Mobile and Telesign make good bedfellows: Route Mobile performed more than 100 billion billable transactions during its most recent financial year that ended in March 2023, has more than 3,000 customers (enterprises, mobile operators and digital applications companies/OTT players) and has built its business primarily in India (where it generates almost half of its revenues), the Middle East, Africa, Latin America and other markets across Asia, while Telesign has mainly focused on Europe, North America and Asia (with very little business in India) for its activities.
Route Mobile's CPaaS platform is used by companies primarily to set up and deliver automated SMS/text message and WhatsApp notifications but can also be used for voice-based and email communications (see image below): Proximus sees potential in Route Mobile's platform being used for generative AI-based "customer engagement" interactions. The company has been growing significantly in recent years, boasting sales growth rates of 55% between 2020 and 2023 to reach annual revenues of almost 36bn Indian rupees (€427m) in the financial year that ended in March.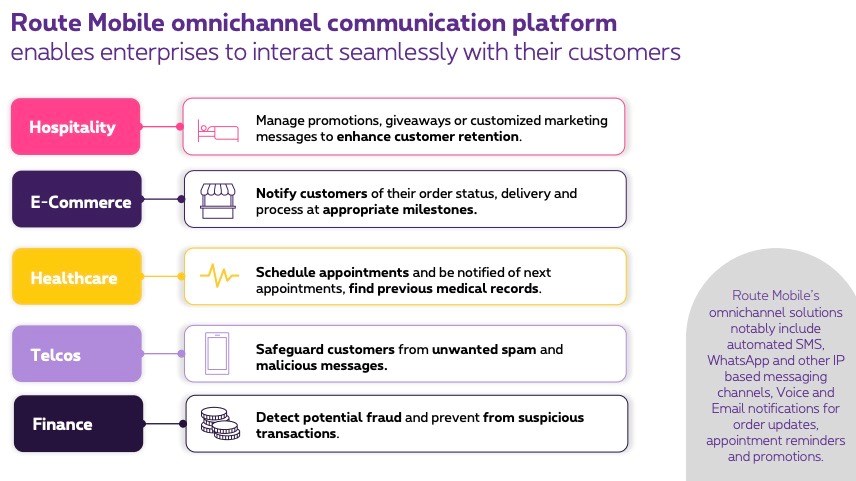 And it's operating in a market that is also growing very quickly: According to research house Mobilesquared, the value of the CPaaS market is increasing at a rate of more than 20% each year and is set to grow from US$29.7bn in 2022 to be worth $52.8bn by 2026.
It's that kind of growth potential that inspired Ericsson to spend $6.2bn on the acquisition of Vonage, one of the CPaaS sector's biggest players, alongside the likes of Twilio, Sinch, Infobip and MessageBird. The combination of Route Mobile and Telesign doesn't create a company that is quite as big as those players, but gives it the scale to be able to grow even more quickly and be one of the leading companies in the sector.
Proximus CEO Guillaume Boutin is particularly excited about the growth potential in India, Route Mobile's home market, where it is a particularly strong CPaaS player. "Access to India is key, with its 1.4 billion people" and a national strategy that is focused on the increased digitisation of the country, he noted during a conference call held on Monday morning, during which he also praised the quality and capabilities of the Route Mobile management team.
And that management team is clearly excited at the prospects of combining the operations and leveraging the potential to grow in additional markets.
"The partnership with Telesign paves the way for Route Mobile to become one of the global CPaaS leaders and achieve a billion-dollar annual revenue run-rate much sooner than the anticipated 3-4 years' timeframe," noted Route Mobile CEO Gupta in a prepared statement included in the press release about the deal. "Route Mobile, with its strong CPaaS omnichannel product offerings and deep entrenchment in emerging markets coupled with Telesign's strong presence in developed markets and a very robust digital identity stack, complement each other immensely to create a very strong value proposition for the Proximus Group and its stakeholders," he added.
So, Proximus becomes the latest company to identify CPaaS and the broader digital platform-based communications sector as a route to revenue growth, and it's interesting to note that this is a route being taken by technology vendors and telcos alike. The Belgian company's investors might take some persuading, though, as the Proximus share price dipped by almost 1.8% to €7.10 on the Euronext stock exchange following the M&A news.
- Ray Le Maistre, Editorial Director, TelecomTV