Double shots and silver balls: A DSP Leaders World Forum 2023 special report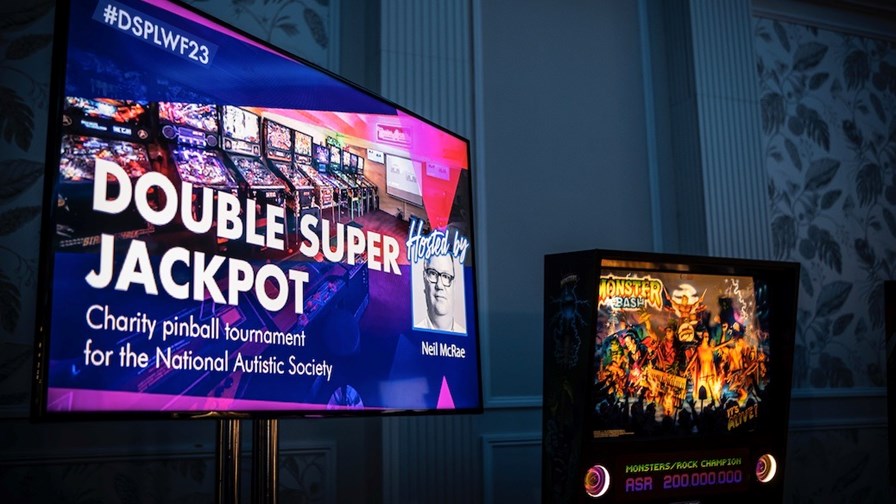 This year's 'Davos of Telecoms' was a raging success
Some critical industry issues were discussed…
But, just as importantly, we had pinball tables and a top-ranking coffee truck
Caffeine levels and Monster Bash top scores were through the roof…
Find out who picked up the DSP Leaders Pinball Wizard 2023 trophy
WINDSOR, UK – DSP LEADERS WORLD FORUM 2023 – When more than 100 telco industry leaders gather for the 'Davos of Telecoms', as they did last week just west of Heathrow airport in the UK, you'd expect the major industry topics – the impact of AI, cloud-native strategies, evolving skills requirements, energy efficiency – to be debated. But all work and no play can, as I'm sure we all know from teeth-grinding experience, make industry events a bit of a strain, which is why the DSP Leaders World Forum is hosted in a five-star hotel with great food and wine, a spa, beautiful grounds and comes replete with a charity pinball tournament and a top-notch coffee truck that encourage not just audience interaction and discussion but also – dare I use the word – fun!
You can watch all of the forum's fantastic sessions on demand here, but this article is focused on the forum's pinball and barista action, both of which required bespoke hardware systems that don't lend themselves well to virtualisation – quality and enjoyment-control KPIs need to be met, you know!
Pinball wizards
The Neil McRae-hosted Double Super Jackpot pinball tournament, which has been a staple of the forum for the three most recent in-person events has, during that time, raised around £10,000 for the National Autistic Society. Dozens of forum attendees took to the five tables – Monster Bash (below), Attack From Mars, Creature from the Black Lagoon, Deadpool and Avengers – and had their high scores recorded which, using a non-AI-enabled points allocation methodology, were then converted into ranking points across all of the tables.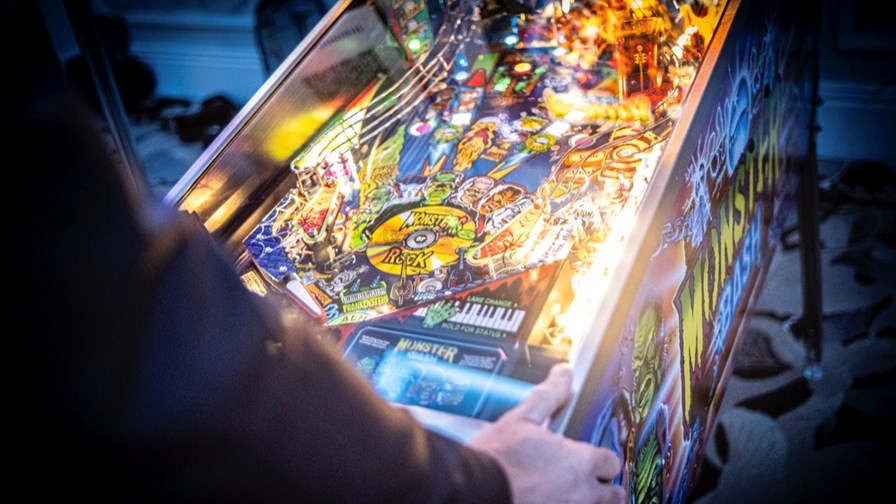 To say that McRae, who recently joined Juniper Networks as chief network strategist, is a pinball enthusiast would be an insulting understatement: The industry veteran, who has a bank of pinball tables in his expansive home office, was hot-footing it from the forum to travel to the European pinball championships in Fulda, north-east of Frankfurt in Germany. That's commitment.
As a former winner of the tournament, McRae, along with TelecomTV's managing director Sean Carr (who controversially picked up the trophy in 2022 by dedicating a far greater amount of time to racking up scores than almost any other attendee) were excluded from taking home the trophy this year.
But the forum was, fortunately, full of other hopefuls who clearly spent their teenage years wisely, and by the tournament deadline on day two of the forum, Luca Claretti, VP of service providers for Europe at… Juniper Networks (we know, we know… a brief inquiry found no foul play!), with 486 ranking points just pipped Alexander Haväng, CTO at Sandvine (484 points) to the post to pick up the highly prized but low-cost cup from his Juniper colleague.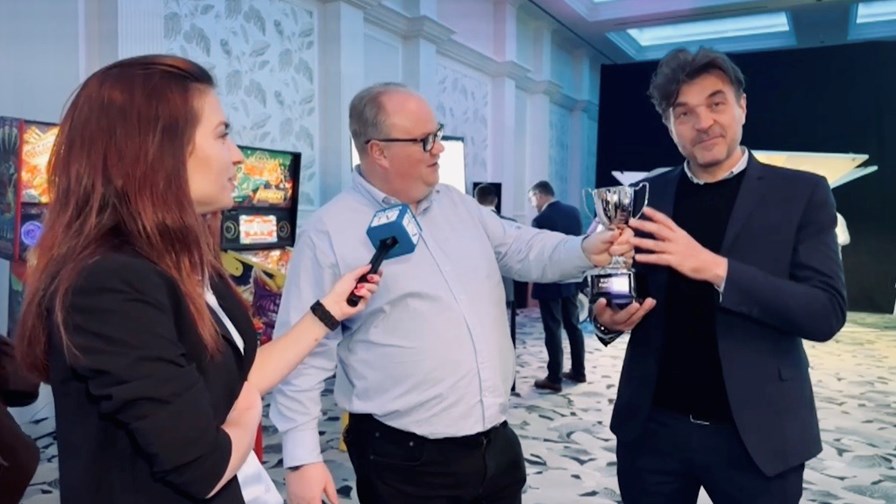 Handing over the DSP Leaders Pinball Wizard 2023 trophy, McRae stated: "When we came here I was the best pinball player at Juniper [Networks] – the good news is that the best pinball player is still from Juniper, but the sad news is that it's not me – it's my great colleague Luca Claretti… and he's done a great job to win this. I will no doubt never hear the end of this, because Luca's going to make sure that everyone in Juniper knows that he beat me, but a great victory for Luca," noted the Scot.
Claretti (in action below) was graceful in his acceptance speech. "The event has been of high value, the location has been great, and the agenda has been good but above all, this win for me has been important because I [beat] Neil," said the Italian, who vowed to return in 2024 and attempt to retain the trophy.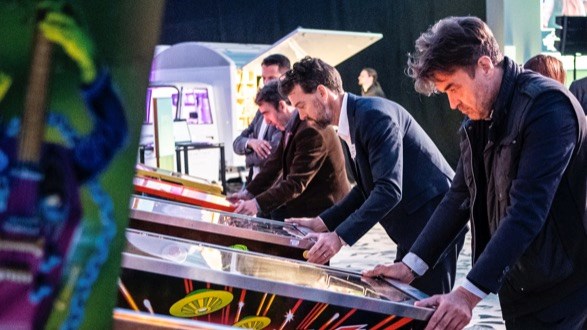 The daily grind
Every aspect of the forum is all about quality, which is why Anthony Duckworth's Dear Coco was drafted in for the second year running to provide his freshly made coffee in the conference hall.
Everyone praised not only the various cups of quality brew, of which many hundreds were consumed, but also the friendliness of the team, led by Anthony (pictured below) himself.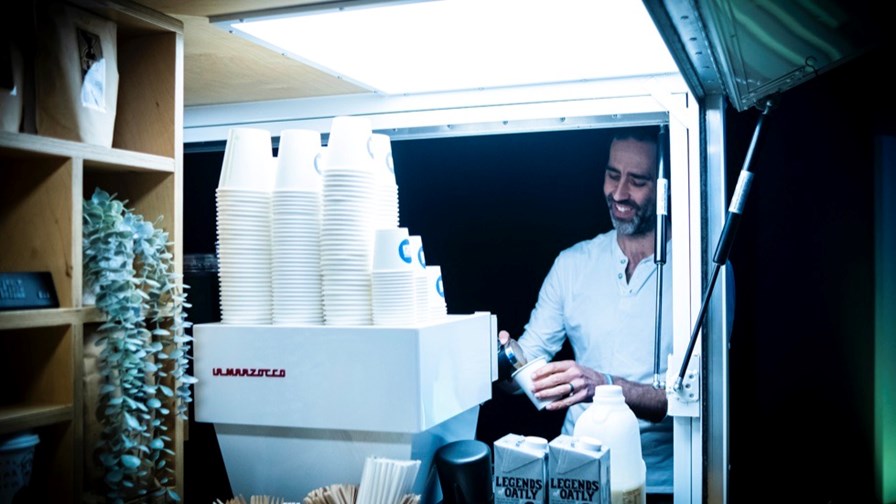 We already knew from last year that standards would be high, but Dear Coco also comes with industry recognition, as it is a Barista Magazine Global Top 5 Coffee Truck. Usually to be found on the banks of the River Thames near Kew Bridge from Wednesday to Sunday each week, this specialty street coffee business, run from a converted three-wheeled Piaggio Ape, rocked up to forum and put kilos of beans from Winchester, UK-based The Roasting Party through its grinder before delivering the goods using its La Marzocco hardware.
It's hard to make a great coffee – even harder to maintain consistency when making hundreds of cups of jitter juice, but that's what Dear Coco achieved for forum attendees. And we look forward to welcoming Anthony and his magic hardware back to the forum in 2024.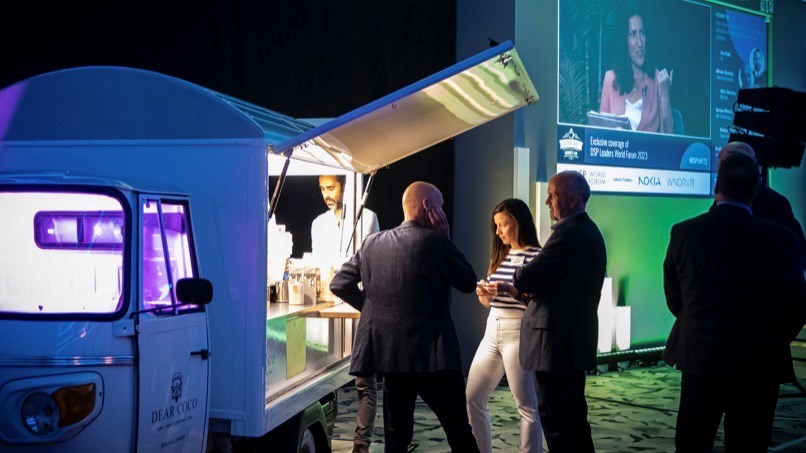 - Ray Le Maistre, Editorial Director, TelecomTV