Cloud services market grew by $10bn year on year in Q1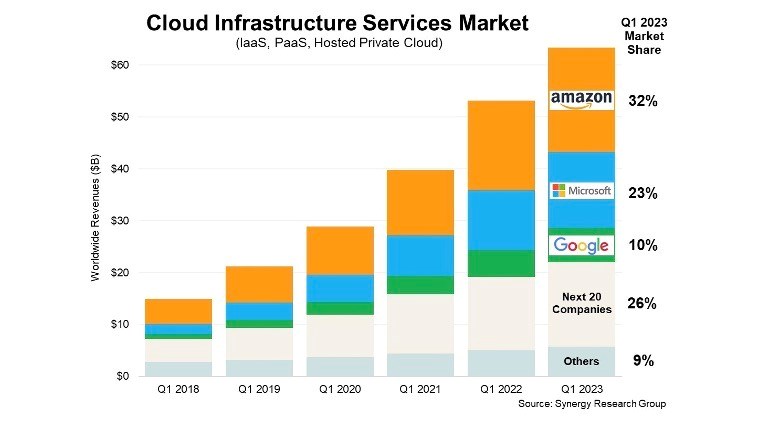 First-quarter numbers are in from the hyperscalers
There seems little sign of restrained spending on cloud services
Users spent more than $63bn on the sector during the first three months of 2023
That's up by $10bn compared with the same period a year earlier
Top-three companies continue to dominate
Despite evidence that businesses are being increasingly cautious about their IT spending, the cloud services market is still growing at a pace and volume that many other sectors can only dream of, if the first-quarter numbers compiled by the Synergy Research Group are anything to go by. Enterprise spending on cloud infrastructure services (including infrastructure-as-a-service [IaaS], platform-as-a-service [PaaS] and hosted private cloud services) hit $63.3bn in the first three months of 2023, up by about $2bn, or 3%, from the fourth quarter of 2022 and up by $10bn, or 19%, when compared with the first quarter of last year.
That's a very healthy growth rate, but actually far lower than the year-on-year number recorded for the first quarter of 2022, when it hit a staggering 34%. But, of course, as markets grow, such high growth numbers are not sustainable. "The law of large numbers pretty much dictates that growth rates must decline, but in absolute terms the market continues to grow at a healthy rate, driven by the fundamental benefits of cloud adoption," noted John Dinsdale, a chief analyst at Synergy Research Group.
And just look at the chart above to get a sense of the growth over the past few years: The market for cloud services has more than doubled in just three years, from less than $30bn in the first quarter of 2020 to more than $60bn in the most recent quarter.
So where is demand for cloud services coming from? Spending on cloud services continues to grow strongly in all regions of the world, according to the research firm. Public IaaS and PaaS services account for most of the market, and spending on those services grew by 21% year on year.
"There is no doubt that the current economic climate has constrained some growth in cloud spending, but the market continues to expand at a healthy rate despite those short-term challenges," noted the research company in analysing the financial reports of the cloud services market's main players, including first-quarter numbers from Amazon that were released on 27 April (Thursday).
Amazon Web Services (AWS) generated revenues of $21.35bn during the first three months of this year, up by 15.8% year on year, though its operating profit decreased by 21.4% to $5.12bn due to higher operating costs.
That level of revenues for Amazon's cloud division enabled it to retain a massive market lead over its rivals. As the chart above shows, AWS commanded a 32% market share in the first quarter, followed by Microsoft Azure with a 23% share and Google Cloud with 10%. Between them, those three giants accounted for 65% of enterprise cloud infrastructure services spending during the first quarter of this year (and 72% of the public cloud services sector). According to the Synergy Research team, Microsoft and Google had stronger year-on-year growth numbers than AWS, resulting in both increasing their worldwide market share by a percentage point from the first quarter of last year.
After the top trio, the market was, as ever, highly fragmented, with the next 20-largest cloud services companies commanding 26% of the market between them, while the next highest in terms of market share was Alibaba with 4%, followed by IBM and Salesforce with 3% each. "Among the tier-two cloud providers, those with the highest year-on-year growth rates include Oracle, Snowflake, MongoDB, Huawei and the three main Chinese telcos," noted the Synergy Research team in its analysis.
"Economic pressures are crimping cloud spending in some quarters, but the foundational benefits of cloud adoption continue to drive the market to ever-higher levels," noted the Synergy Research team. "The large Chinese cloud market has also returned to growth, though it is the telcos that are benefitting more than the traditional main internet companies," it added.
- Ray Le Maistre, Editorial Director, TelecomTV