Clamour for the cloud writ large as hyperscalers double their data centre capacity
The number of hyperscale data centres now stands at 700 worldwide
It represents a doubling in five years, but data centre capacity has doubled in less than four
Nearly half of that capacity can be found in the US, way ahead of China and EMEA, finds Synergy Research
Research published this week shows hyperscalers have been working overtime to ensure that cloud capacity is capable of satisfying surging demand.
Fresh figures from Synergy Research reveal hyperscale data centre capacity has doubled in less than four years. Interestingly, it took five years for them to double the physical number of data centres in their collective footprint. This suggests that newer data centres are also larger data centres, and/or that existing sites are being expanded to offer greater capacity, and that new storage and compute technology is giving data centre operators more bang for their buck.
Synergy puts the number of large data centres operated by hyperscale providers at 700 by the end of the third quarter, up from 573 a year ago. The demand for all this extra capacity is certainly in evidence. Figures from Synergy in October showed that enterprise spending on cloud infrastructure services reached $45.4 billion in the third quarter, up 37 percent year-on-year. Amazon, Microsoft and Google trousered 63 percent of that sum.
"Ranked by critical IT load, the leading hyperscale companies are Amazon, Microsoft, Google and Facebook, though it is the Chinese hyperscalers that are growing the fastest, most notably ByteDance, Alibaba and Tencent," said John Dinsdale, chief analyst at Synergy Research, in a research note on Wednesday.
"With the four largest hyperscale operators all being headquartered in the US, one result is that the US is currently home to almost half (49 percent) of the world's hyperscale data centre capacity," he noted.
EMEA is the next largest region, accounting for 19 percent, followed by China with 15 percent.
While hyperscalers boast the biggest data centre footprints and hoover up the lion's share of the revenue, there is still a sizeable enough opportunity for smaller players to carve out a share of the market, and this hasn't gone unnoticed by investment firms keen to grab a piece of the action.
Earlier this week, Dallas-based CyrusOne, a real estate investment trust (REIT) that owns nearly 50 carrier-neutral data centres spread across the Americas, Europe and Asia, was sold to private equity firm KKR and Global Infrastructure Partners (GIP) in a deal worth $15 billion.
In a joint statement, KKR managing director Waldemar Szlezak, and GIP partner Will Brilliant said they "see numerous opportunities ahead to continue expanding CyrusOne's footprint across key global digital gateway markets," and will put to work their "global resources, access to long term capital and deep expertise to support the company's growth."
Also this week, American Tower agreed to shell out $10.1 billion to acquire CoreSite, which has 25 data centres in its footprint.
"The combined company will be ideally positioned to address the growing need for convergence between mobile network providers, cloud service providers, and other digital platforms as 5G deployments emerge and evolve," said CoreSite CEO Paul Szurek, in a statement.
Synergy Research predicts 2021 is on course to set a new record for M&A activity in the data centre market, both in terms of the quantity of deals and their combined dollar value. (See chart below.)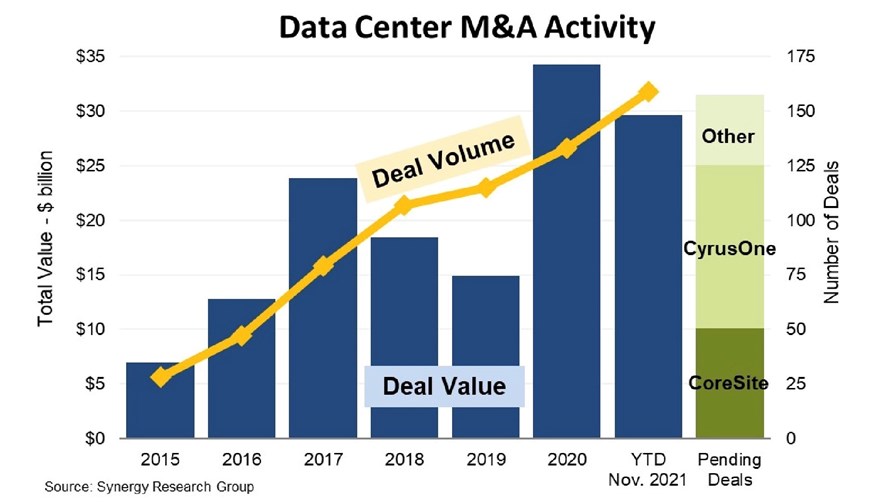 "The level of data centre investment required is too much for even the biggest data centre operators, causing an influx of new money from external investors," Dinsdale said on Monday. "Over the last 18 months there has been a very notable shift in buyers with private equity investors becoming a lot more active than data centre operators."
Indeed, earlier this year, QTS – which operates 28 data centres – was acquired for $10 billion by Blackstone. In addition, Cyxtera – which has 60 data centres across North America, Europe and Asia-Pacific – agreed to merge with a special purpose vehicle owned by investment firm Starboard Value.
If enterprise spending on cloud infrastructure continues on its current trajectory, and with telcos keen to migrate to cloud-based networking and comms services, these private equity investors stand to make a tidy return.
- Nick Wood, reporting for TelecomTV
Email Newsletters
Stay up to date with the latest industry developments: sign up to receive TelecomTV's top news and videos plus exclusive subscriber-only content direct to your inbox – including our daily news briefing and weekly wrap.