Bullish Telefónica increases its revenue growth target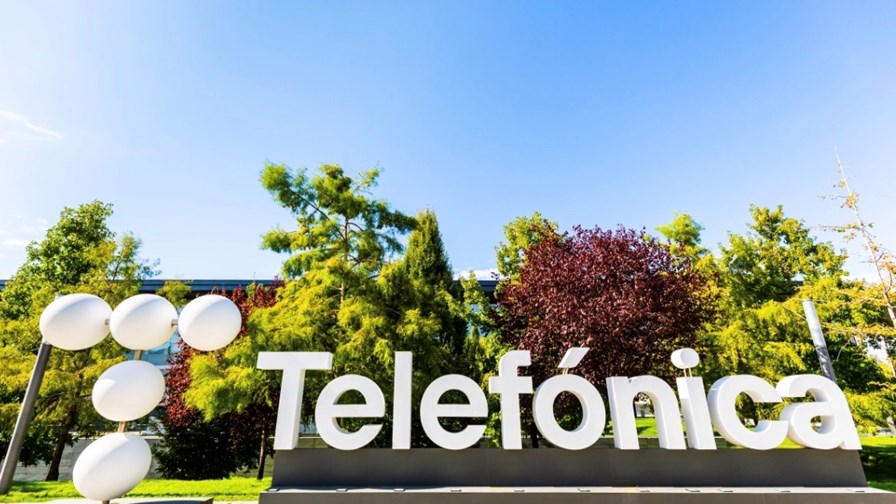 Telefónica is performing better than it had expected
Its revenues hit almost €20.2bn during the first half of 2023
Now it has revised its annual sales growth target to 4% from 2%
CEO lines up new company strategy presentation
If there's one thing the top team at Telefónica isn't short of, it's confidence. The operator "is in an advantageous position to capture all the growth opportunities of the digital era," noted chairman and CEO José María Álvarez-Pallete as part of the telco's second-quarter earnings presentation. "Telefónica is not content to simply adapt to the future but has decided to shape it with a radical evolution. The new times catch us well prepared to anticipate, respond and complete the challenging journey we undertook almost a hundred years ago. Our time has come. It is Telefónica's time. We are ready for the future".
That's as may be, but what about the present? Well, stable might be one way to describe it. While Telefónica's second-quarter revenues grew by just 0.9% year on year to €10.13bn, its first-half revenues grew by 3.7% to €20.18bn and the operator has now revised its full year revenues growth target from 2% to 4%. Its underlying operating income didn't keep pace with sales, increasing by 1.3% in the first half of the year to €6.3bn but, again, the operator is now forecasting full year growth of 3%, at the high end of its previous forecast.
Those numbers, while not shabby, don't look like they would give any company the cojones to say that it's "time has come," but Telefónica, which has operations in multiple markets across Europe and Latin America, believes it's on the cusp of exiting a period of major investment and entering an era of digital services during which it can capitalise on those investments. Álvarez-Pallete plans to spell things out more clearly on 8 November when he will unveil Telefónica's 2023-26 plan built around "a model of operational excellence based on three pillars: Growth, profitability and sustainability."
But the second-quarter report provided some insight into the CEO's thinking.
Telefónica, which has 383.6 million customers across all its markets, has been pumping billions of euros into its fibre access and radio access networks for years to broaden its FTTP (fibre-to-the-premises) and 5G coverage, but the operator's "investment peak" is now behind it and is set to come in at a capex-to-sales ratio of 14% this year, down from 14.8% in 2022 and 15% in 2021.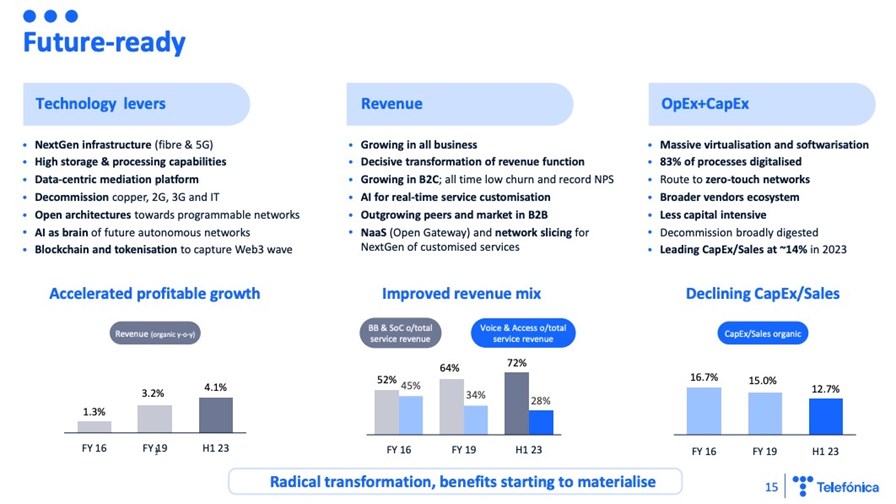 Those investments are now starting to pay off, according to the operator, as it is attracting new customers in what it calls "high value-added segments", namely FTTP and post-paid/contract mobile customers, up by 15.3% and 2.7% to 15.2 million and 127.5 million, respectively.
At the end of June, Telefónica's ultra-broadband access networks were deployed and ready to connect to 169.7 million premises, of which 68 million are FTTP (an increase of 14% year on year). Meanwhile, its 5G coverage reached 86% of the population in Spain and more than 90% of the population in Germany at the end of the second quarter, while in the UK its 5G services were available in more than 2,800 towns and cities, and 116 cities in Brazil.
And while it has been investing in new-generation high-speed access networks, it has also been building up its enterprise digital services unit, Telefónica Tech, which has been focusing heavily on cybersecurity and cloud service development. That division recorded revenues of €456m in the second quarter, up by 36.1% year on year, and €885m during the first half of the year, up by 39.6%. That strategy is certainly paying off.
The operator also believes that engaging in industry developments, such as the Open Gateway initiative – the focus of the recent DSP Leaders World Forum session that was co-hosted by Juan Carlos Garcia Lopez, Telefónica's SVP of technology innovation and ecosystem – will deliver further digital services gains in the future. It noted in its second-quarter report that it has "defined an API [application programmable interface] roadmap for 2023 with more than 15 APIs to be launched in Spain, 7 in Germany and 8 in Brazil." The commercial launch of its Open Gateway platform and APIs is planned for the end of 2023.
Telefónica has also been pumping R&D funds into next-generation digital platforms and applications, including the metaverse and the so-called Web3 world of blockchain and token-based economics.
Essentially, Telefónica believes it has laid the groundwork for it to transition from being a communication service provider to becoming a digital service provider and that like other operators that have engaged in years of high-capital investment intensity, it now plans to scale back on that spending and instead focus on building more sustainable and profitable revenues from the use of its networks and (increasingly cloud-oriented) platforms.
It's a great plan in theory – let's hope that Telefónica and its peers can pull it off.
Telefónica's investors seem to think it has a chance, as the Spanish giant's share price gained 3.5% on Thursday to hit €3.95 on the Madrid exchange, though that's still down by about 10% on this time last year. There's plenty of work left to do for Álvarez-Pallete and his team.
- Ray Le Maistre, Editorial Director, TelecomTV