ZTE launches its Firefox OS phone on eBay at £69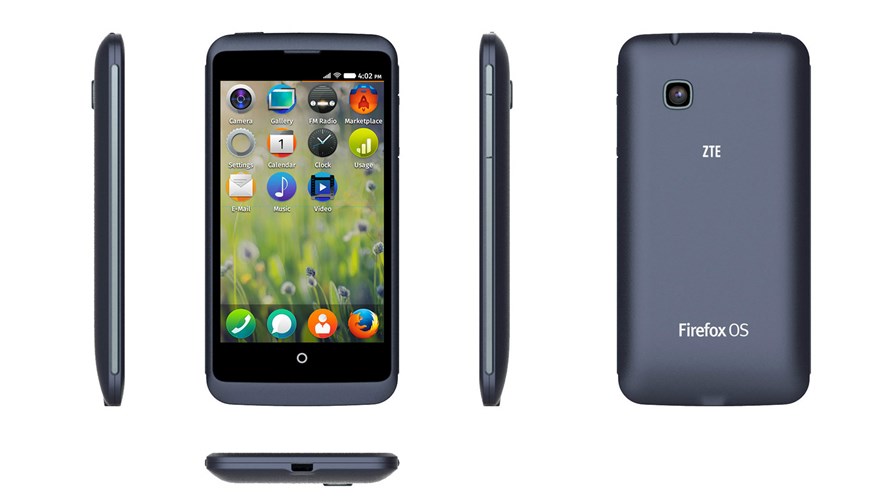 Firefox OS has a new version - 1.3 - and the first smartphone using it has already got to market. Not that interesting in itself - but it's being launched on eBay and it costs just £69. Commodity here we come.
ZTE's Open C Firefox OS phone is a proper, fully-fledged, Web-based smartphone supporting the very latest Firefox OS version. It's got a 3 megapixel camera (way behind the multi-megapixel jobs on today's upmarket beasts, but remember, it's £69), a 4 inch WVGA screen, powered by a a 1.2GHz dual-core Qualcomm processor and it's the first smartphone to ship with the latest version of Firefox OS (1.3), which brings a plethora of improvements over the first model which shipped last August, again on eBay, and sold out (ZTE claimed). So there are more features from the new OS too - better email, enhanced MMS, direct music play access and an improved photo gallery.
This is not a first example of the $25 smartphone Firefox claimed was on the way from chipset reference designs at MWC this year, though. The Open C is actually in the tier above that, but for £69. I almost bought one just to see what it was like.
The commoditisation of the smartphone market - of which the Open C would appear to be a classic example - is being pushed along by the increasing use of those reference designs, mentioned above, from leading chipset vendors, according to some interesting research undertaken by ABI.
The availability of a reference design was one of the main reasons Android took hold in the first place.
I remember interviewing at least one phone smartphone OEM who was delighted with the 'kit' he'd got, and that all the hard work had been taken out of design process. Market entry could be achieved in a few months, he explained.
As the Android and overall smartphone market matures it's clear that reference designs will grab an even stronger role as vendors gradually give up on the idea of aiming at vertical integration to ensure differentiation. Why try and build it from the bottom up if what users really want is a highly 'standard' smartphone that will run all the apps, but at a reasonable price.
ABI says that last year one third of smartphones shipped were generated from reference designs supplied by key chipset vendors - most of them into the below US$200 segment. This has helped new, especially Chinese, vendors into the smartphone market, but as the price-competition moves further up the price range even the big OEMs are being forced to change tack and look at using third party reference designs.
Eventually perhaps even up-scale phones will use reference designs too, says ABI, which predicts that by 2019 they will account for more than two-thirds of the smartphone market, with nearly a quarter of those at prices higher than $200.
The outcome? The small suppliers who used to be able to get to market quickly and cheaply, thanks to the reference designs, won't have that option to themselves any more. As the tier ones stretch themselves down-market (as Nokia did recently with the Android Nokia X) the little guys will probably be squeezed out.
Email Newsletters
Sign up to receive TelecomTV's top news and videos, plus exclusive subscriber-only content direct to your inbox.