Western European smartphone market slumps in the first quarter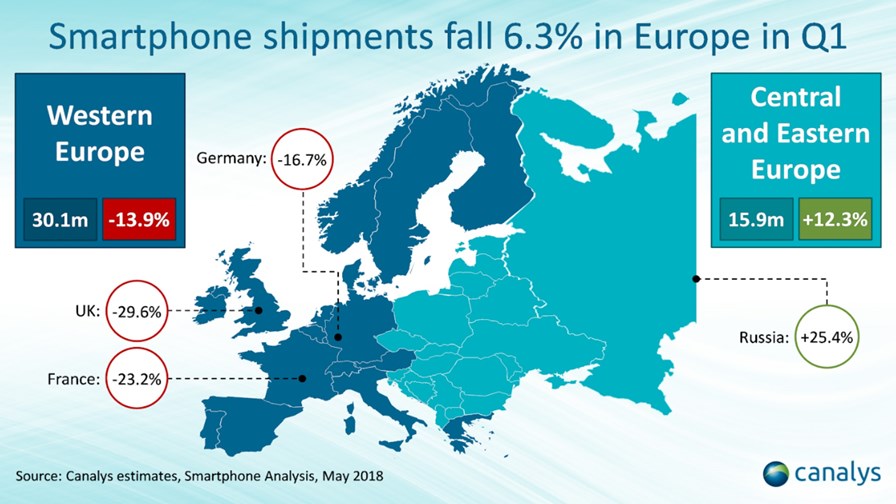 The European smartphone market has gone off in two different directions. Western Europe, now a properly saturated smartphone territory, has returned a 13.9 per cent drop in smartphone shipments in the first quarter of this year, while Eastern and Central Europe is still growing like crazy, according to numbers just released by canalys.
The biggest market casualty in the less than wild West was the UK which dipped 29.6 per cent followed by France (a drop of 23 per cent) and Germany down at 16.7 per cent. Meanwhile the much smaller and less mature Central and Eastern Europe market was still fizzing at an aggregate 12.3 per cent increase.
According to Canalys analyst Ben Stanton, the European market has entered a new era. "The few remaining growth markets are not enough to offset the saturated ones. We are moving from a growth era to a cyclical era. This presents a brand-new challenge to the incumbents, and we expect several smaller brands to leave the market in the coming years."
The smartphone market leaders are Samsung, Apple and Huawei. Both the giants saw their shipments slip: Samsung, which sold 15 million units, by 15 per cent; Apple, which shifted 10 million units, by 5 per cent.
Bucking the trend was Huawei. Pretty-much locked out of the US market it has shipped 7.4 million units into Europe - a growth rate of 38.6 per cent - and was just two to three million units below Apple. Canalys points out that, because of production delays, very few of the Huawei shipments this quarter were premium models. It should see a boost to its average selling price next quarter.
Meanwhile Xiaomi and Nokia (HMD Global) have stormed to fourth and fifth place. Canalys points out that both companies have been driving low priced phones via distributors to get market share, but selling at a loss. It expects both companies will shift to a profit strategy soon.
Email Newsletters
Sign up to receive TelecomTV's top news and videos, plus exclusive subscriber-only content direct to your inbox.