Social TV: will there be room on the sofa for everyone?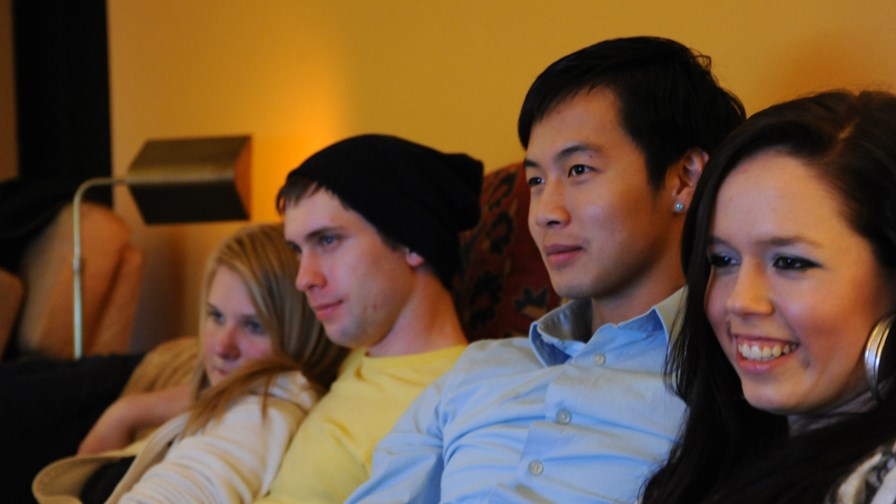 Is there room on the sofa for everyone? Probably not, since just about every type of player across the broadcast, broadband, broad church ecosystem is wrestling for the remote.
Is social TV really poised to be a major force? In the UK there's a TV programme called Gogglebox, now into its second series. Simple idea: it films several couples and families in their living rooms while they all watch the same set of TV programmes. Participants are encouraged to comment loudly as the programmes play out. At the end of the week the best bits are edited together to form… what?

A species of catch-up TV perhaps? Except Gogglebox itself is scheduled, so not quite. And the participant families don't (although this will probably come) interact with each other.

Is it a crowd-sourced TV review programme? Sort of, except the participants tend to react to the content, they seldom critique the programme it sits in.

Certainly it owes something to reality TV and the participants are clearly beginning to amplify their 'characters' as their local fame grows.

But whatever the participants think it is, I would say it's the broadcaster's own crack at Social TV, one of the big coming things of the past couple of years.

Gogglebox is social TV done as TV, with (increasingly) familiar characters voicing their favourite opinions to each other and the rest of us sitting on similar sofas and in similar family configurations up and down the UK,all watching and listening and perhaps tweeting to each other. And it's popular.

It goes to show what a powerful idea 'social TV' actually is. Every part of the communications and broadcasting field has been sizing up its own route into what is agreed to be a substantial opportunity: providing services and apps to enable people to share experiences and opinions, mostly in real time, on channel-based television as it plays out.

It's early days and this is already a highly contested area with specialist social TV players on one hand, Twitter and Facebook on the other, all claiming that it's their natural territory.

Everyone, they say, talks about TV just about all the time. It's already the big topic on the major social networks, so it's all there. It's a question now of who gets to monetize the opportunity.

Generic messaging players like WhatsApp are contenders. and, as we've just seen, the TV channels themselves sense it's a winner. Even network operators are sizing it up.

Now Futurescape claims there may be a shift. Despite expectations and some hefty recent acquisition activity by Twitter, the researchers claim that Twitter and Facebook are set to confront increasing competition for Social TV advertising revenue and viewer engagement from rival social media and mobile messaging companies as the specialists beaver away at new partnerships and offers to get their services to mass market.

The analysis is in the latest edition of Futurescape's Social TV strategy report which it's been publishing twice-yearly since 2010. It points out that Social media rivals such as BuzzFeed and Tumblr, are also gunning for Social TV promotion and ad revenue.

Meanwhile, it says, broadcasters and producers are adopting multiple messaging apps and social networks for Social TV interaction, beyond Twitter and Facebook, and it cites The World Cup as a possible inflection point for the industry to really step up the competitive pace.

For instance, social news service, BuzzFeed, has launched a Social Tune-In Program: a way to allow broadcasters to promote their shows and drive audience 'tune-in'. So social TV as trailer.

Meanwhile Yahoo's multimedia blogging platform Tumblr is partnering with Mad Men broadcaster AMC for TV show promotion. Futurescape points out that Tumblr has just premiered the full first episode online of AMC's new drama Hold and Catch Fire, about the dawn of the personal computer industry. And, it says, Tumblr is co-operating with Viacom TV on events like the MTV Movie Awards.

Broadcasters such as the BBC are working with leading mobile messaging apps, like WeChat and Facebook's WhatsApp, for viewer involvement.

The messaging apps, too, are experiencing fast growth, making them potential venues for mass viewer engagement. When you consider that WhatsApp has half a billion monthly active users and WeChat 396m, and then compare that to Twitter's relatively meagre 255 million it's easy to see that a growth opportunity is there for the taking.

And now of course we have the 'soccer' World Cup, being pegged to be the Social TV event of the year, with Twitter, Facebook, WeChat and Sony having all launched rival World Cup Social TV services. Not long to wait now to see what other goals are achieved in Brazil this year.
Email Newsletters
Sign up to receive TelecomTV's top news and videos, plus exclusive subscriber-only content direct to your inbox.