Slip-sliding away: the bottom drops out of China's huge smartphone market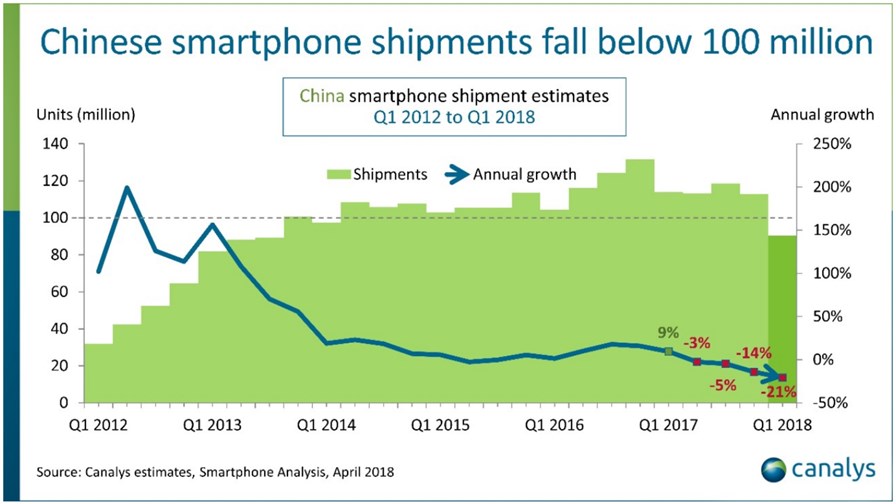 Biggest ever decline in Chinese smartphone sales this last quarter
All players dropped away except Huawei and Xiaomi
Return to growth expected almost immediately
The last quarter saw the biggest ever decline in China's smartphone market, according to market watchers, Canalys. The number of smartphones sold in China has dived by a staggering 21 per cent annually to 91 million units, a number the market passed on its way up back in 2013!
Canalys says eight of the top 10 smartphone vendors were hit by annual declines, with only Huawei and Xiaomi growing their numbers.
That overall drop is being attributed by Canalys to a sense of fatigue - the vendors having essentially beaten each other senseless over the past five years.
"The level of competition has forced every vendor to imitate the others' product portfolios and go-to-market strategies," said Canalys Research Analyst Mo Jia. "But the costs of marketing and channel management in a country as big as China are huge, and only vendors that have reached a certain size can cope."
The winners and losers
Gionee, Meizu and Samsung shrank to less than half of their respective Q1 2017 numbers, says Canalys, while Huawei (including Honor) managed to grow shipments by a modest 2 per cent, maintaining its lead and consolidating its market share to about 24% by shipping over 21 million smartphones. Second-placed Oppo and third-placed Vivo bore the brunt of the overall decline, with shipments falling by about 10 per cent to 18 million and 15 million respectively. Xiaomi was the only company to buck the trend, growing shipments by 37 per cent to 12 million units, and overtaking Apple to take fourth place.
"While Huawei, Oppo, Vivo and Xiaomi must contend with a shrinking Chinese market, they can take comfort from the fact that it will continue to consolidate, and that their size will help them last longer than other smaller players," said Jia.
Things can only get better
The analysts say China is expected to return to growth in Q2, as Oppo, Vivo and Huawei launch new flagship devices and hope to excite the market once again. "The inventory issues that Oppo and Vivo suffered in Q4 and Q1 are now behind them," said Jia. "New smartphones will definitely entice people to upgrade, but vendors are more careful of avoiding oversupply in the channel. China's smartphone market may see a short period of stagnation as vendors refocus on research and development, relying on new use cases to excite refreshes rather than spending heavily on the channel and marketing."
Email Newsletters
Sign up to receive TelecomTV's top news and videos, plus exclusive subscriber-only content direct to your inbox.