Samsung introduces the Galaxy A6 featuring an advanced camera, stylish design and added everyday features
A stylish, practical smartphone with an advanced camera full of character
LONDON, UK – 29 June 2018 – Samsung Electronics Co., Ltd. today announced the Galaxy A6 that combines everyday convenience and stylish design with an advanced camera for a more personalised way to express yourself.
Featuring a powerful front and rear camera, a sleek premium design and stunning full-front Display, the new Galaxy A series is available in three stylish colours; Black, Gold and Lavender.
"With the release of the Galaxy A6, we're bringing our customers' favourite features from our flagship smartphone to our Galaxy A series for added practicality and ease, such as hassle-free security with Face Recognition and Fingerprint scanning for quick and effortless access," said Conor Pierce, VP of IT & Mobile, Samsung UK & Ireland. "The Galaxy A6 showcases our continued dedication to meeting the needs of our consumers by providing them with an impressive camera that lets them express themselves alongside a range of features for greater convenience."
With the Galaxy A6's powerful front and rear camera, taking beautiful shots or selfies anytime, anywhere has never been easier. Featuring an adjustable front LED flash, users can add clarity to what they capture to avoid image degradation & glare when shooting selfies day or night. And with the rear camera's low-aperture lenses, users can also capture sharp, clear photos in low light conditions, without sacrificing image quality no matter what time of day. Decorate selfies with AR Stickers using face recognition so they change naturally depending on the angle of your face and your facial expression. You can also personalise your photos with stamps, change the mood with filters, or make a delicious meal look even tastier with Food mode.
Users can experience a richer sound experience to enjoy movies, music and more, the Galaxy A6 provides a full range of sound from highs to lows, with outstanding clarity and true-to-life detail for a more powerful and immersive audio experience.
The Galaxy A6 continues to set the standard for the ultimate uninterrupted viewing experience with full-front sAMOLED Display that goes beyond the bezel, featuring an impressive 18.5:9 ratio, with 3GB RAM & 32GB internal storage so you can install more games, apps & save more content Its sleek smooth curves and metal design have been engineered to offer improved durability and comfortable grip for maximum usability, without compromising on style.
Designed with practicality and everyday convenience in mind, the Galaxy A6 integrates several popular features from Samsung's flagship, including hassle-free security with Face Recognition and Fingerprint scanning for a quick and effortless way to unlock the device.
The Galaxy A6 makes multitasking fast and easy with App Pair, fully utilising the Galaxy A6's large ergonomic screens by allowing users to pair two apps, halving time and doubling enjoyment.
The Galaxy A6 supports Bixby Vision, Home and Reminder. With Samsung Pay[1] included, users will always have their wallet to hand. Supporting Near Field Communication (NFC), the Galaxy A6 can be used virtually anywhere you can tap your credit or debit card. Every transaction via Samsung Pay is secure, yet very simple.
In the UK, the new Galaxy A6 will be available in three stylish colours; Black, Gold and Lavender, and will launch this summer with selected partners.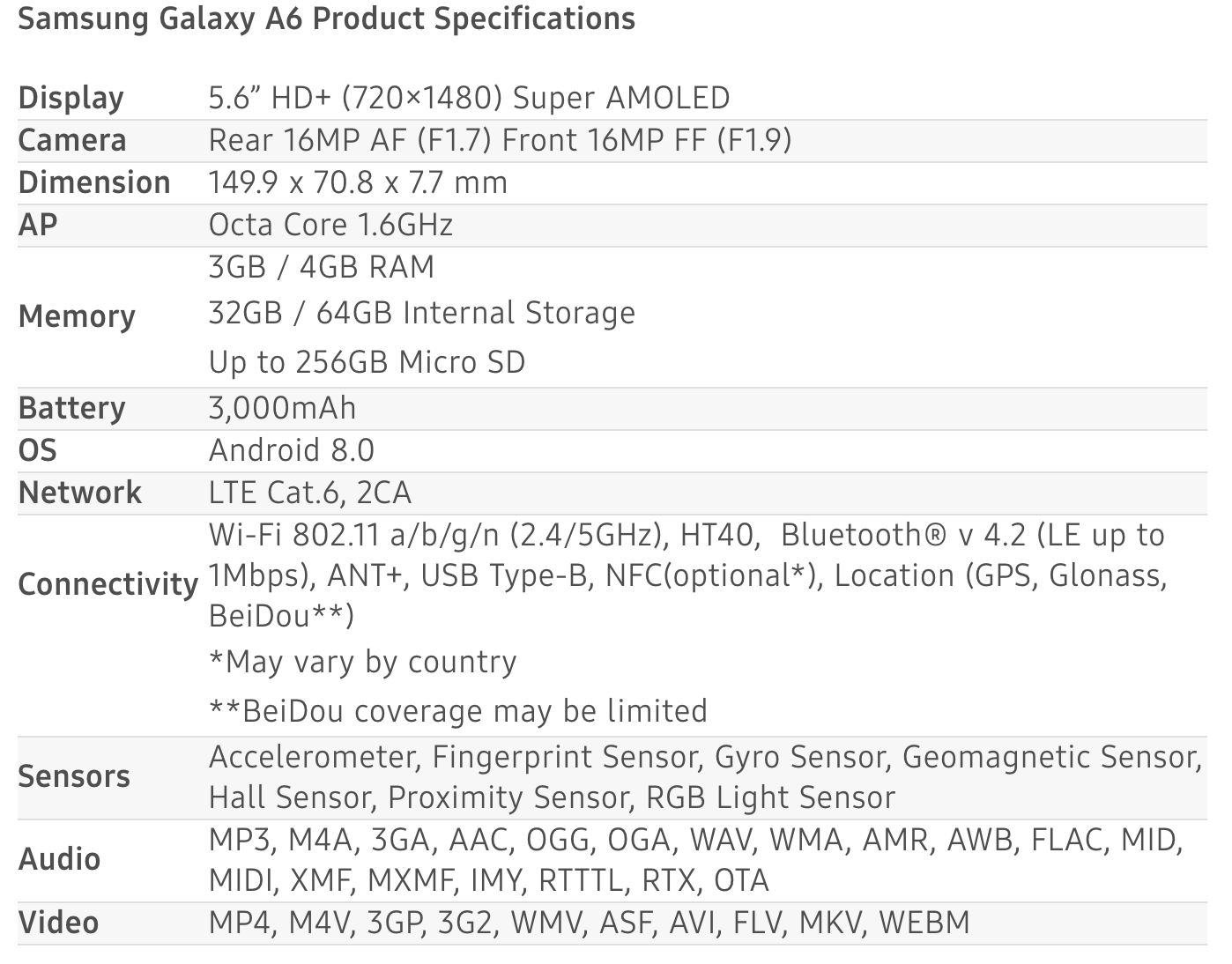 This content extract was originally sourced from an external website (
Samsung Press Room
) and is the copyright of the external website owner. TelecomTV is not responsible for the content of external websites.
Legal Notices
Email Newsletters
Sign up to receive TelecomTV's top news and videos, plus exclusive subscriber-only content direct to your inbox.