Is Apple in danger of being pipped at the $1 trillion post?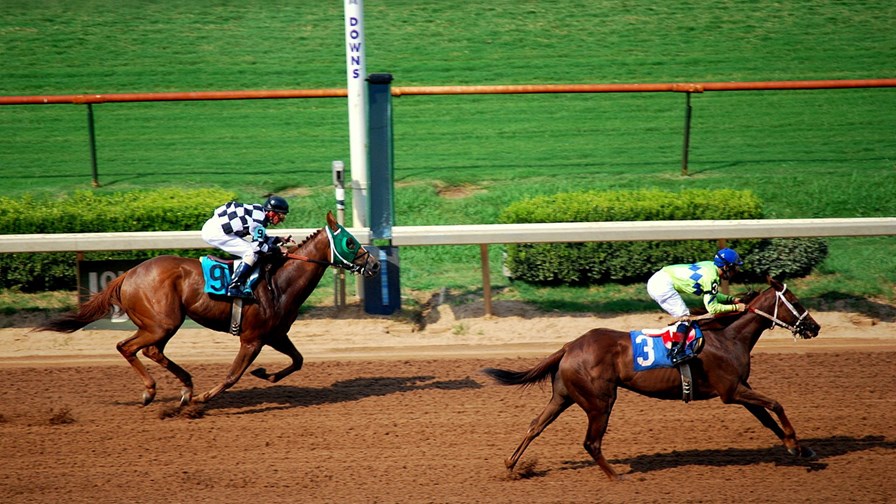 It certainly looks like it's poised to be the first company to become worth more than $1 trillion at its current valuation of $935 billion ('just' $65 billion to go)
But will its iPhone market share slippage (it currently holds just 12 per cent globally) put that target out of reach in the medium term?
It's still making huge amounts of money, but its unit share is slipping and it's scrambling to think of new things to sell us
As Apple teeters on the edge of a one trillion dollar stock valuation, news just in on the latest quarterly results for the global smartphone market show it (possibly) yielding second place to Huawei with Samsung occupying the top slot.
All the technology market analysts have weighed in this morning with their numbers (it's August 1st) and all are broadly similar. Huawei is a full 3.7 market share points ahead of Apple (according to IHS Markit) this quarter, having sold 54.2 million units to Apple's 41.3 million units. Last quarter Huawei sold just 39.3 million phones.
And there are other players coming up fast to within striking distance of Apple's market share too. Chinese tigers Xiaomi (9.8%), Oppo (9.3%) and Vivo (8.3%) are all now snapping at its heels).
Global smartphone shipments by OEM (million units)
| | | | | | | |
| --- | --- | --- | --- | --- | --- | --- |
| Rank | Company | Q2'18 | Market Share | YoY | Q1'18 | Q2'17 |
| 1 | Samsung | 70.8 | 20.6% | -10.8% | 78.0 | 79.4 |
| 2 | Huawei | 54.2 | 15.7% | 41.0% | 39.3 | 38.5 |
| 3 | Apple | 41.3 | 12.0% | 0.7% | 52.2 | 41.0 |
| 4 | Xiaomi | 33.7 | 9.8% | 45.6% | 28.4 | 23.2 |
| 5 | Oppo | 31.9 | 9.3% | 4.5% | 25.9 | 30.5 |
| 6 | Vivo | 28.6 | 8.3% | 20.3% | 21.2 | 23.8 |
| 7 | LG | 11.2 | 3.3% | -15.5% | 11.3 | 13.3 |
| 8 | Motorola | 10.0 | 2.9% | 41.5% | 8.7 | 7.1 |
| | Others | 62.8 | 18.1% | -33.3% | 80.4 | 94.2 |
| | Total | 344.6 | 100.0% | -1.8% | 345.5 | 350.9 |
Source: ​IHS Markit Smartphone Intelligence Service, 2018.
But the ups and downs of the individual smartphone vendors must be viewed in the context of the overall market slowing. According to Linda Sui, Director at
Strategy Analytics:
"Global smartphone shipments fell 3 per cent annually from 360.4 million units in Q2 2017 to 350.4 million in Q2 2018. The global smartphone market has slowed down this year, due to longer replacement rates, diminishing carrier subsidies, and a lack of new hardware design innovation."
In fact the numbers illustrate, more than anything else, the rise and rise of the Chinese mobile market. As market measurer IHS Markit points out, the combined shipment volume of the four leading Chinese manufacturers — Huawei, Oppo, Vivo and Xiaomi — was 145.4 million units: that's way greater than the 114-million-unit combined shipment volume of global market leaders Apple and Samsung. In fact this second quarter, it claims, was also the first time these top four Chinese manufacturers shipped more smartphones than the two leaders (Apple and Samsung) combined.
Apple needs to up smartphone volumes if it's to stay on top
In terms of the $1 trillion 'target', while Apple may be tripped on the last turn by Chinese smartphone companies it may actually be beaten to the finish line by its domestic rivals: Google (Alphabet), Amazon and Microsoft are all around $100 billion or so below Apple in the $800 billion zone.
And then there's the apparent lack of Jobsian innovation and verve on display at Apple since the great man passed on. That's the trouble with success - you tend to be valued against the certainty that you will achieve more of it, and at the same rate, well into the future. Apple's current leader, Tim Cook, doesn't appear to be keeping up the pace and his bland observation that services are going to be where it's at, is unlikely to make hearts beat faster. Former Apple creative director, Ken Segall, recently told the UK's Telegraph, that Steve Jobs was obsessed with creating an aura that made people "lust" for his products. It's a 'Wow' factor that Apple is currently missing.
In its analysis of yesterday's figures IDC's Ryan Reith, points out that Huawei's number two position represents the first time since the 2nd quarter of 2010 that Apple has not occupied one of the top two global market share slots.
"For most markets, the ultra-high end ($700+) competition is largely some combination of Apple, Samsung, and Huawei, depending on the geography, and this is unlikely to change much in the short term. At the same time, Xiaomi, OPPO, and vivo are all slowly pushing their customer base upstream at a price tier slightly lower than the top three," he claims.
Huawei's exclusion from the US has forced it to work harder in Asia and Europe to achieve its goals, according to Canalys UK-based Senior Analyst Ben Stanton.
"Further momentum in Huawei's Honor and Nova sub-brands is likely to sustain its rate of growth. Huawei's momentum will obviously concern Samsung, but it should also serve as a warning to Apple, which needs to ship volume to support its growing Services division. If Apple and Samsung want to maintain their market positions, they must make their portfolios more competitive," he claims.
Email Newsletters
Stay up to date with the latest industry developments: sign up to receive TelecomTV's top news and videos plus exclusive subscriber-only content direct to your inbox – including our daily news briefing and weekly wrap.